Trump mocks Stormy Daniels' sketch of 'nonexistent' harasser: 'Total con job'
President Trump blasted adult film star Stormy Daniels' newly released sketch purporting to depict the man she claims threatened her to keep quiet about an alleged affair with Trump, calling the big reveal a "total con job" and the supposed harasser "nonexistent."
The sketch, depicting a handsome man with chiseled features and a thick mop of hair, was the subject of intense social media speculation -- and some mockery -- after it was released Tuesday.
Some pundits said it looked oddly like NFL star Tom Brady, while others found a resemblance to other celebrities -- and even a photo of Daniels' husband. Trump, in mocking the sketch, retweeted a post suggesting the sketch indeed looked like the latter.
"A sketch years later about a nonexistent man. A total con job, playing the Fake News Media for Fools (but they knew it)!" Trump tweeted Wednesday morning.
Daniels, whose real name is Stephanie Clifford, released the sketch of the man during an appearance on ABC's "The View." Daniels and her attorney Michael Avenatti discussed her alleged sexual encounter with Trump in 2006 and their case against his personal attorney Michael Cohen.
Daniels reiterated a claim she first made on "60 Minutes" last month – that a man approached her in a Las Vegas parking lot seven years ago, warning her to keep quiet about the alleged affair with Trump and threatening her life.
"His face is burned in my memory," Daniels said.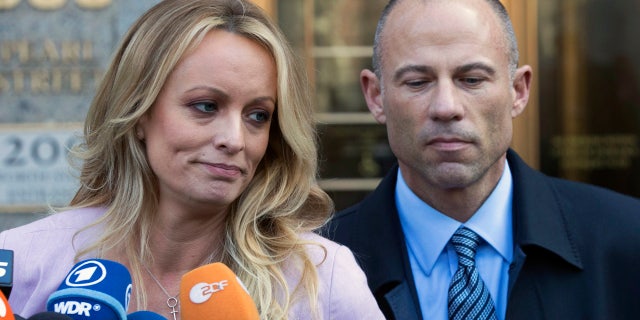 Daniels described the man as "well dressed," and said he wore a suit. Daniels described him as up to six feet tall and "lean but fit."
"I thought he was someone's husband," Daniels said, noting that she thought he was "kind of cute."
"Nothing about him alarmed me," Daniels said.
Daniels said that the man had his hands in his pocket, and told her she had a "beautiful little girl," and warned that "it would be a shame if something happened to her mother."
"'Leave Mr. Trump alone,' I was scared," Daniels said, recalling the encounter. "I couldn't feel my feet or my face…I felt dizzy."
But when "The View" put up the sketch of the man Daniels described to a law enforcement sketch artist, Twitter lit up with side-by-side photos of handsome Super Bowl champion Tom Brady.
Though Trump and Brady have had a close friendship over the years, no one was actually accusing the famed New England Patriots quarterback of taking time out to harass the porn star -- just marvelling at the similarities.
STORMY'S SKETCH OF HARASSER SPARKS SOCIAL MEDIA FRENZY OF TOM BRADY COMPARISONS
Others on Twitter suggested the sketch resembled former New York Yankees player Johnny Damon or actor Willem Dafoe.
Avenatti tweeted after the show that a $100,000 reward would be offered for the proper identification of the man in the sketch:
"$100,000 reward for information leading to the positive identification of the man that threatened Ms. Clifford in Las Vegas. Send all leads to idthug@gmail.com."
Trump has only publicly spoken about the alleged affair with Daniels once before his early morning tweet—denying he knew about Cohen's $130,000 payment to Daniels in the weeks leading up to the 2016 presidential election in exchange for her signing a nondisclosure agreement.
The White House has repeatedly denied the alleged affair.
Also Wednesday morning, Trump pivoted to border security, slamming California's Democratic Gov. Jerry Brown.
"There is a Revolution going on in California. Soooo many Sanctuary areas want OUT of this ridiculous, crime infested & breeding concept. Jerry Brown is trying to back out of the National Guard at the Border, but the people of the State are not happy. Want Security & Safety NOW!" Trump tweeted.
Earlier this week, reports suggested Brown rejected the Trump administration's plans to send the National Guard to the border. But the governor's office and California authorities pushed back, outlining the scope and limits of the state's National Guard.
Brown's press secretary provided a letter to Fox News which outlined that new government funding for the state would go to "support operations targeting transnational criminal gangs, human traffickers and illegal firearm and drug smugglers along the border, the coast and throughout the state."
Brown has pledged 400 National Guard troops. Trump has vowed to send at least 4,000 troops to the border nationwide.