Trump, McCarthy considering cuts to already passed budget to calm conservative backlash
A top House Republican is open to allowing President Trump to trim some of the deficit-busting, $1.3 trillion budget he recently signed amid backlash from the party's conservative base.
The talks between Trump and House Majority Leader Kevin McCarthy reportedly started several days ago.
"There are conversations right now," said Matt Sparks, a spokesman for McCarthy, R-Calif. "The administration and Congress and McCarthy are talking about it."
Trump has been furious about the deficit-expanding bill since signing it just 10 days ago, complaining that compromises with congressional Democrats to get much-needed defense spending resulted in "waste" and "giveaway," while shortchanging funding for his U.S.-Mexico border wall.
"Got $1.6 Billion to start Wall on Southern Border, rest will be forthcoming. Most importantly, got $700 Billion to rebuild our Military, $716 Billion next year...most ever. Had to waste money on Dem giveaways in order to take care of military pay increase and new equipment," tweeted Trump, who in his fury had threatened to veto the spending bill and "never sign another bill like this again."
The potential House "rescission" efforts appear to be Trump's latest effort to cut the budget, after calling for an overhaul of Senate rules to allow for simple-majority votes on all bills and appealing to Congress for line-item veto power to kill specific spending items he dislikes.
The Supreme Court ruled in 1998 that a congressionally passed line-item veto was unconstitutional.
The rescission proposal being discussed by McCarthy and Trump is perhaps as close as the president can get to the line-item veto. The idea centers on a rarely used provision of the 1974 Congressional Budget and Impound Control Act. It allows the White House to propose rescinding funds and sets a 45-day clock for the House and Senate to vote.
The rumblings among conservatives started within minutes of the spending bill's March 23 passage.
"American taxpayers get a trillion dollar deficit and no money for the wall," Ohio GOP Rep. Jim Jordan, a member of the conservative House Freedom Caucus, told Fox News.
The heat continued when House and Senate members returned to their home districts for a two-week recess that ends Sunday.
Rep. Mark Amodei, R-Nevada, said he encountered a finger-wagging voter back home almost as soon as he stepped off the airplane.
Jenny Beth Martin, co-founder and national coordinator of the Tea Party Patriots, told Fox News on Wednesday that she was "heartened" to learn that McCarthy and Trump were considering changes to address the concerns of conservative about the omnibus budget bill having "spent too much money."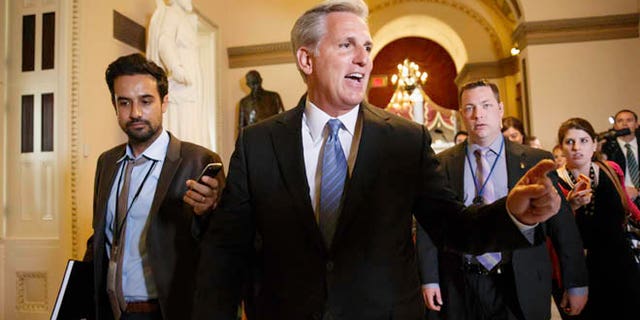 "My primary concern … is Republicans, especially House Republicans, breaking promises they made in 2010," said Martin, who in the 2009-2010 election cycle was at the front of the so-called Tea Party wave that helped fiscal conservatives win House seats and Republicans take control of the lower chamber.
"We expected better. When you do the right thing like cut taxes, we'll stand by you. And when you don't do what we expect, we'll hold you accountable."
All 435 House seats are up for reelection in November, with energized Democrats needing to win about 26 GOP-held ones to control the chamber.
However, whether House Speaker Paul Ryan, R-Wis., or Senate Majority Leader Mitch McConnell, R-Ky., supports the idea is unclear. And proposed changes would likely spark backlash from Democrats and some congressional Republicans.
Ryan and Trump have not yet talked this week, an aide to the speaker said, but likely will by week's end.
The president would likely seek to focus his cuts on domestic spending, including those Democrats praised, like rural broadband, student loans and child care.
House Minority Leader Nancy Pelosi's office did not respond Wednesday to a request for comment.
Getting the votes for the rescission cuts in either chamber could be difficult, even for fiscally conservative Republicans, since Trump's targets may be popular projects or programs back home, said Gordon Gray, the director of Fiscal Policy at the center-right American Action Forum, who notes the rescission tool is not as popular as it was when introduced in the Nixon era more than 40 years ago.
Passage would be especially uncertain in the Senate, considering Republicans hold just a 51-49 majority.
The Associated Press contributed to this report.