Trump looks to revive campaign after defeats to Cruz, calls process 'corrupt'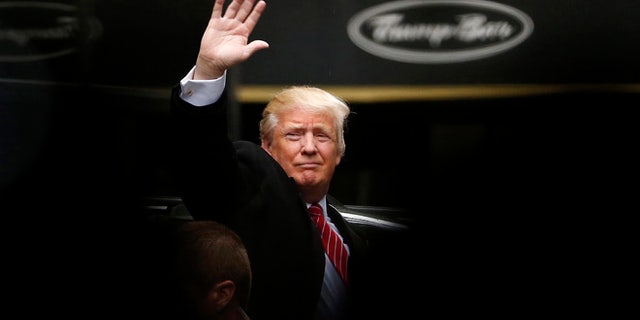 NEWYou can now listen to Fox News articles!
Donald Trump's stinging defeat to Ted Cruz at the Wisconsin primary has forced the celebrity businessman face the idea that his unorthodox campaign – run by largely inexperienced operatives and fueled by his sheer force of personality – had hit a wall.
Now, after Cruz swept up the rest of the delegates in Colorado on Saturday, the Republican front runner blasted the way the country chooses its presidential party nominee. He called it "corrupt" and "crooked."
For nearly a year, the Republican front-runner had kept away from the trappings of a more conventional campaign operation. But after the half-filled room on the eve of the Wisconsin primary last week and the days the followed, he relented on that front as he tried to recapture his momentum and gear up for a potential general race against likely Democratic nominee Hillary Clinton.
Speaking to thousands packed in a frigid airport hangar in western New York on Sunday, Trump ripped the byzantine fight over delegates at the heart of his party's nominating process. He argued anew that the person who wins the most votes in the primary process should automatically be the GOP nominee.
"What they're trying to do is subvert the movement with crooked shenanigans," said Trump, comparing his woes to those of Bernie Sanders, who is winning states but still far behind Democratic front-runner Hillary Clinton in the race for delegates that decide party nominations.
"We should have won it a long time ago," Trump said. "But, you know, we keep losing where we're winning."
Trump is bringing in new staff, including a seasoned Washington operative to run his efforts at the convention, where the nomination appears more likely than ever to be decided. He also plans to place new focus on policy.
His team is making more strategic decisions as to how to make best use of Trump's time — the campaign's most valuable asset — starting with a refocused effort to run up the score in the April 19 primary in his home state of New York.
"In many ways, I think it's a recognition that the successful primary campaign that Mr. Trump has run has to shift gears," said adviser Ed Brookover, brought on board to help lead the delegate strategy.
With minimal spending on advertising and a small staff in comparison with Clinton's, the Trump campaign has upended the political orthodoxy by riding large rallies and a knack for earning free media, and risen to the top of the GOP race.
But Wisconsin showed the limitations of that strategy.
The state's Republican establishment coalesced around Cruz. Leading the way was Gov. Scott Walker, who had dropped out of the White House race last year and warned against Trump's ascendance. The state's influential conservative talk radio circuit proved an unfriendly venue to a candidate who has glided effortlessly through so many interviews.
Trump also found himself on the defensive after retweeted unflattering photo of Cruz's wife, and committed what may have been the first costly gaffe of his bid when he bungled a question about abortion.
His insular campaign leadership, featuring a tiny inner circle led by campaign manager Corey Lewandowski, who's facing charges of battery after an incident with a reporter, seemed ill-equipped to compete in the bruising and complex fight to line up the support of delegates who will attend the national convention.
In Colorado, for instance, Cruz-supporting delegates swept local contests while Trump's team made repeated flubs. The campaign fired its Colorado state director just after he had arrived. The new director, Patrick Davis, started running Trump's fledgling operation after Cruz had snapped up nearly one-sixth of the state's delegates.
Trump and his team had largely assumed he would have the race all but locked up after winning Florida in mid-March, and had largely failed to prepare for a potential fight at the convention. It was then, even before the resounding defeat in Wisconsin, when Roger Stone, a former Trump campaign aide and longtime adviser, put Trump in touch with Paul Manafort, a veteran of numerous conventions.
As part of the campaign shuffle, Manafort will be "responsible for all activities that pertain to Mr. Trump's delegate process and the Cleveland convention," according to a campaign statement.
"A more traditional approach is needed and Donald Trump recognizes that," Paul Manafort, Trump's new delegate chief, said Sunday on NBC's "Meet the Press." At his rally in Rochester, Trump repeatedly insisted his campaign was "doing fine" and predicted he would clinch the nomination before the summer convention.
He is coming to terms with the political reality of candidates chasing delegates ahead of their nominating convention, and now he's shifting his focus to developing a strategy akin to the one rival Cruz has been pursuing for months.
Trump continued to try to catch up to Cruz's ground operation, which is months ahead in some states when it comes to securing friendly delegates. Cruz is trying to eat into Trump's home-state support in conservative pockets of New York.
Manafort said the Cruz campaign was using a "scorched earth" approach in which "they don't care about the party. If they don't get what they want, they blow it up."
"The key, especially for uncommitted delegates, is the electability question," Manafort said on NBC.
Based on reporting by the Associated Press.
Like us on Facebook
Follow us on Twitter & Instagram