Trump looks to replace David Shulkin with Adm. Ronny Jackson as Veterans Affairs secretary
President Donald Trump on Wednesday announced his intention to replace Secretary of Veterans Affairs David Shulkin with Rear Adm. Ronny Jackson, now the physician to the president.
It marked the latest in a string of swift White House replacements in recent months. Trump also announced that Robert Wilkie, the undersecretary of defense for personnel and readiness, would serve as interim VA secretary, pending Jackson's confirmation.
The president tweeted that he was "thankful for Dr. David Shulkin's service to our country and to our GREAT VETERANS!"
Jackson has served as the physician to the president since 2013 and gained a national profile earlier this year for holding a sweeping press conference on Trump's health.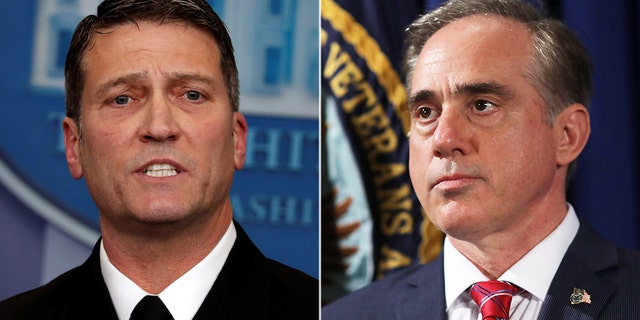 The VA is government's second-largest department, responsible for nine million military veterans in more than 1,700 government-run health facilities. The selection of Wilkie bypasses VA Deputy Secretary Tom Bowman, who has come under criticism for being too moderate to push Trump's agenda of fixing veterans' care.
Rumors had been swirling for weeks about Shulkin's future amid investigations into alleged spending abuses and reports of internal dissension at the VA. In February, the VA's internal watchdog found that Shulkin had improperly accepted Wimbledon tennis tickets and his then-chief of staff had doctored emails to justify his wife traveling to Europe with him at taxpayer expense. Shulkin agreed to reimburse the government more than $4,000 in that case.
Rep. Mike Coffman, R-Colo., a Marine combat veteran who called for Shulkin to resign after the February watchdog report, said in a statement on Wednesday that Shulkin had done "nothing to clean up the culture of bureaucratic incompetence that has defined the leadership at the VA."
A separate VA watchdog investigation, due out in the coming weeks, is looking into a complaint that Shulkin asked his security detail to accompany him to a Home Depot store and cart furniture items, according to two people familiar with the allegation who requested anonymity to discuss an ongoing investigation.
Shulkin attributed internal drama at the agency to a half-dozen or so political appointees who were rebelling against him and Bowman, insisting he had White House backing to fire them.
As recently as Monday, White House spokesman Hogan Gidley told Fox News that Trump still had confidence in Shulkin "at this point in time."
That same day, Shulkin -- the lone Obama administration official in Trump's Cabinet -- abruptly backed out of a scheduled media availability at a VA Medical Center in Delaware, telling organizers that he needed to "get back on the road to Washington."
A major veterans' organization expressed concern over the Shulkin dismissal and Trump's intention to nominate Jackson, whom they worried lacked experience to run the huge department.

"We are disappointed and already quite concerned about this nominee," said Joe Chenelly, the national executive director of AMVETS. "The administration needs to be ready to prove that he's qualified to run such a massive agency, a $200 billion bureaucracy."
Sen. Lindsey Graham, R-S.C., praised Jackson's nomination as "a homerun [sic] pick" who would "provide the highest quality health care and services to our wonderful veterans."
Having pushed through legislation in Trump's first year making it easier to fire bad VA employees and speed disability appeals, Shulkin stgill leaves behind a department in disarray. Several projects remain unfinished, including a multibillion-dollar overhaul of electronic medical records aimed at speeding up wait times for veterans seeking medical care as well as expanded mental health treatment for vets at elevated risk of suicide.
Concerned Veterans for America Executive Director Dan Caldwell said in a statement that Shulkin "made significant headway in reforming the department, but ultimately became a distraction from the important task of improving health care for our veterans.
"We are hopeful that this change will end the recent distractions at the VA and put the focus back on advancing policy that will ensure veterans get the health care and other benefits they have earned," Caldwell added.
During the presidential campaign, Trump repeatedly pledged to fix the VA, which was still reeling after a 2014 scandal at the Phoenix VA medical center, in which veterans waited months for care even as VA employees created secret waiting lists to cover up delays.
Criticizing the department as "the most corrupt," Trump said he would bring accountability and expand access to private doctors, promising to triple the number of veterans "seeing the doctor of their choice."
Currently, more than 30 percent of VA appointments are made in the private sector.
Shulkin is the second Cabinet secretary to depart over controversies involving expensive travel, following former Health and Human Services Secretary Tom Price's resignation last September.
In addition, the president announced earlier this month he would replace Secretary of State Rex Tillerson with CIA Director Mike Pompeo.
The Associated Press contributed to this report.