Trump in Iowa: Here's what you need to know about tonight's rally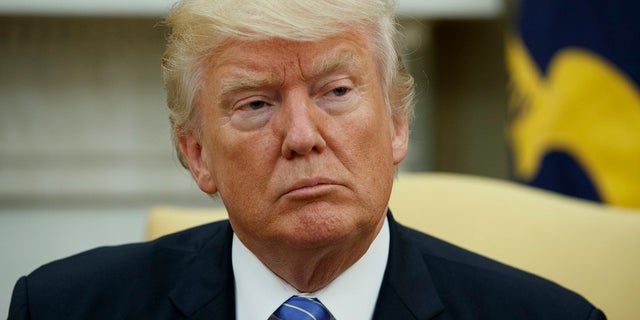 NEWYou can now listen to Fox News articles!
President Donald Trump returned to Iowa Wednesday for a campaign-style event.
In his first trip to the state since he took office, Trump was expected to tour a local community college and tout his administration's commitment to improving internet access in rural areas as part of the White House's technology week.
The Trump administration has hosted tech innovators and leaders as part of its technology-focused effort in the White House Office of American Innovation.
Here's what you should know about the event.
What should we expect from Trump's event?
Trump is expected to highlight his administration's efforts to increase internet connectivity to rural and agricultural areas nationwide, Ray Starling, a special assistant to the president for agriculture, told reporters.
While in Iowa, Trump will visit Kirkwood Community College in Cedar Rapids, a college the White House says is known for its innovation in the agriculture industry, according to the Washington Examiner. On its website, Kirkwood bills itself as the "largest two-year agriculture program in the nation."
Agriculture Secretary Sonny Perdue and Commerce Secretary Wilbur Ross are expected to join Trump on the tour of the college.
Sen. Chuck Grassley, R-Iowa, is not expected to attend. The senior lawmaker said on Twitter that he did not want to miss any Senate votes.
How can you watch this if you're not in Iowa?
The rally will air live on Fox News at 8 p.m. ET. FoxNews.com will also be live-blogging the event and will feature a live stream.
Where will the rally take place?
The event will take place at the U.S. Cellular Center in Cedar Rapids at 7 p.m. CDT. Doors open at 4 p.m.
Trump's rally was initially supposed to take place on June 1 but was postponed due to a change in the president's schedule.
IOWA CONSERVATIVES WANTING TRUMP TO DELIVER MORE
This will be the first time Trump has visited the state since he took office. He last visited Iowa in December when he held an event in Des Moines as part of his "Thank You" tour following his election victory.
Where can you find tickets to the event?
People can register for tickets through Trump's website.
Homemade signs, banners, professional cameras with certain equipment, selfie sticks and backpacks are prohibited from the venue, according to the Des Moines Register.
What has been the reaction to the rally?
Many out-of-state supporters got to Iowa early enough to camp out overnight to see the president, according to Buzzfeed.
But The Gazette, the local newspaper, encouraged Trump to stop "campaigning" and meet personally with struggling Iowans in an open letter published on Tuesday.
"Mr. President, the campaign is over. You won. Now is not the time to rally. Now is the time to sell your policies, listen to Americans with a stake in those efforts and govern," the editorial board wrote.
Many Iowa independents who voted for Trump in the November election are not happy with his presidency thus far, KCCI-TV reported. Those voters reportedly hoped Trump would be more graceful once in office and are frustrated by what they perceive as his distraction with the Russia investigation instead of being focused on health care and tax reform, according to KCCI.
Trump defeated Democratic presidential opponent Hillary Clinton in Iowa in the general election, taking 51.8% of the vote to Clinton's 42.2%.