Trump hits ABC after cancellation of 'Roseanne,' asks why network doesn't apologize for anti-Trump comments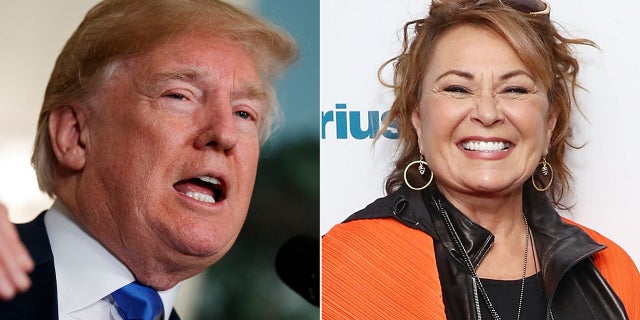 NEWYou can now listen to Fox News articles!
President Trump on Wednesday spoke out for the first time about ABC's cancellation of "Roseanne," knocking the network for not apologizing in other instances where people have made "horrible" anti-Trump comments on ABC.
"Bob Iger of ABC called Valerie Jarrett to let her know that 'ABC does not tolerate comments like those' made by Roseanne Barr," Trump tweeted Wednesday. "Gee, he never called President Donald J. Trump to apologize for the HORRIBLE statements made and said about me on ABC. Maybe I just didn't get the call?'"
ABC on Tuesday cancelled Barr's popular reboot of "Roseanne" shortly after she posted a racist tweet targeting Jarrett, a former top Obama White House aide. In a now-deleted tweet, Barr described Jarrett as like "the muslim brotherhood & planet of the apes had a baby."
Jarrett said later Tuesday that Disney CEO Bob Iger had called her before the network cancelled the show in response to Barr's tweets.
"He apologized," Jarrett said during a MSNBC appearance. "He said he had zero tolerance for that sort of racist, bigoted comment and he wanted me to know before he made it public that he was canceling his show and so I appreciate that they did that so swiftly."
VALERIE JARRETT SUGGESTS TRUMP SHARES BLAME FOR ROSEANNE TWEET
Trump's tweet was the first time the president mentioned the cancellation. He did not specify what anti-Trump comments have been made on ABC.
On Tuesday evening, the president held a rally in Nashville, Tenn., but did not mention Jarrett or Barr's comments. When asked what the president's reaction was to Barr's tweets, White House Press Secretary Sarah Sanders said the president has been "focused" on North Korea, trade and the economy.
"The president is focused on North Korea. He's focused on trade deals. And he's focused on rebuilding our military, the economy. And that's what he's spending his time on; not responding to other things," Sanders said Tuesday.
Asked whether the president thought Roseanne's show should have been cancelled, Sanders said: "That's not what he's spending his time on. And I think that we have a lot bigger things going on in the country right now."
Fox News' Brooke Singman contributed to this report.