Trump has sent messages 'back and forth' with Mueller, attorney says
President Trump and Special Counsel Robert Mueller, who reportedly impaneled a grand jury in the investigation into Russian meddling and potential collusion with the Trump campaign in the 2016 presidential election, have sent messages "back and forth," according to the president's outside counsel.
In an interview with USA Today, Trump's chief counsel John Dowd said he's sent the messages on behalf of the president, who "appreciates" Mueller's work. Dowd reiterated to Fox News that the communications have been professional.
"He appreciates what Bob Mueller is doing. He asked me to share that with him and that's what I've done," Dowd told USA Today. "The president has sent messages back and forth."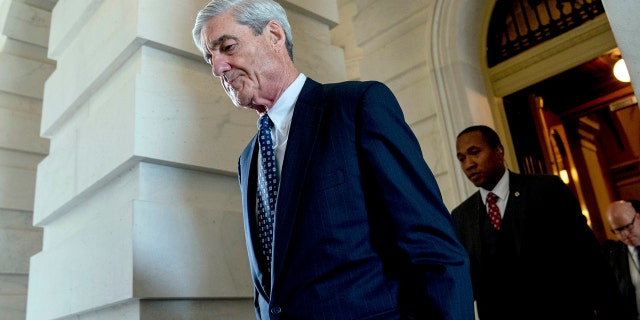 A spokesman for Mueller told Fox News that there have been communications among special counsel attorneys and the president's outside legal team, as well as the president's special counsel, Ty Cobb. The spokesman told Fox News those communications have been "very professional" and "very cooperative from both sides."
The special counsel's team is now stacked with 16 attorneys.
Last week, Mueller reportedly impaneled a grand jury, which was seen as a sign the investigation into election interference and possible collusion with the Trump campaign was ramping up to enter a new phase. Grand jury subpoenas reportedly were issued in connection with the meeting Donald Trump Jr. had with a Russian lawyer and her associates last year.
MUELLER REPORTEDLY IMPANELS GRAND JURY IN RUSSIA PROBE
Cobb said last week that he wasn't aware Mueller had impaneled a new grand jury but added, "We favor anything that brings this investigation to a swift conclusion."
Cobb also told reporters, "Grand jury matters are typically secret," and the White House is "committed to fully cooperating with Mr. Mueller."
Despite cooperation and the president's apparent "appreciation," he and allies have openly criticized Mueller. The president has repeatedly referred to the investigation as a "witch hunt."
SENATORS INTRODUCE BILL TO PROTECT SPECIAL COUNSEL FROM FIRING
Lawmakers have responded with legislation proposals that would shield Mueller from being fired.
Fox News' John Roberts contributed to this report.