Trump defends Melania after 'salacious' report: She 'truly loves' being first lady
President Trump jumped to his wife's defense early Tuesday in the wake of a report claiming she didn't want to be first lady, saying Melania Trump "truly loves what she is doing."
In an article published by Vanity Fair late last week, an anonymous "friend" of Mrs. Trump reportedly told the magazine that she did not want to be first lady "come hell or high water," and that she didn't expect to rise to her role.
"Melania, our great and very hard working First Lady, who truly loves what she is doing, always thought that 'if you run, you will win,'" President Trump tweeted Tuesday. "She would tell everyone that, 'no doubt, he will win." I also felt I would win (or I would not have run) –and Country is doing great!"
The president's comments, and defense of his wife's enjoyment leading the East Wing, come one day after the first lady's communications director, Stephanie Grisham, ripped the magazine article as "false."
"Once again part of the liberal media, this time Vanity Fair, has written a story riddled with unnamed sources and false assertions," Grisham said. "As a magazine tailored to women it is shameful that they continue to write salacious and false stories meant to demean Mrs. Trump, rather than focus on her positive work as First Lady and as a supportive wife and mother."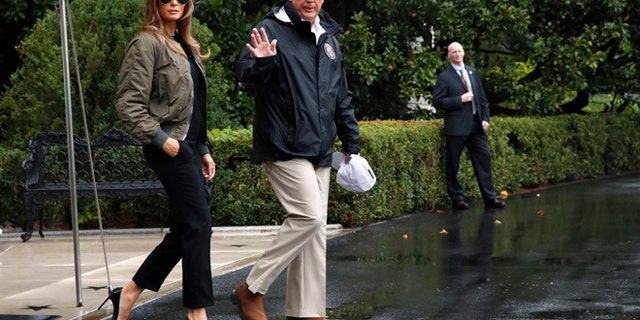 Grisham added: "As has been stated on the record many times before, she is honored by her role."
MELANIA TRUMP'S OFFICE: OBSESSION WITH FIRST LADY'S SHOES ON TEXAS TRIP IS 'SAD' 
Melania Trump's office has often battled criticism in the press and elsewhere over relatively routine first lady functions and actions—ranging from her donation of Dr. Seuss books to a Massachusetts elementary school to her fashion choices in meetings with world leaders and visits to hurricane-ravaged areas.
MELANIA TRUMP FIRES BACK AT LIBRARIAN WHO REJECTED GIFT OF DR. SEUSS BOOKS AS 'RACIST'
The Vanity Fair article comes as Mrs. Trump helps oversee the decoration of the White House for her first holiday season as first lady.
After tweeting to defend Mrs. Trump's role, the president retweeted his wife's tweet, with a video of her walking through the White House decorated for Christmas.
"The decorations are up! @WhiteHouse is ready to celebrate! Wishing you a Merry Christmas & joyous holiday season!" the first lady tweeted.
The president also retweeted his wife's tweet showing photos of her hugging and doing crafts with children from Joint Base Andrews at the White House on Monday.