Trump connects Russia probe to revoking Brennan's clearance
President Trump on Wednesday appeared to hold former CIA Director John Brennan partly responsible for the investigation into alleged collusion between his campaign and Russia in the 2016 election.
Trump revoked Brennan's security clearance, the White House announced. It was the first decision to come from a review of access for several officials who served under President Obama.
"I call it the rigged witch hunt, [it] is a sham," Trump told The Wall Street Journal hours after the announcement was made. "And these people led it. So I think it's something that had to be done."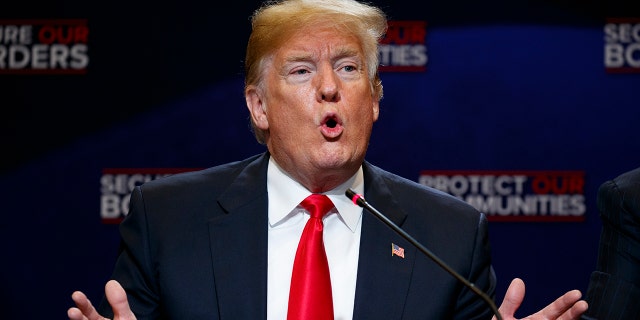 Brennan fired back in a blistering op-ed in The New York Times, describing the president as desperate.
"Mr. Trump clearly has become more desperate to protect himself and those close to him, which is why he made the politically motivated decision to revoke my security clearance in an attempt to scare into silence others who might dare to challenge him," Brennan wrote. "Now more than ever, it is critically important that the special counsel, Robert Mueller, and his team of investigators be allowed to complete their work without interference — from Mr. Trump or anyone else — so that all Americans can get the answers they so rightly deserve."
In a tweet, Brennan also said the White House's decision was part of a broader attack against the freedom of American citizens.
TRUMP REVOKES EX-CIA DIRECTOR JOHN BRENNAN'S SECURITY CLEARANCE
"This action is part of a broader effort by Mr. Trump to suppress freedom of speech & punish critics," Brennan wrote. "It should gravely worry all Americans, including intelligence professionals, about the cost of speaking out. My principles are worth far more than clearances. I will not relent."
"I call it the rigged witch hunt, [it] is a sham."
Earlier in the day, White House Press Secretary Sarah Sanders read a statement on the president's behalf during the press briefing and said Brennan "has a history that calls his credibility into question."
The statement also claimed Brennan had been "leveraging" the clearance to make "wild outbursts" and claims against the Trump administration in the media.
"The president has a constitutional responsibility to protect classified information and who has access to it, and that's what he's doing is fulfilling that responsibility in this action."
Last month, the White House said they were looking into the clearances for other former officials and Trump critics, including former FBI director James Comey; former deputy FBI director Andrew McCabe; former director of national intelligence James Clapper; former national security adviser Susan Rice and former CIA director Michael Hayden (who also worked under President George W. Bush).
Fox News' Brooke Singman and Elizabeth Zwirz contributed to this report.