Trump blasts 'sneaky Dianne Feinstein' for releasing Fusion GPS transcript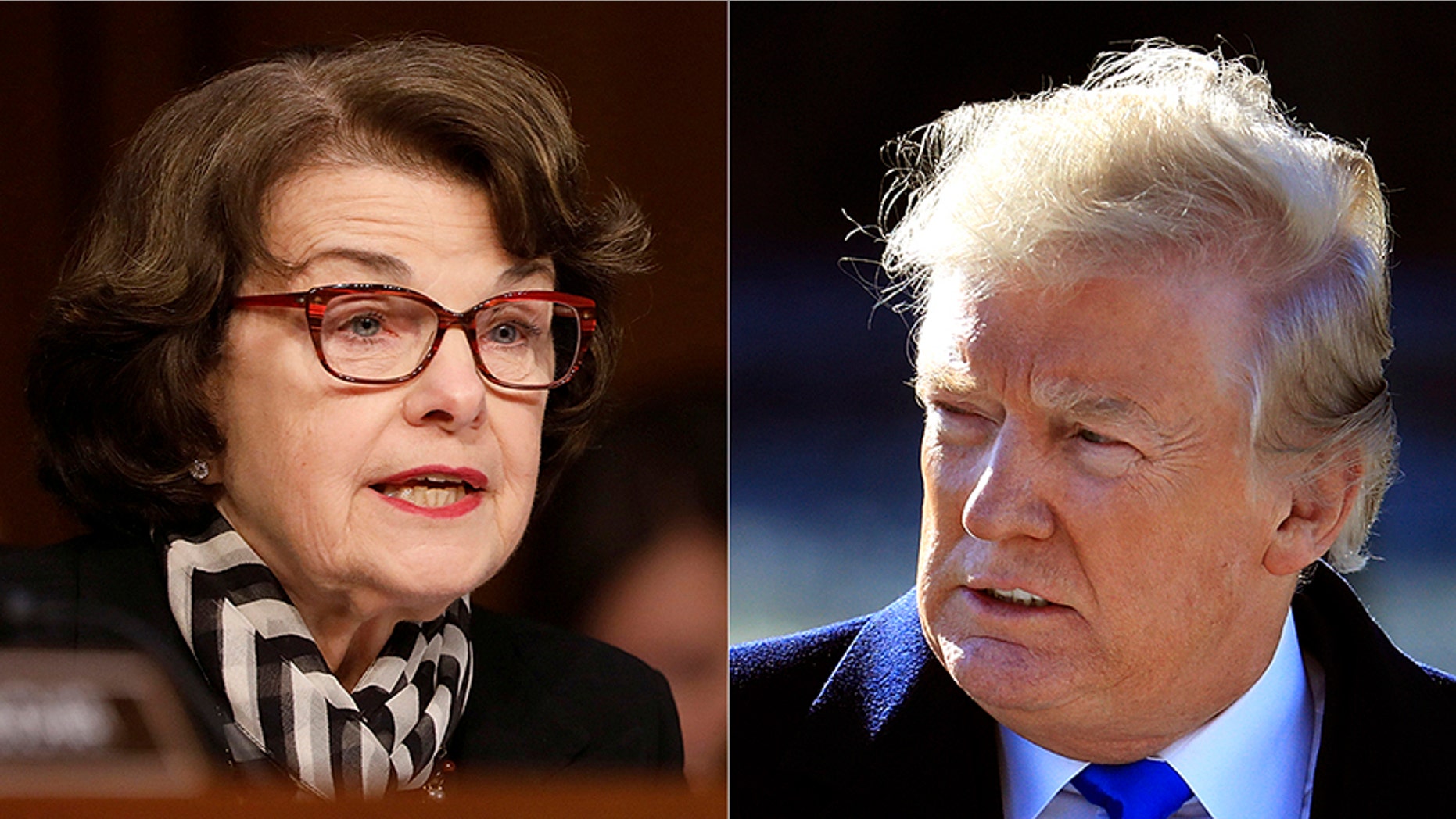 President Trump slammed "sneaky Dianne Feinstein" Wednesday after the Democratic senator released the transcript of a congressional interview with the co-founder of the firm behind the anti-Trump dossier, claiming the move was "possibly" illegal.
"The fact that Sneaky Dianne Feinstein, who has on numerous occasions stated that collusion between Trump/Russia has not been found, would release testimony in such an underhanded and possibly illegal way, totally without authorization, is a disgrace. Must have tough Primary!" Trump tweeted Wednesday.
Feinstein, D-Calif., the ranking member on the Senate Judiciary Committee, unilaterally released the 312-page transcript of Fusion GPS co-founder Glenn Simpson's August interview with committee investigators.
The release provoked controversy on Capitol Hill, with a spokesman for committee Chairman Chuck Grassley, R-Iowa, slamming Feinstein's move as "confounding." Spokesman Taylor Foy said she made the decision without consulting the chairman and warned the move jeopardized other highly sought witness testimony.
Feinstein, who faces re-election this year, said she released the transcript because "the American people deserve the opportunity to see what he said and judge for themselves."
Moments after Trump slammed Feinstein, he returned to bashing the ongoing Russia investigation.
"The single greatest Witch Hunt in American history continues. There was no collusion, everybody including the Dems knows there was no collusion, & yet on and on it goes. Russia & the world is laughing at the stupidity they are witnessing. Republicans should finally take control!" Trump tweeted.
The president's tweets come as his lawyers are preparing for the possibility that Special Counsel Robert Mueller's team will ask to conduct an interview with Trump himself as part of the Russia probe. At this point, there has been no official request by Mueller's office to interview the president. It is possible an interview will not take place.
TRUMP LAWYERS CONSIDER POSSIBLE INTERVIEW OF PRESIDENT BY MUELLER TEAM 
But Feinstein's release of the testimony drew attention back to all things Russia. The hundreds of pages of Simpson's responses were rich with revelations about Fusion GPS, itsr work and its investigation into Trump, which began in September 2015.
One passage in particular drew heavy attention -- where Simpson's lawyer claimed someone had been killed over the dossier's publication.
"He wants to be very careful to protect his sources," Simpson's attorney Josh Levy said during the Aug. 22 committee interview. "Somebody's already been killed as a result of the publication of this dossier and no harm should come to anybody related to this honest work."
'SOMEBODY'S ALREADY BEEN KILLED' BECAUSE OF DOSSIER, FUSION GPS REP REVEALED
Levy did not elaborate on who was killed, and congressional investigators did not follow up with any questions to his claim.
Neither a spokesperson for Grassley nor Feinstein responded to Fox News' request for comment on why investigators did not follow up with questions on the serious charge made by Levy.
The dossier was written by former British MI6 agent Christopher Steele. Fusion GPS, which hired Steele, was funded by the Clinton campaign and the Democratic National Committee. The findings eventually made their way to the FBI. The dossier was published on BuzzFeed News in January 2017.
Fox News' Alex Pappas and John Roberts contributed to this report.