Trump backs Virginia's Gillespie, claims Northam 'fighting for' MS-13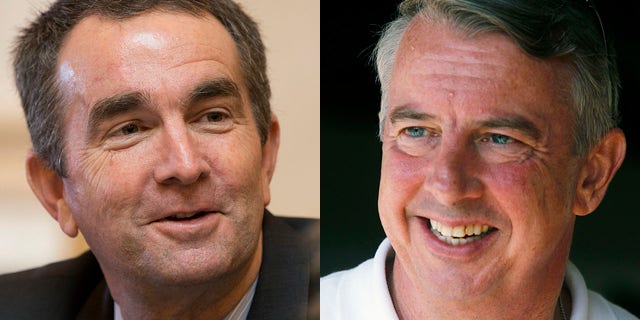 NEWYou can now listen to Fox News articles!
With a tweet Thursday night, President Donald Trump has inserted himself into Virginia's gubernatorial race.
The tweet, however, seemed more a critique of Democrat Ralph Northam than an endorsement of Republican Ed Gillespie.
"Ralph Northam, who is running for Governor of Virginia, is fighting for the violent MS-13 killer gangs & sanctuary cities," Trump tweeted. "Vote Ed Gillespie!"
Whether Northam truly supports MS-13 – or whether that's just President Trump's way of suggesting that Northam is soft on violent crime – is a matter that Virginia voters will decide when they head to the polls Nov. 7, joining New Jerseyans as the only voters in the country electing a governor this year.
Northam and Gillespie are both seeking to succeed Democratic Gov. Terry McAuliffe, who must step down because Virginia law prohibits a governor from running for re-election.
Virginia is the only Southern state that didn't support Trump last November, the Richmond Times-Dispatch reported, adding that the president's approval rating in the state stood at less than 40 percent in the most recent poll.
Trump's reference to MS-13 in criticizing Northam parallels recent campaign ads by Gillespie, a former chairman of the Republican National Committee.
According to the Times-Dispatch, the TV ads for Gillespie show ominous photos of tattooed Hispanic men, purportedly MS-13 gang members. One ad shows the gang's motto: "Kill. Rape. Control."
Northam, Virginia's lieutenant governor, "supported restoring rights to illegal immigrants who committed crimes," another Gillespie ad asserts.
For his part, Northam has been linking Gillespie to the Trump agenda, which the Democrat claims has hurt the state's schools and denied healthcare to thousands.
During the primary season, Northam referred to Trump as a "narcissistic maniac," the Times-Dispatch reported.
Northam's campaign responded to Trump's tweet Thursday night by comparing Gillespie and the president.
"They both want to cut funding to education, roll back healthcare, and divide Virginians for political gains. Looks like Ed Gillespie's ads are reaching his target audience - Donald Trump," Northam spokesman David Turner told the Hill.
It was unclear whether President Trump would be visiting Virginia to campaign for Gillespie.
Meanwhile, Trump has not endorsed Kim Guadagno, the Republican seeking the New Jersey governorship against Democrat Phil Murphy.
Guadagno recently said that part of Trump's tax proposal would be a "disaster" for New Jersey, Observer.com reported.