Trump, Putin had 'informal' meeting at G20, White House says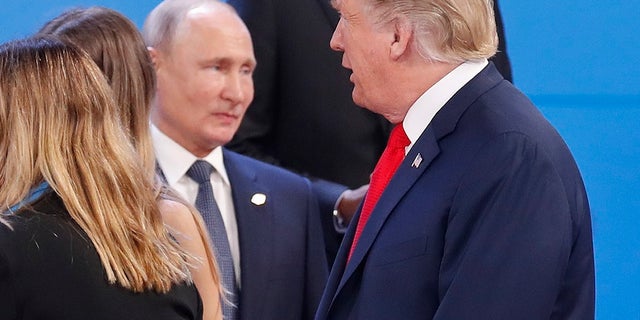 NEWYou can now listen to Fox News articles!
President Trump and Russian leader Vladimir Putin had an "informal" conversation at the Group of 20 Summit in Buenos Aires on Friday, the White House said.
"As is typical at multilateral events, President Trump and the First Lady had a number of informal conversations with world leaders at the dinner last night, including President Putin," White House press secretary Sarah Sanders said in a statement Saturday, according to the Hill.
Trump had previously canceled a more formal meeting with the Russian leader, citing recent territorial disputes between Russia and Ukraine.
"Based on the fact that the ships and sailors have not been returned to Ukraine from Russia, I have decided it would be best for all parties concerned to cancel my previously scheduled meeting" with Putin, Trump wrote on Twitter on Thursday.
Russia recently seized three Ukrainian naval vessels and detained its sailors, as the neighboring countries continue to clash.
Ukraine says the sailors were taken in international waters, while Russia argues the ships violated its borders.
"I answered his questions about the incident in the Black Sea," Putin told reporters. "He has his position. I have my own. We stayed in our own positions."
Western leaders banded together at the summit to denounce Russia's actions in Ukraine.
Trump appeared to avoid Putin for most of the day Friday, breezing past him as world leaders stood for a photo.
"If the domestic situation and the pressure from Russophobes like Ukraine and its sponsors prevent the U.S. president from developing normal ties with the Russian president ... we will wait for another chance," Russian Foreign Minister Sergey Lavrov said, adding "love can't be forced."
Trump also met with Chinese leader Xi Jinping, where they agreed to a 90-day truce in a bid to work out U.S. and China's trade differences.
The Associated Press contributed to this report.