Trump and Mattis team up to refute NBC nuke report, blast 'disgusting' press
President Trump and Secretary of Defense Jim Mattis on Wednesday publicly refuted an NBC News report that claimed the commander-in-chief wanted to drastically increase the U.S. nuclear arsenal, with Trump calling the press "disgusting."
On the sidelines of a meeting in the Oval Office with Canadian Prime Minister Justin Trudeau, Trump slammed the NBC report that said he sought a "nearly tenfold increase" in the nuclear arsenal during a summer meeting.
"Frankly, it's disgusting the press is able to write whatever it wants to write and people should look into it," Trump told reporters. "I never discussed increasing [the nuclear arsenal]. That is fake news by NBC, which gives a lot of fake news recently."
Trump added that he only wants "modernization" and "rehabilitation" of the stockpile.
"It's got to be in tip-top shape," Trump said. "I know the capability we have, and it is awesome. It is massive."
Trump continued to slam the press for allegedly making up sources. "There are no sources," he claimed.
Mattis issued a brief statement shortly afterward saying: "Recent reports that the President called for an increase in the U.S. nuclear arsenal are absolutely false. This kind of erroneous reporting is irresponsible."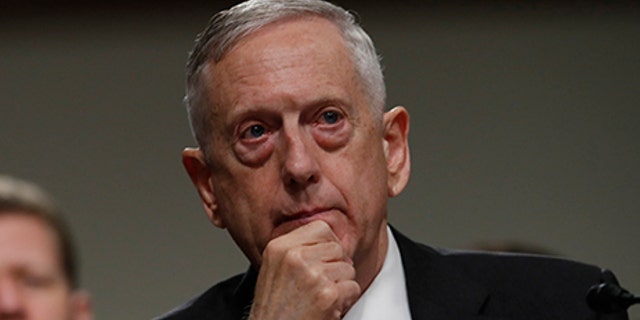 Earlier Wednesday, Trump openly threatened to go after the licenses of "NBC and the Networks," as he ratched up his complaints about "Fake News" -- apparently in response to the nuclear arsenal report.
"With all of the Fake News coming out of NBC and the Networks, at what point is it appropriate to challenge their License? Bad for country!" Trump tweeted.
He tweeted earlier: "Fake @NBCNews made up a story that I wanted a 'tenfold' increase in our U.S. nuclear arsenal. Pure fiction, made up to demean. NBC=CNN!"
The president's comments reportedly came during a gathering with national security leaders. NBC reported that Trump's comments were in response to a briefing slide that was presented showing a decrease in U.S. nuclear weapons since the late 1960s.
TILLERSON BLASTS REPORT OF RIFT WITH TRUMP, AS PRESIDENT RIPS 'FAKE NEWS'
"Trump indicated he wanted a bigger stockpile, not the bottom position on that downward-sloping curve," NBC News reported.
Officials reportedly were surprised by Trump's suggestion, but said no expansion in the nuclear arsenal was planned.
A representative for NBC News did not immediately return a request for comment Wednesday, though MSNBC host Ali Velshi tweeted that the network "stands by our reporting."
The president's and the government's power in this area could be limited anyway. According to the FCC's own guidelines, the commission only licenses individual broadcast stations, not entire "TV or radio networks (such as CBS, NBC, ABC or Fox)."
This isn't the first time the president has blasted NBC News' reporting. Just last week, the network reported on rifts between the president and Secretary of State Rex Tillerson, claiming Tillerson considered resigning over the summer and once called the president a "moron."
Both Trump and Tillerson disputed the report, which had claimed Vice President Pence even intervened to assuage Tillerson's concerns.
"My commitment to the success of our president and our country is as strong as it was the day I accepted his offer to serve as secretary of state…There is much to be done, and we're just getting started," Tillerson said last week. "The vice president has never had to persuade me to remain as secretary of state because I have never considered leaving this post."
Trump blasted the report as "Fake News."
Fox News' Lucas Tomlinson contributed to this report.