Trump and Clinton make pre-recorded pitches to sway Hispanic evangelicals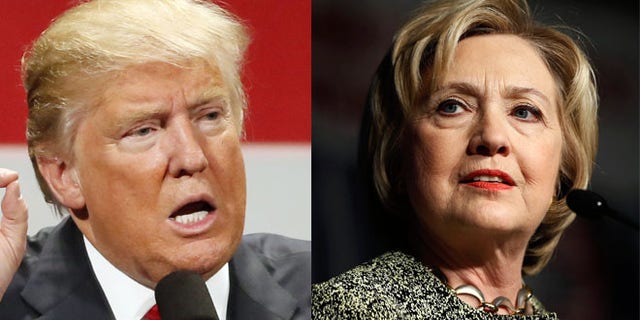 NEWYou can now listen to Fox News articles!
In separate pre-recorded videos, Hillary Clinton and Donald Trump sought to court Hispanic Christian voters with messages of hope for families struggling financially.
In a two-minute video that aired at the National Hispanic Christian Leadership Conference (NHCLC) in California, the presumptive Republican nominee vowed to curb minority unemployment and stop illegal drug cartels.
"National - Hispanic - Christian: three great words. We're going to take care of you. We're going to work with you. You're going to be very happy. You're going to like President Trump," he said.
The billionaire said if elected to the White House, he would "bring back jobs" to the U.S., would create schools in unsafe communities that are "very, very unfair to Hispanics and frankly everybody else" and do "massive tax cuts" for the middle class.
"We're going to take care of minority unemployment. It's a huge problem. It's really unfair to minorities and we are going to solve that problem and it's going to be solved once and for all," Trump said. "We're going to bring back jobs. You're going to start paying taxes after you make a lot of money. Hopefully that's going to be soon. We're going to make great, great trade deals. So important."
The video appeared to have been shot on a cell phone aboard his plane, with the real estate mogul reading from notes on a single piece of paper in his hand.
Trump said cutting down on illegal immigration would block the flow of drugs into the U.S.
"We're going to strengthen our borders. People are going to come into our country. But they're going to come in through a process. They'll come in legally but we're going to stop the drugs and we're going to curb our debt," he added, not mentioning that he would build a wall along the U.S.-Mexico border.
In her video, Clinton voiced the need raising the minimum wage, quality education and immigration reform, saying that families across the country are "being torn apart by a broken immigration system."
"Let's keep families together by passing comprehensive immigration reform and make sure every family and indeed every parent, every young person in America has the chance to live up to his or her God-given potential," the former Secretary of State said.
In her two-minute video, Clinton also took a veiled shot at Trump's previous rhetoric on the issue of immigration.
"You know we are hearing some divisive and dangerous rhetoric in this election. We have a candidate who wants to tear families apart and forcibly deport 11 million undocumented immigrants -- who calls Mexicans rapists. Who talks about banning Muslims from entering the country," she said.
A recent Fox News Latino poll found that the majority of Hispanic voters are lending their support toward Clinton over Trump – only 23 percent said they would vote for the businessman in November, while 60 percent said they would vote for the Democratic front runner.
In addition to his short video, Trump reportedly had a private meeting with evangelical pastor Mario Bramnick at the Trump Tower on Friday.
Bramnick, a Cuban-American who advised Sen. Ted Cruz during the primary, was representing NHCLC and told Time that he left the meeting surprised by how much Trump was willing to work with the Hispanic community.
"Donald Trump showed a tremendous understanding and concern for the undocumented immigrants," he said. "We all came out really sensing his genuineness."
He added: "We didn't get into specifics other than that he wants to work with us, work with the Hispanic community, Hispanic leadership on substantive policy regarding immigration."