Trump administration ends DACA, with 6-month delay
The Trump administration on Tuesday announced the "orderly wind down" of the Obama-era program that gave a deportation reprieve to illegal immigrants who came to the U.S. as children – putting pressure on Congress to come up with a replacement.
"I do not favor punishing children, most of whom are now adults, for the actions of their parents. But we must also recognize that we are a nation of opportunity because we are a nation of laws," President Trump said, in a lengthy written statement explaining the decision.
The Department of Homeland Security formally rescinded the Deferred Action for Childhood Arrivals program, known as DACA, with a six-month delay for current recipients. According to Acting Homeland Security Secretary Elaine Duke, the interval is meant to give Congress "time to deliver on appropriate legislative solutions."
"However, I want to be clear that no new initial requests or associated applications filed after today will be acted on," Duke said in a written statement.
The decision touched off a firestorm on Capitol Hill, where Democrats blasted the president and Republicans blamed the prior administration for putting Trump in a legal bind.
Attorney General Jeff Sessions, speaking to reporters, decried what he called the Obama administration's "disrespect for the legislative process" in enacting the 2012 policy. He said the "unilateral executive amnesty" probably would have been blocked by the courts anyway.
"The executive branch, through DACA, deliberately sought to achieve what the legislative branch specifically refused to authorize on multiple occasions," Sessions said, blaming the policy for the recent "surge" at the border. "Such an open-ended circumvention of immigration laws was an unconstitutional exercise of authority by the executive branch."
The Trump administration was facing a Tuesday deadline to make a decision on DACA or face legal action by Republican state AGs who hoped to force the president's hand in discontinuing the program. A day earlier, Sessions sent Duke a letter with his legal determination that the 2012 executive action was unconstitutional.
Administration officials cast their approach Tuesday at the least disruptive option.
In his statement, Trump stressed that while new applications for work permits won't be accepted, "all existing work permits will be honored until their date of expiration up to two full years from today."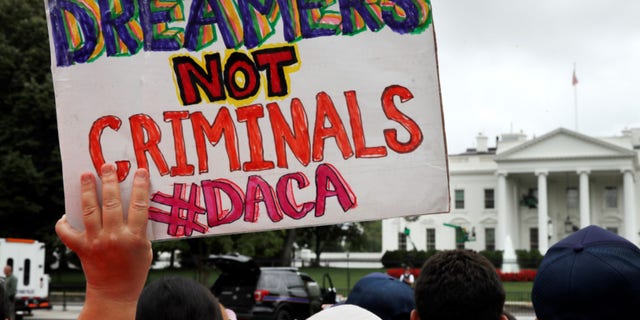 Trump also said applications in the pipeline will be processed.
"This is a gradual process, not a sudden phaseout," he said. "Permits will not begin to expire for another six months, and will remain active for up to 24 months. Thus, in effect, I am not going to just cut DACA off, but rather provide a window of opportunity for Congress to finally act."
Trump vowed to resolve the issue "with heart and compassion," only this time working through Congress.
During the 2016 presidential campaign, Trump had promised to terminate DACA, though he appeared to soften his stance since taking office. In ending the program with a six-month delay, Trump put the onus on Congress to pass a legislative fix.
According to DHS, no current beneficiaries will be impacted before March 5, 2018.
"Congress, get ready to do your job - DACA!" Trump tweeted Tuesday morning.
While some Republicans support the goals of the DACA program, many opposed the use of executive action to institute it, describing the move as a presidential overreach.
Sen. Lindsey Graham, R-S.C., is among those who now support the call to protect so-called "Dreamers" with legislation.
"I have always believed DACA was a presidential overreach," he said in a statement. "However, I equally understand the plight of the Dream Act kids who -- for all practical purposes -- know no country other than America."
On a conference call, administration officials said Tuesday they are still prioritizing criminal aliens for deportation. But they described the original DACA criteria as very broad and cited the legal determination of the Justice Department.
During the presidential campaign, Trump referred to DACA as "illegal amnesty." However, he seemed to edge away from that stance in April when he told the Associated Press that DACA recipients could "rest easy."
WHAT IS DACA AND WHY WOULD TRUMP DISMANTLE IT?
The DACA program was formed through executive action by former President Barack Obama in 2012, allowing recipients to get a deportation reprieve – and work permits – for a two-year period subject to renewal. Under the program, individuals were able to request DACA status if they were under the age of 31 on June 15, 2012, came to the U.S. before turning 16 and have continuously lived in the country since June 15, 2007. Individuals must also have a high school diploma, GED certification, been honorably discharged from the military or still be in school. Recipients cannot have a criminal record.
Congress had been considering legislation to shield young illegal immigrants from deportation for years, dating back to the George W. Bush administration. Lawmakers tried again to pass a bill during the Obama administration, but couldn't muster the votes amid flagging Republican support before Obama formed the program in 2012.
Nearly 800,000 undocumented youth are currently under the program's umbrella.
HILL REPUBLICANS REVIVE 'DREAM ACT' TALKS AS TRUMP DECIDES FATE OF OBAMA PROGRAM
On Friday, House Speaker Paul Ryan, R-Wis., said he supported a legislative solution to protect undocumented minors, but also urged the president to reconsider scrapping DACA.
Following Tuesday's announcement, however, Ryan called DACA a "clear abuse of executive authority" and urged Congress to act.
"Congress writes laws, not the president, and ending this program fulfills a promise that President Trump made to restore the proper role of the executive and legislative branches. But now there is more to do, and the president has called on Congress to act," he said in a statement. "At the heart of this issue are young people who came to this country through no fault of their own, and for many of them it's the only country they know."
But opposition to the DACA termination is already fierce.
Democratic National Committee Chairman Tom Perez said in a statement that, with the decision, "Donald Trump has secured his legacy as a champion for cruelty."
"President Trump's decision to end DACA is a deeply shameful act of political cowardice and a despicable assault on innocent young people in communities across America," House Minority Leader Nancy Pelosi, D-Calif., said in a statement
Even as they blasted the president, Democrats called for legislative action, leaving open the possibility that the two parties could pass a bill in the coming months.
Fox News' John Roberts, Kaitlyn Schallhorn, Brooke Singman and Alex Pappas contributed to this report.