Trump administration backs UK after ex-spy poisoning, considers 'options' against Russia
The Trump administration declined to say Saturday whether it will follow Britain in expelling Russian diplomats after an ex-spy was poisoned on British soil but acknowledged considering a range of "options" in response to the attack.
Britain earlier this week expelled nearly two dozen Russian diplomats after the March 4 poisoning of ex-Russian spy Sergei Skripal and his daughter. They were apparently poisoned with a Soviet-produced, military-grade nerve agent and remain unconscious and in critical condition.
"The United States stands firmly with the United Kingdom in condemning Russia's outrageous action," White House spokesman Raj Shah said Saturday. "The president is always considering options to hold Russia accountable in response to its malign activities."
At about the same time, State Department official Heather Nauert made a similar statement while also making clear that the administration would not announce any action Saturday on the matter.
"The United States is considering a range of options to respond to Russia's outrageous actions in the UK, both to demonstrate our solidarity with our ally and to hold Russia accountable for its clear breach of international norms and agreements," said Nauert, one day after several European Union countries said they may follow Britain in expelling Russian diplomats.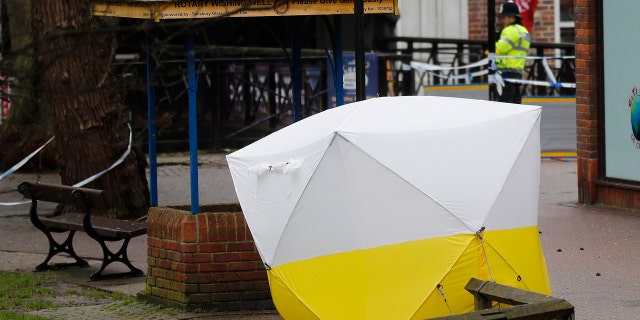 At a summit in Brussels, the 28 EU leaders agreed with Britain that it is "highly likely" Russia is responsible for the attack on Skripal and his daughter, Yulia.
The White House's National Security Council has reportedly advised Trump to expel Russian diplomats.
Trump critics have repeatedly said the president is too supportive of Russian President Vladimir Putin's leadership style. Trump earlier this week congratulated Putin on his successful re-election, despite purportedly being advised not to make the call.
Trump previously joined British Prime Minister Theresa May and the leaders of France and Germany in condemning the poisoning.
"It is an assault on U.K. sovereignty and any such use by a state party is a clear violation of the Chemical Weapons Convention and a breach of international law. It threatens the security of us all," they said in a joint statement.
They also wrote "there is no plausible alternative explanation" for the attack and that the Kremlin's failure to respond to a legitimate request for an explanation "further underlines its responsibility."
Russia has fiercely denied any involvement in the poisoning, saying that it had destroyed its chemical weapons and had no motive to kill Skripal, who was convicted of spying for Britain but released in a 2010 spy swap. Still, Moscow has in turn ordered 23 British diplomats to leave.
The EU's position follows May sharing with group leaders information about why Britain is convinced Moscow was behind the attack, including the type of poison used -- a Soviet-developed nerve agent known as Novichok -- and intelligence that Russia has produced it within the past decade.
Fox News' Rich Edson, John Roberts and Lucia Suarez and The Associated Press contributed to this report.