Truck With Political Sign Booted From Orlando Mall Lot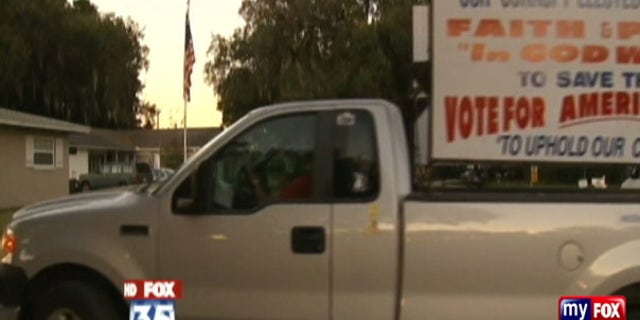 ORLANDO, Fla. -- A Navy veteran who drives a truck calling for voters to elect "American Patriots" was booted from the Mall at Millenia in Orlando allegedly for carrying a solicitation, MyFoxOrlando.com reported on Monday.
For two years, Charlie Klein's truck has carried a sign that says,"God gave we the people America. Our corrupt elected are destroying it. Faith and prayer in God we trust. To save the USA Vote for American Patriots. To uphold our constitution."
The bolted-down sign, significantly larger than a bumper sticker, only became a problem for him, when Klein went to the mall on Friday, he told MyFoxOrlando.
Mall administrators said solicitation is prohibited on mall property, whether it's a political appeal or otherwise.
"I wasn't soliciting I was driving my car, my pickup truck. Freedom of speech, freedom of religion, freedom of political speech out the door at the Mall of Millenia," Klein added.