Transparency troubles: Audit finds $619B gap in federal spending site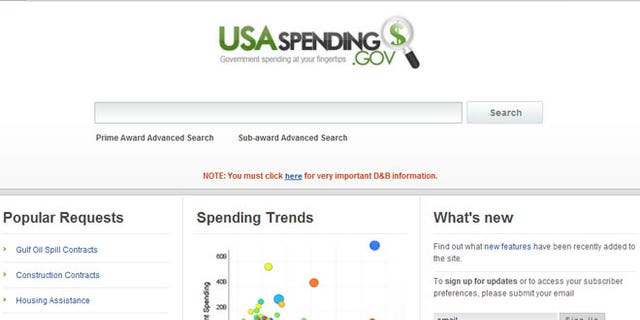 The Obama administration failed to properly account for how it spent nearly $619 billion, according to a watchdog audit of the main federal website meant to track where taxpayer money is going.
The report from the Government Accountability Office picked apart the website USASpending.gov, and the agencies feeding information to it.
The database of government spending and contracts was created out of a 2006 transparency law, but the GAO found it continues to have serious problems. The Department of Health and Human Services was the worst offender, during the 2012 period GAO examined.
"Although agencies generally reported information for contracts to USASpending.gov, they did not properly report information on assistance awards, totaling nearly $619 billion," the GAO reported.
USA Today first reported on the GAO audit.
According to the GAO findings, funding for more than 300 programs was not reported correctly. HHS topped the list of scofflaws, failing to report or reporting late $543.8 billion worth of spending. Part of the reason the number was so high is the agency was not providing information about direct payments to individuals, like for the massive Medicaid program HHS administers.
The Department of Veterans Affairs was next on the list, with $64 billion in spending not properly accounted for.
Further, the report found few contracts and grants were properly reported with all the required information. The GAO found just 2-7 percent of the awards had information "fully consistent" with agencies' own records.
A spokesman for the White House budget office told USA Today that the administration is trying to improve the data on the site.
"OMB is committed to federal spending transparency and working with agencies to improve the completeness and accuracy of data submissions," he said in a statement.