Top Trump immigration adviser predicts immediate change
A key member of President-elect Donald Trump's transition team and a top adviser on matters involving immigration told FoxNews.com Monday the incoming administration will likely move to deport illegal immigrants upon arrest.
Kansas Secretary of State Kris Kobach, a key player in several high-profile immigration measures and court cases, advised Trump on immigration during his campaign and will likely have a key role in shaping the new president's policies. Kobach said Trump is likely to scrap the Obama administration's approach of deporting only those who have been convicted, a policy he said releases dangerous people back into U.S. communities.
"The most extreme criminals are deported while criminal arrestees not yet convicted are turned loose," said Kobach. "[Under the new proposal,] criminal arrestees will be deported, there will be immediate improvement in safety for all Americans."
Kobach stressed that Trump must sign off on decisions involving enforcement policies, but said candidate Trump signaled clearly what President Trump will do.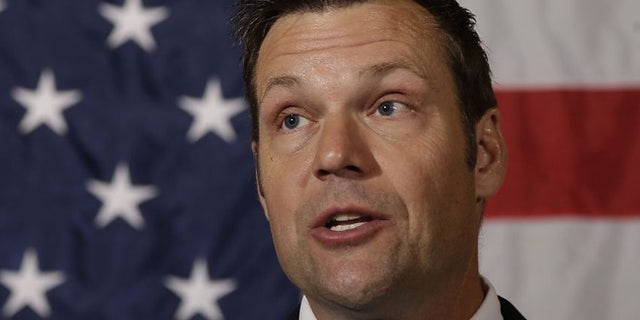 "Ultimately it's his call," Kobach said. "There will be a great deal of consistency between the platform and President-elect Trump's policies – that is, with the caveat that every decision is the president's decision."
Kobach spoke to FoxNews.com a day after Trump appeared on CBS's "60 Minutes" and said that dealing with immigration would be among his first priorities upon taking office in January. He said he would focus on getting criminals off the streets and out of the country, building a wall – though part of it might be a fence, he said – and that later he would turn his attention to what to do about other illegal immigrants who have not committed crimes.
"After the border is secure and after everything gets normalized, we're going to make a determination on the people that they're talking about — who are terrific people," Trump said. "They're terrific people, but we are going make a determination at that. But before we make that determination . . . it's very important, we are going to secure our border."
Some 12 million people are believed to be living in the United States illegally. Roughly 40 percent entered on visas and did not leave when they expired.
Kobach said that Trump will be able to boost enforcement of existing immigration laws right away by undoing Obama's executive actions, and giving Immigration and Customs Enforcement agents more support and freedom to arrest, detain and deport people such as those with criminal records.
"Obama ordered ICE agents to stop doing their jobs," said Kobach, who represented ICE agents in a lawsuit challenging Obama's executive actions. "The morale of ICE is the lowest morale of any federal agency."
Kobach, who was a force behind Trump's vow to build a wall along the U.S.-Mexico border, and have Mexico pay for it, said that Trump will have the mandate and supportive Congress, with Republicans having control next year of both chambers, to make immediate changes in the immigration system.
"Americans think our laws need to be followed," he said. "President-elect Trump is in a unique position. He has the mandate from the American people to end illegal immigration and secure our borders for once and for all."
Asked where the Trump administration might draw the line on criminals – whether a tougher approach would lead to the detention and deportation of only those arrested for felonies, or for lesser crimes, as well – Kobach declined comment.
Kobach added that he did not want to get into details prematurely that had not yet been hammered out or that would put Trump on the spot.
Kobach's appointment to the transition team has raised speculation that he might be named to a post in the Trump administration, but he declined to comment on the prospect.
Advocacy groups are girding for a pitched battle with the Trump administration over illegal immigration, and are warning that deportations - even of criminal suspects - will break up families.
"This will rip apart families and become one of the darkest chapters in American history, all because he wants to throw red meat to his hard core white nationalist base," said Frank Sharry, executive director of America's Voice, a Washington D.C.-based group. "His talk of 'criminals' is a strategy to throw sand in the faces of the American people in hopes of covering his tracks. It's up to all of us to make sure he doesn't get away with it."
Few people have been more influential in state-level and nationwide efforts to push for stricter immigration enforcement than the 50-year-old Wisconsin native.
Kobach, who holds degrees from Harvard, Yale and Oxford, co-authored Arizona SB 1070 anti-illegal immigration law, which led to similar legislative efforts in several other states after Congress repeatedly failed to fix the system and address border security.
Kobach served as chief adviser on immigration and border security in the U.S. Department of Justice, and helped shape enforcement programs after the Sept. 11 terrorist attacks, including the National Security Entry-Exit Registration System, which screened people seeking to enter the United States from countries where Al Qaeda was active.
Kobach predicts that under Trump, local police and federal immigration agents will work more closely.
"They play a vital role on being the eyes and ears of the federal government," he said. "Most of the arrests by ICE in the past would come from local law enforcement."