Tillerson: US to respond to Russia's ouster of diplomats
Secretary of State Rex Tillerson said Sunday the U.S. will respond by Sept. 1 to Russia's move to make a major cut in American diplomatic staff in response to former President Barack Obama's decision to expel Russian diplomats for Moscow's meddling in the 2016 presidential election.
Tillerson, speaking to reporters during a regional security summit in the Philippines, said he told Russian Foreign Minister Sergey Lavrov of the deadline when the two met Sunday. Tillerson said he told Lavrov that the U.S. still hasn't decided how it will respond. He added that he asked Lavrov "several clarifying questions" about the act of Russian retaliation.
Russia announced it would force the U.S. to cut its embassy and consulate staff in Russia by 755 people, sparking confusion because the U.S. is believed to have fewer than 755 U.S. employees in Russia.
Lavrov told reporters that despite strained relations with Washington, his country was ready for more engagement with the United States on North Korea, Syria, Ukraine and other pressing matters. Lavrov said Russia and the U.S. had agreed to resume a suspended high-level diplomatic channel and Washington would send its Ukraine envoy to Moscow for negotiations.
Lavrov's upbeat assessment came amid what the U.S. has called a diplomatic low point unseen since the end of the Cold War.
"We felt that our American counterparts need to keep the dialogue open," Lavrov said. "There's no alternative to that."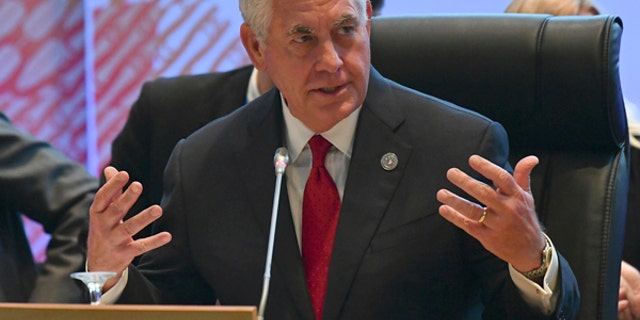 The Kremlin said last month the number of U.S. diplomats was being cut to 455. The new Russian Ambassador, Vassily Nebenzia, told Fox News late last month that President Vladimir Putin felt it was finally time to respond to the United States.
"It was a reaction, which was delayed for very considerable time, for half a year in the hope the current administration wouldn't do the damage the Obama administration did," Nebenzia said. "We've been robbed of our own compounds here, absolutely illegally, and our diplomats were sent out.
"In diplomacy you know there is real reciprocity, which is sometimes is nicknamed tit-for-tat, and we've been restrained and calm and polite long enough. And we were warning our American counterparts that we would be obliged to do so if there is no progress on that issue, and there is no progress on that issue. The time has come that we had to do it."
Earlier this month, President Donald Trump grudgingly signed what he called a "seriously flawed" package of sanctions against Russia. The legislation is aimed at penalizing Moscow for interference in the election and for its military aggression in Ukraine and Syria, where the Kremlin has backed President Bashar Assad.
The Associated Press contributed to this report.