Three Swing States Hold Primaries Ahead of November's Elections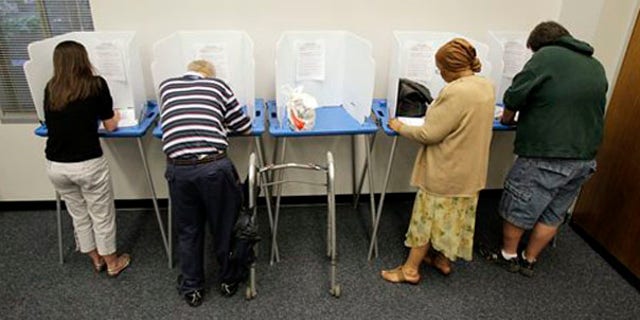 NEWYou can now listen to Fox News articles!
Three battleground states that swung for Candidate Barack Obama in 2008 are holding closely watched Senate and House primaries Tuesday that could solidify the Democratic Party's gains or contribute to a Republican rebound in 2010.
The Senate races in Indiana, North Carolina and Ohio all lean to the Republicans in the general election but candidates must first compete in the primaries.
While it's difficult to draw concrete conclusions about the state of the country from just a few races, the results will give some idea of whether anger about the country's direction translates into actual votes, whether the national parties still can influence rank-and-file supporters and, in some cases, whether the tea party coalition can have an impact at the ballot box.
Voter turnout was light several hours after polls opened in Ohio, Indiana and North Carolina. Economic woes and the persistently high unemployment loomed large in all three states.
In Indiana's Senate race, former Sen. Dan Coats -- recruited by the National Republican Senatorial Committee before Democrat Sen. Evan Bayh decided to retire -- is fighting for the GOP nomination against four others. They include Marlin Stutzman, a state senator who is a Tea Party favorite and was endorsed by South Carolina Sen. Jim DeMint, and John Hostettler, a former congressman who has the support of former presidential candidate Rep. Ron Paul, R-Texas.
Democrat Brad Ellsworth's nomination is assured.
In notable House races, 14-term Republican Rep. Dan Burton -- Indiana's longest-serving congressman -- faces six challengers for his 5th Congressional District seat. And Rep. Mark Souder is fighting Bob Thomas, a well-funded auto dealer, in the 3rd District.
In North Carolina's 6th Congressional District, Republican Rep. Howard Coble, who first won his seat in 1984, is trying to fend off five opponents. And in the 8th District, first-term Democratic Rep. Larry Kissell is facing one challenger.
Also, six Democrats are competing in the Democratic primary for the chance to challenge first-term GOP Sen. Richard Burr, whose public approval numbers in North Carolina are lower than expected. Among the Democrats are Cal Cunningham, a former state senator who is the favored choice of the Democratic Senatorial Campaign Committee and Secretary of State Elaine Marshall. A candidate will need 40 percent of the vote to avoid a two-person June 22 runoff.
In Ohio, Lt. Gov. Lee Fisher, a former Ohio attorney general backed by Democrats in Washington, is facing Secretary of State Jennifer Brunner. The two are battling for the Democratic nomination to fill the Senate seat of retiring Republican George Voinovich. The winner will face former Rep. Rob Portman, the budget director and trade representative under George W. Bush.
The same dynamic in races in those states is playing out in contests across the country.
In Kentucky, Senate Republican Leader Mitch McConnell endorsed the GOP establishment's candidate for the open Senate seat, Kentucky Secretary of State Trey Grayson, over Rand Paul, a newcomer backed by the tea party movement and retiring Sen. Jim Bunning. Kentucky's primary is May 18.
Fox News' Carl Cameron and The Associated Press contributed to this report.