LONDON – Thousands took to the streets of Britain's capital Friday in protest of President Trump's three-day visit to the country -- just as Trump was trying to smooth over relations with Prime Minister Theresa May after an interview in which he criticized her approach to Brexit.
Trump avoided the center of London, instead visiting Sandhurst Military Academy and May's residence in Chequers, where the pair held a press conference. But that did not deter protesters, who marched through the streets in the thousands, despite what was an unforgivably hot British summer day.
As the afternoon dragged on, tensions flared and the scene at times turned violent. When a group of pro-Trump counter-protesters staged a show of support outside a pub, they were soon surrounded by police and hundreds of anti-Trumpers, some throwing bottles.
One apparent Trump supporter was hit after an anti-Trump protester broke through the barrier.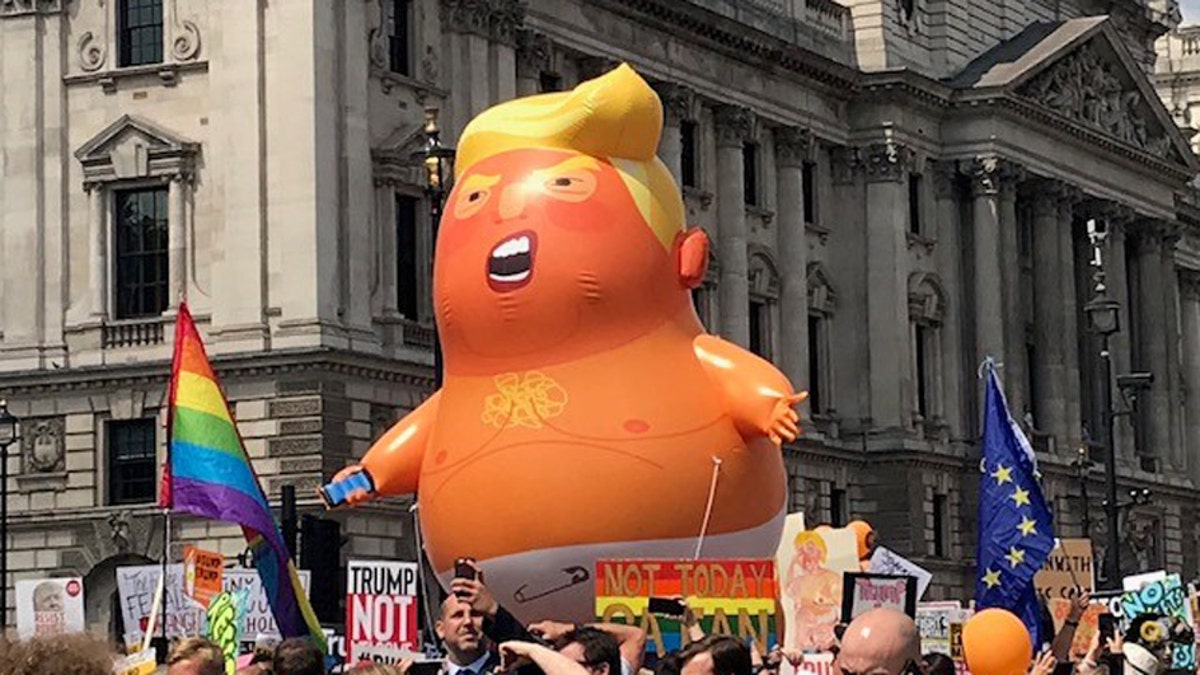 Elsewhere, protesters marched peacefully but made their outrage toward Trump known. Eloise Todd, CEO of Best for Britain, said she was motivated both by Trump and by her opposition to Britain's 2016 Brexit referendum to leave the European Union.
"Trump unifies people on so many issues. It's about respect for women, respect for minorities and it's about the kind of country we want to be, and that relates to the Brexit fight," she said.
'He doesn't have one good attribute, I can't even think of one.'
She also warned that Britain must choose between staying close to Europe or "we open up to Donald Trump, who we know very openly wants to get his hands on our [health system], have a kind of open trade that would allow us to have very different kinds of imports like chlorinated chicken and hormone-fed beef, all of those things that at the moment, we resist."
Christine, who didn't want to give her last name but said she was an American who had lived in the U.K. for 40 years, was holding a stick with a Trump head on it sucking on a pacifier. She was stunned by a question asking what it was about Trump she opposed.
"Are you serious? How about dividing the nation? All the nations," she said. "He doesn't have one good attribute, I can't even think of one."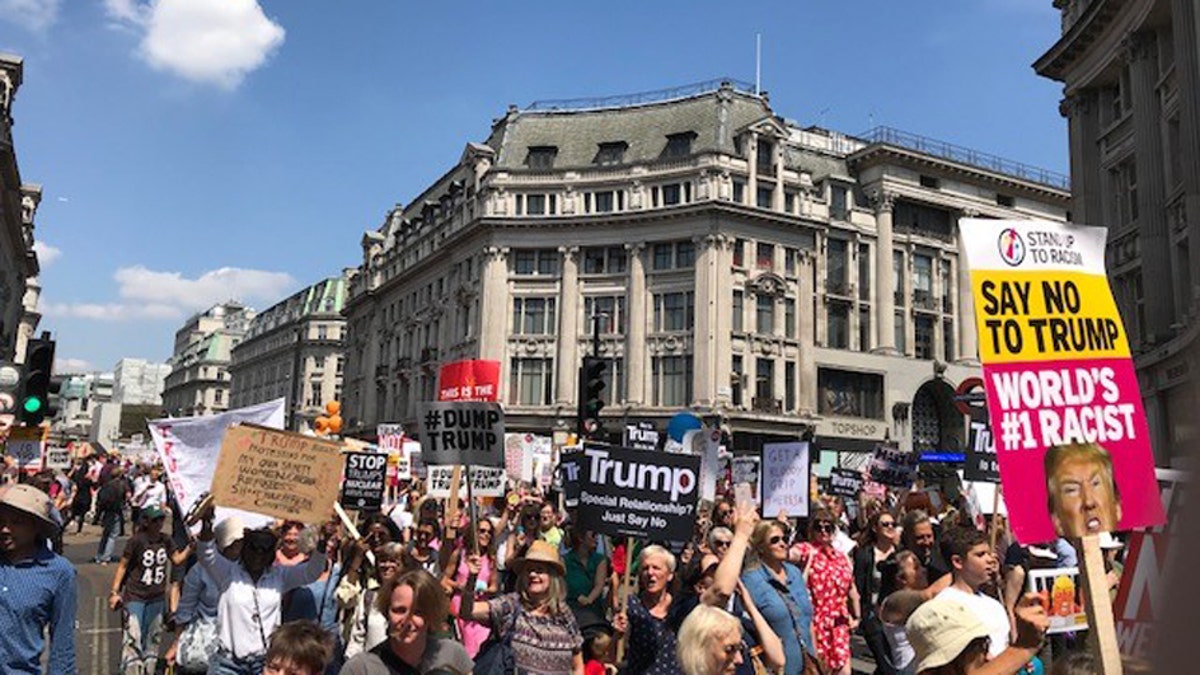 "Get another job," she yelled following the brief interview with Fox News.
Georgia and India Humphrey, sisters from Southampton, had traveled to London for the day and were planning on attending both rallies. They held a sign that showed a rear end emitting a Trump-shaped cloud.
"Basically, we're just really pissed off that Trump's here and we wanted to show even in a small way that he does not stand for our values," Georgia said.
There were signs of some pro-Trump sentiment in the capital, which resulted in clashes with anti-Trump protesters like the one outside the pub.
On Friday, a cab driver was booed as he drove by, shaking his fist and yelling: "Donald Trump, Donald Trump." A group of builders who had stopped for a cigarette near the march route were seen shaking their heads and flipping off the protesters.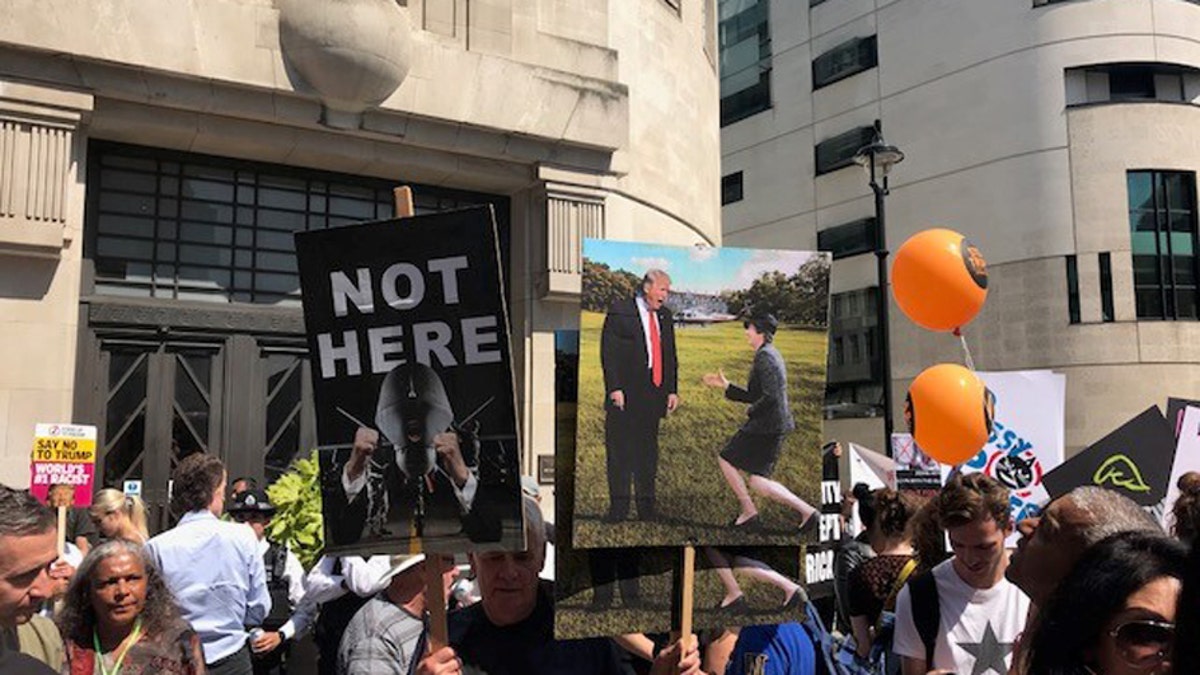 "People need to let Trump know that he is welcome and these people don't represent the majority of this country," Tom English from Manchester said.
A pro-Trump rally is planned for Saturday.
The centerpiece of the anti-Trump protests was a balloon of Trump as a baby. While it had been much hyped as something that would be big enough to fly above Parliament and be visible, there was more than a little disappointment among some as they observed a balloon that struggled to hover more than a few feet above marchers.
Daniel, a student from Alabama, seemed underwhelmed by the balloon.
"I thought it was like going to be a bigger balloon type thing but yeah it is a bit smaller," he said.
The protests add to what is already an awkward visit for both Trump and Theresa May. Trump had roiled diplomatic norms with an interview with The Sun where he criticized May -- who is clinging to power after the resignations of two top cabinet officials -- over her approach to Brexit.
"I would have done it much differently. I actually told Theresa May how to do it but she didn't agree, she didn't listen to me," he said, before saying negotiations had gone on "too long."
Trump stung May further by continuing to praise Boris Johnson -- the former foreign secretary who resigned this week over May's approach to Brexit. Trump has not ruled out speaking with Johnson while he is in the U.K. and in his interview said that Johnson could be a future leader.
"Well I am not pitting one against the other," he said. "I am just saying that he would be a great prime minister. I think he's got what it takes."
At the press conference Friday, Trump denied criticizing May and hyped up their relationship as "the highest level of special." He also said that May was a "very smart, very tough, very capable person."
Both leaders pledged to work together on trade, seeming to patch up any dispute over the interview.
"I would rather have her as my friend than my enemy," Trump said.
"And we are friends, Mr. President," May quickly responded.