EXCLUSIVE: As the Syria regime of Bashar Assad grinds out a piecemeal victory in ravaged areas of resistance, the United Nations faces a new challenge: how, and with whom, it will help the regime rebuild -- and in the process might further help to consolidate Assad's sway.
Among other things, Fox News has learned, such recovery work has already involved local cooperation between one U.N. organization, the International Organization for Migration (IOM), and a charity placed on a U.S. sanctions list last month for its close ties to Assad's militias and to the dictator's crony billionaire cousin, Rami Makhlouf, who was also sanctioned by the U.S. Treasury much earlier.
According to an internal U.N. document examined by Fox News, the small-scale project involved little more than assistance last year, with funding from Kuwait, to revive a number of local handmade carpet cooperatives, using funding from Kuwait, "in cooperation with local communities and Al Bustan NGO."
That appeared to be a reference to the Al Bustan Charity organization, an entity sanctioned by the U.S. Treasury on May 16, 2017. Treasury declared at the time, "Makhlouf created a vast private network of miitias and security-linked institutions through al-Bustan, a prominent organization recruiting and mobilizing individuals to support and augment Syrian military forces."
Indeed the role of Al Bustan, in supporting and orchestrating Assad's militia forces, had been common knowledge for years.
In response to questions from Fox News about that relationship, an IOM spokesperson declared that "individual countries have bilateral sanction lists which do not necessarily apply to the U.N.," but that "IOM continues to ensure that any assistance provided inside Syria is directed to beneficiaries without regard to political affiliation, geographic location, ethnic, tribal or religious identify or without regard to other external factors."
He also said, by way of justification, that "all partners inside Syria (U.N. or international NGOs) are required to work in cooperation with local NGOs approved by the Government of Syria. IOM for most part does not transfer funding directly to these partners, but provides in kind contributions" such as raw materials. Moreover, he said, "IOM staff are present during distributions/activities with local partners, and monitor closely all activities involving in-kind donations."
Whether the safeguards that IOM outlined were, in fact, always in place is impossible for outsiders to verify; the project seems small in terms of the sweep of sinister activities attributed to Al Bustan—but for that reason even more puzzling.
Nonetheless, the same document that referenced the Al Bustan project underlined many other close ties that the U.N. is cultivating as a matter of normal practice with Assad to rebuild not only social services and infrastructure, but also economic activity in Assad-controlled communities, not to mention "capacity development"— skills, knowledge and training — for Assad-dominated institutions around the country.
The document, a draft version of a year-end examination of a two-year "Syria U.N. Strategic Framework" that was signed in February 2016, shows the deeply hand-in-glove relationship a variety of U.N. institutions are building with Assad that are aimed at "building the resilience and improving the lives of the people of Syria, particularly the most vulnerable."
The strategic framework is the renewal of a conventional U.N. exercise with the governments of developing countries that was suspended, in Syria's case, in the worst carnage of its civil war, but has evidently been renewed, even though fighting, and complaints about Assad's atrocities, continue, along with the regime's cold-blooded manipulation of humanitarian relief.
A new Syria strategic framework for 2018-2019 is already under discussion.
The self-declared aim of the Year-End Review, written in the U.N.'s customary opaque prose, was to "assess progress in implementation" of programs agreed with the Assad regime, "identify achievements" and "reflect on the lessons and priorities for 2017."
A final version of the Review, according to a spokesperson for the United Nations Development Program (UNDP), which coordinated the effort, "is an internal UN management document and is not meant for dissemination."
Among other things, it noted:
? A number of U.N. agencies were preparing to help the regime, "perhaps in 2017," carry out a survey that "aims at providing the government of Syria and all key partners with reliable evidence-based information which will support planning, programming and policy development in many different sectors."
? Another agency, U.N. Habitat, is helping with a "Municipal and Neighborhood Planning Approach used in at least 12 municipalities to "identify strategic priorities to support the return of [internally displaced persons] and neighborhood action plans"— while at the same time Assad is deporting refugees arbitrarily from reconquered cities and towns.
? The same agency is helping municipalities to recover lost or damaged housing property documents "in areas of high return potential," and also holding workshops for residents to learn how to restart "small and micro businesses that were damaged during the crisis."
? Most agencies are still involved in an expanding array of humanitarian interventions, including the supply of food, water, health and education, but are branching out into areas such as providing "best practices" in agricultural, "community centers" where remedial education programs and other programs can be provided by the government, and various other close cooperative efforts.
These development activities, notes a humanitarian expert with considerable knowledge of Syria, are different even from the controversially one-sided emergency humanitarian relief that the U.N. has provided to allay one of the worst refugee crises since World War II.
There is, he said, an "ethical risk" in "reinforcing facts on the ground" and "re-engineering the ethnic geography" of Syria as a result of the programs, which are, after all, co-written with a government that is still keeping ordinary relief supplies away from hundreds of thousands of people, expelling residents from their communities and engaging in countless illegal violent attacks in contravention to international law.
The deeper risks of that re-engineering, and the U.N.'s potential role in it, have already been examined in an independent study of the Syrian city of Homs, which was devastated by the Assad regime and surrendered to the regime in 2014, an event also followed by mass deportations.
The study conducted by a Dutch NGO, Pax, and the Syria Institute, an independent, Washington-based think tank, warns that the deported residents are "effectively excluded from rebuilding efforts undertaken by the Syrian government in cooperation with U.N. agencies with the support of foreign donor states."
The study also notes that "international support for Syrian government efforts to rebuild the Homs neighborhoods that it intentionally destroyed and depopulated may serve to incentivize similar atrocities elsewhere by paying the government "war crimes dividends" instead of holding it accountable. Indeed, the 'Homs model' has served as a blueprint for the destruction and depopulation of other key locations," such as eastern Aleppo, which fell to Assad in late 2016.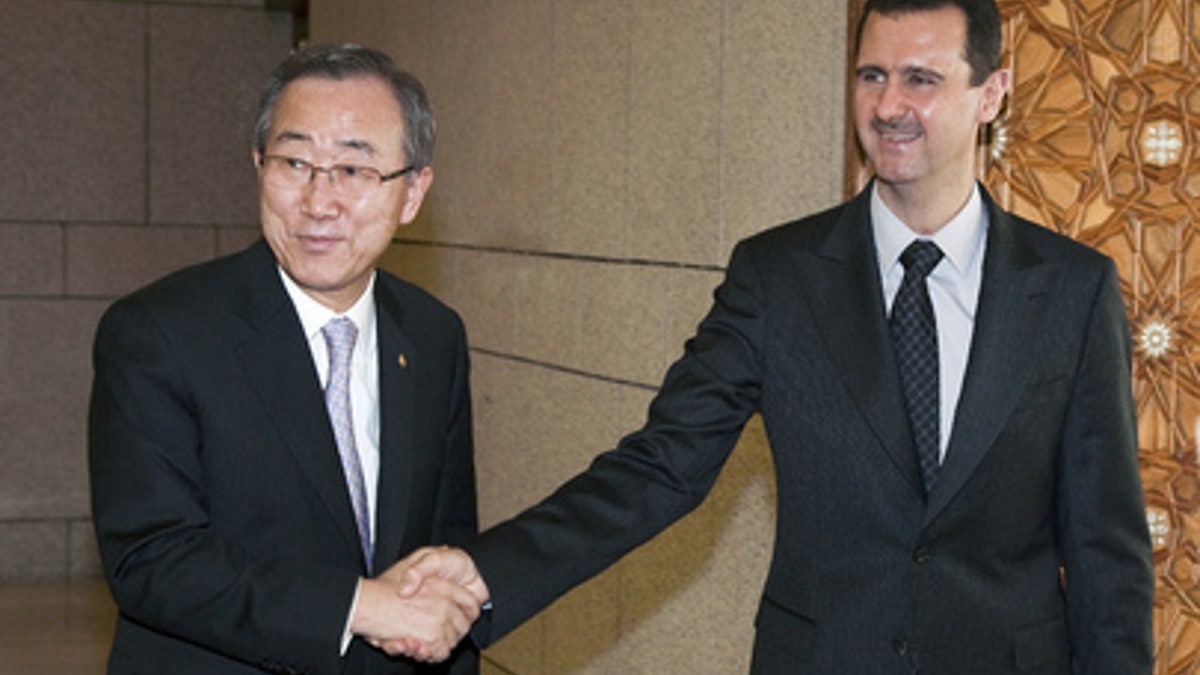 The study, based mostly on interviews with deportees, notes that U.N.-assisted efforts to clear debris and re-establish civic life in Homs "does not appear to include efforts to account for the rights of original property owners."
The efforts also served to fortify and consolidate the holdings of Homs' Alawite residents, members of the same minority group as Assad, and considered the regime's strongest supporters.
Through its rehabilitation and support efforts in Homs, the study warns, "U.N. agencies may be inadvertently deepening sectarian schisms, validating war crimes, and removing any hope of return for many of the original inhabitants."
Meantime, the mayhem continues across Syria, as Assad and his Russian and Iranian allies carry out more of the "surrender or die" strategy that aims crushing attacks against resistance controlled areas, and continues to bomb hospitals, civil centers, schools and civilian markets as part of the process, actions that are all considered war crimes.
According to the non-government organization Siege Watch — also supported by Pax and the Syria Institute -- in a report issued June 19, at least five Syrian communities have surrendered to Assad between February and April, accompanied by forced deportations of tens of thousands --also considered a war crime — and in many cases continued atrocities.
Meantime, U.N. humanitarian convoys continue to be blocked by Assad's military from still-besieged areas, and medical supplies are routinely removed, despite U.N. protests, when they get through.
Thus the biggest paradox of all in the U.N.'s "strategic framework" efforts in Syria: the world organization is partnered with a tyrant in restoring a country he is still in the process of destroying.