The Nice Rahm Emanuel…No…Really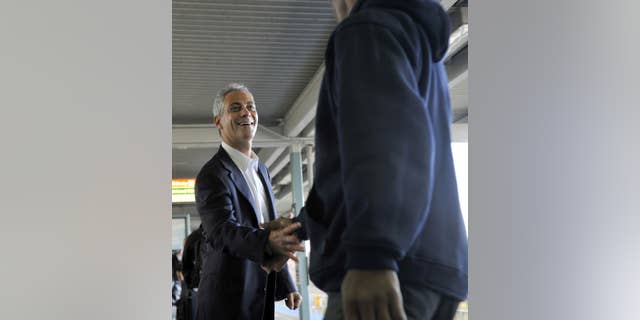 CHICAGO -- There were smiles...BIG smiles. The tie? Gone. And everyone was "Buddy." As in, "Hey, Buddy! Have a great Monday." This was Rahm Emanuel.
Wait.
The take-no-prisoners political operative who until last Friday was among the most feared and respected people in Washington? The guy with the legendary potty-mouth? That Rahm Emanuel?
Yup.
Meet candidate Rahm Emanuel on his first day of campaigning to be the next mayor of Chicago. This morning at 8am, the former chief of staff to President Obama was on the commuter train platform at State and Roosevelt.
There he stood completely surrounded by cameras as he greeted each and every person who came up the escalator. Some folks at the South Loop stop were caught off guard, but most of folks were just fine shaking hands with Emanuel.
And Emanuel discovered he had a few votes out there already.
A man in glasses stepped off the train and assured, "I will vote for you."
Outside the train station, a woman taking her daughter to school wrapped Emanuel in an enthusiastic hug and declared, "I'm so glad you're here!"
This was the first of several stops of the day hitting Chicago's Loop as well as the Southside, Westside and Northside.
Emanuel says he wants to hear the blunt Chicago assessments of what residents want for their city. It is classic grassroots politics. It also comes with some risk.
Reporters and photographers caught a morning commuter shout, "Go back to Washington!"
Later that morning in the Pilsen neighborhood, while Emanuel was taking with some folks at a restaurant, a man walked up with a beef.
"Why should we vote Democratic now after all the jobs...you was up there in Washington and you did send the money down? It never reached us!"
Emanuel excused himself, got up from the table and defused the situation assuring the man, "I promise you that I will come over when I am done, I want to sit down with you and I am going to talk with you."
There were other issues for the fledgling Emanuel campaign to deal with. On Saturday, a kick-off video was posted on the ChicagoforRahm campaign website. In the video, Emanuel talks about being born "here," he and his wife raising their children "here," and how he's glad to be "home".
But when Emanuel was saying the words "here" and "home" for the video, he was in Washington...not Chicago.
Lori Goldberg, Emanuel's spokeswoman, in an e-mail explains, "The video was shot in D.C. after Rahm had left the White House. It was not released until after he was home in Chicago."
As gaffes go, Emanuel has seen worse. And there will be tougher days than this ahead.
Monday night, he's off to a city bowling alley for some more campaigning, more listening. He says he'll working until 10:30 pm.
But now, he's working a long day for himself -- in a city's that's his true home.
Maybe that's why the guy's all smiles.