The Big Day: Crowd Emerges at Site of Chelsea Clinton's Wedding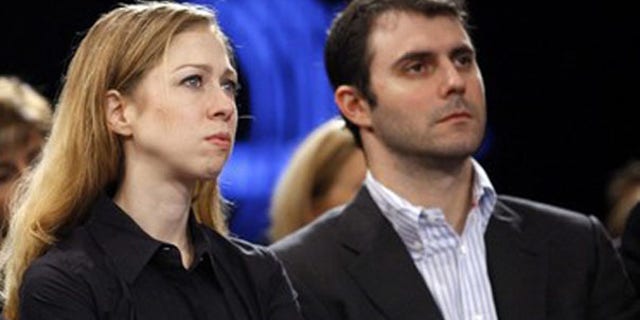 RHINEBECK, New York -- Publicity-shy Chelsea Clinton is tying the knot Saturday evening in a wedding that has been shrouded in secrecy but is drawing reporters and celebrity watchers from around the world to this small village in hopes of catching a glimpse of a high-profile guest.
The crowd began forming midmorning after weeks of intrigue and secrecy about a ceremony with a VIP guest list said to include such luminaries as Oprah Winfrey and Steven Spielberg.
The 30-year-old daughter of Bill and Hillary Clinton was expected to wed her longtime boyfriend, investment banker Marc Mezvinsky, at an exclusive estate along New York's Hudson River in a ceremony with 400 to 500 guests. Details of the wedding were kept fanatically close to the vest, with shopkeepers, innkeepers, vendors and restaurateurs sworn to secrecy. Roads were blocked off, the skies were closed over the estate and inconvenienced neighbors were soothed with a complimentary bottle of wine.
Donna Vena drove 50 miles to Rhinebeck from her home of Mount Kisco, N.Y., in the hopes of spotting a celebrity.
"Why not?" she asked Saturday morning, a camera slung over her shoulder. "Big story. Maybe see Oprah."
Nearby, two young women passed out slices of pizza with "I do" written in pepperoni.
Hundreds of people gathered outside the hotel where many of the guests are staying were rewarded Friday night when the Clintons exited a van arm-in-arm outside the Beekman Arms Hotel.
Shortly before 11 p.m., the former first lady, wearing a long green dress, waved to the cheering crowd waiting behind metal barricades and quickly went into the hotel. She left with the former president about a half-hour later.
Earlier Friday, Bill Clinton made an appearance around lunchtime, popping out of a car and walking a few blocks, greeting people on his way to a restaurant. Looking fit and relaxed in blue jeans and a black knit shirt, he gave easy answers to questions shouted by well-wishers and reporters.
The wedding is set to take place at Astor Courts, a secluded estate along the Hudson River built as a Beaux Arts style playground for John Jacob Astor IV more than a century ago. The estate features the sort of commanding view that once inspired Hudson River School painters, as well as 50 acres of buffer space to shield the party from prying eyes.
Chelsea Clinton and Mezvinsky were friends as teenagers in Washington, and both attended Stanford University. They now live in New York, where Mezvinsky works at G3 Capital, a Manhattan hedge fund. Mezvinsky worked previously at Goldman Sachs as an investment banker.
Clinton completed her master's degree in public health earlier this year at the Mailman School of Public Health at Columbia University.
Mezvinsky is a son of former U.S. Reps. Marjorie Margolies-Mezvinsky of Pennsylvania and Ed Mezvinsky of Iowa, longtime friends of the Clintons. His parents are divorced.
The Associated Press contributed to this report.