Texas judge extends order blocking child-care license at immigrant detention center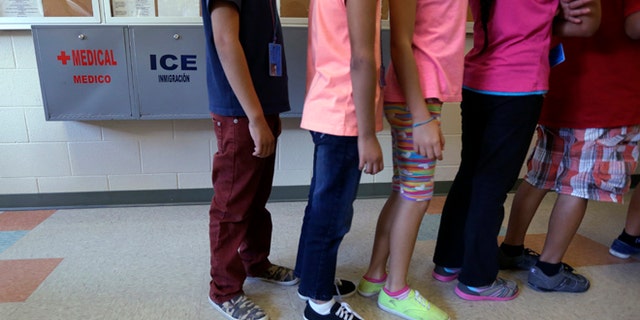 NEWYou can now listen to Fox News articles!
AUSTIN, Texas (AP) – A judge extended her order Wednesday that at least temporarily blocks a residential child-care license for one of the nation's largest detention centers for families caught crossing the southern U.S. border illegally.
State District Judge Karin Crump issued a temporary injunction Wednesday in Austin, blocking the state from licensing the privately owned and managed, 2,400-bed South Texas Family Residential Center in Dilley until a full hearing scheduled for September. An activist group contends the center is a prison inappropriate for family detention.
The licenses are needed because a federal judge ruled last year the center would have to eventually release the immigrant children without them. Crump had issued a restraining order in May.
A spokesman for the Texas Department of Family and Protective Services, which issues the licenses, declined to comment.
The Dilley center is about 70 miles southwest of San Antonio. Grassroots Leadership, the Austin, Texas-based group fighting to block the license, also wants the judge to strike down a temporary residential childcare license already issued to the privately owned and managed, 500-bed Karnes County Residential Center in Karnes City, about 50 miles southeast of San Antonio.
"Family detention camps are prisons; they are not child-care facilities," Bob Libal, executive director of the activist group, said in a statement. "We are glad the court heard our concerns today about the damage that family detention does to mothers and their children and how lowering standards to issue licenses to these facilities only exacerbates that harm."
The two family detention centers opened in 2014 in response to the arrival of tens of thousands of mothers and children from Central America. The license approval for the Karnes City facility came as apprehensions of unaccompanied immigrant children along the southwest border increased by 78 percent for the period from Oct. 1 through March 31 compared with a year earlier, and the number of apprehensions of families more than doubled.
Immigrant advocates criticized the licensure, citing reports of inadequate medical care and other issues as reasons why such facilities shouldn't get licenses.
Like us on Facebook
Follow us on Twitter & Instagram