Texas Democratic Candidate Fails to Join President at Party Fundraisers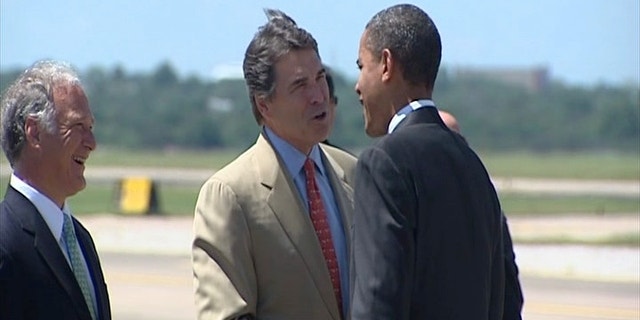 When President Obama arrived in the Lone Star State on Monday, he was welcomed by an unlikely greeter: arch-conservative Texas Governor Rick Perry. Gov. Perry met President Obama's plane at the Austin airport, while Perry's Democratic opponent, Bill White, kept his distance.
White, who is trailing Perry in recent polls, has been accused of avoiding the president for fear of being associated with Mr. Obama's own low poll numbers. A July Rasmussen survey of likely Texas voters shows that sixty-three percent disapprove of how President Obama is doing his job. Those same voters give the incumbent governor a nine-point lead over White. A spokesman for the Texas Republican Party told Fox News it's the president's policies that aren't sitting well with voters there. "The fact is Texans just do not like his left wing socialist policies. Never have, never will," Bryan Preston told Fox News White House correspondent Wendell Goler.
Deputy Press Secretary Bill Burton told reporters traveling with the president, that Mr. Obama was not "insulted" with White's plans to attend campaign events in Midland and Abilene. The Obama administration has been downplaying the fact that some Democratic candidates have not been beating down the White House door asking the president to campaign for them. While Burton told reporters White "had something else going on today that he would rather do than campaign with the president," the deputy press secretary also said "there has never been a president in the history of this great country who has been wanted by every single candidate across the country to come and campaign for them." Democratic Congresswoman Sheila Jackson Lee, who represents Houston where Bill White was the mayor, defended White's actions telling reporters after the president's Austin education remarks, that she has spoken to White and he has a "great deal of respect for the president."
But Governor Perry wasn't using his moment at the president's side for campaign fodder, he has long been asking the White House for a meeting to discuss issues important to his state, among them, border security. And while his face-time with the president was fleeting, Perry did hand over to a senior Obama advisor a letter telling the president the current national guard allocation for Texas is "insufficient" and urged the president to deploy an additional 1,000 national guardsmen to the Texas-Mexico border.
And while White had no plans to attend either Democratic National Committee fundraisers that the president is headlining in Austin and Dallas, he will presumably see part of the proceeds come his way. While in Austin, the president helped democrats raise close to a million dollars with a quarter of that being allocated to the Texas Democratic party.
Photo Credit: Pool Photo of President Obama being greeted by Gov. Rick Perry, R-Texas, in Austin.