Tennessee primary guide: Carr looks for lightning to strike twice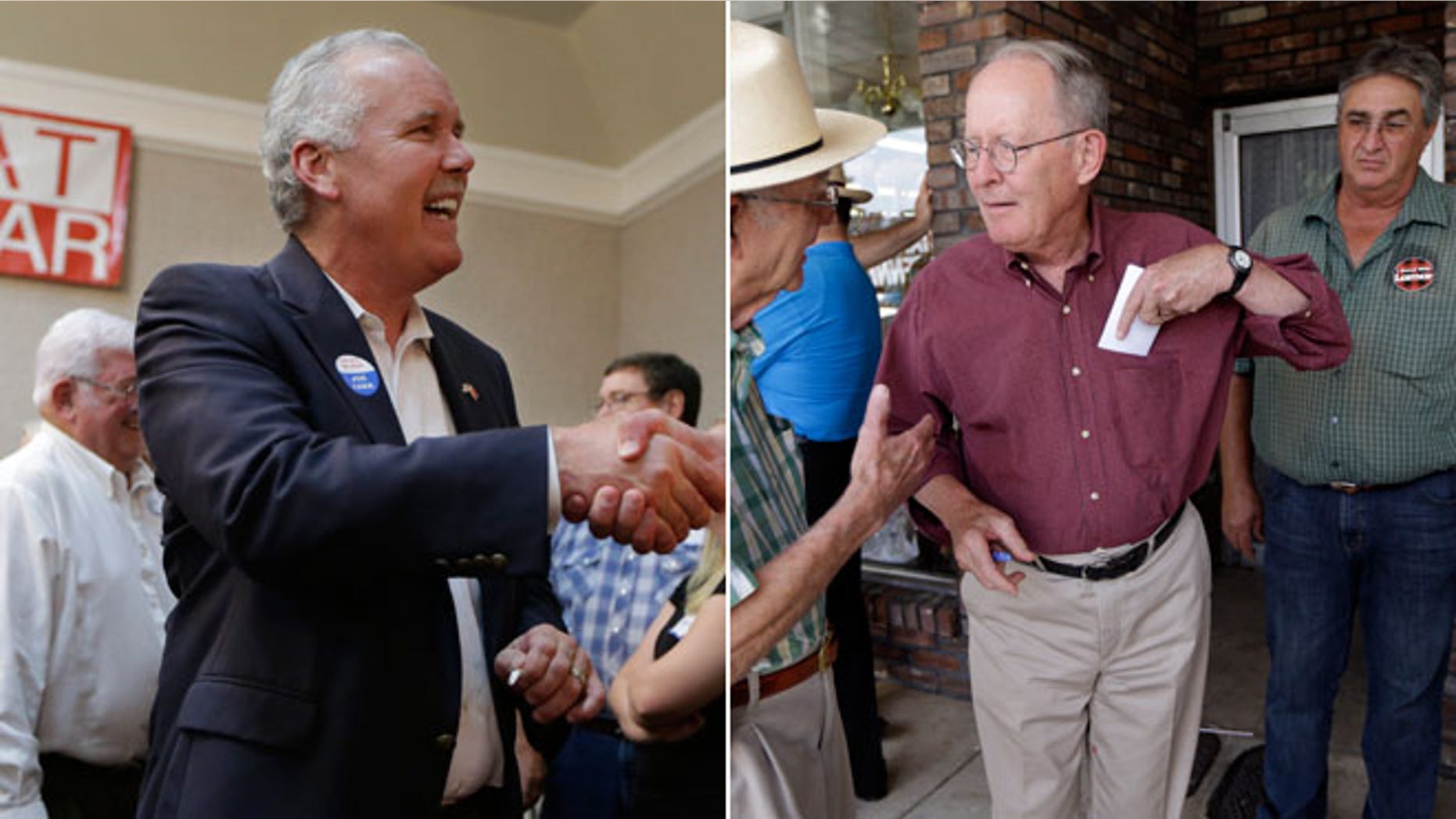 **Want FOX News First in your inbox every day? Sign up here.**
Buzz Cut:
• Tennessee primary guide: Carr looks for lightning to strike twice
• Obama ducks on mass amnesty plan
• Warren puts majority ahead of purity
• Pick six: Come on, South Dakota's a lock
• This bear's no belieber
TENNESSEE PRIMARY GUIDE: CARR LOOKS FOR LIGHTNING TO STRIKE TWICE
Tennessee state Sen. Joe Carr could be the next Dave Brat. Like Brat, the upstart who overcame massive funding and name-recognition disadvantages to knock off sitting House majority leader Eric Cantor, Carr is running in an open primary against a moderate Republican who has long angered conservative activists. And like it was for Brat in June, immigration has been a hot topic on the trail and drawn national support to his cause. But unlike Brat, Carr's opponent, Sen. Lamar Alexander, R-Tenn., saw him coming.

[Polls close in Tennessee at 8 p.m. ET. You can track the results with the Tennessee Secretary of State and watch Fox for coverage of tonight's key primary contests, online at FoxNews.com]
Big turnout - There are early signs of a big turnout boost in the Volunteer State, where Alexander, a former governor, a former U.S. secretary of Education and onetime presidential candidate, is seeking a third term at the age of 74. Carr, a state senator from the conservative stronghold of Rutherford County south of Nashville, has been running long and hard but only recently caught the attention of national conservatives drawn to his emphasis on opposing the Alexander-backed immigration compromise legislation of 2013. Both Carr and Alexander have been running full tilt and getting lots of media attention in what is the last realistic hope for GOP insurgents to unseat a sitting senator this cycle. Alexander has been highlighting his opposition to ObamaCare and touting his ties to the rebirth of Republicanism in the longtime Democratic bastion, while Carr has stayed hard after the immigration issue.

[The Tennessean: "[State Rep. Joe Carr] added that the record turnout in early voting, during which more than 550,000 ballots were cast, could be an encouraging sign. 'We think that's because we have a very competitive ballot at the top,' he said."]

Flinn is still in and that's trouble for Alexander in Memphis - Memphis doctor and regional media mogul George Shea Flinn has spent about $1 million on his long-shot Senate bid and continued a low-intensity but steady campaign schedule. Flinn, who owns seven radio stations and three television stations in the state, has persisted in the race despite meagre showings in pre-primary polls. But if Carr catches fire, Flinn could play a significant role. Flinn's presence will cost incumbent Sen. Lamar Alexander votes among more moderate Republicans in Memphis and the rest of Shelby County. Metro Memphis is a Democratic stronghold and has a low concentration of Republicans, but Shelby County is the largest, by far, of any county in the state and will deliver the biggest cache of votes today – perhaps 100,000 of 800,000 cast. If Flinn gets some favorite-son status there, Alexander may have to make up the difference among more conservative voters elsewhere in the state.

[Flinn's Memphis radio station WHBQ-AM 560 was the first in the world to play an Elvis Presley song.]

A Tennessee titan who doesn't score well - The Tennessean: "If Republican Sen. Lamar Alexander [wins] it will be in spite of the unkind comments some leading conservative groups make about his Senate voting record. Typical of them is American Conservative Union… Alexander's scores hit a low point with the group in 2013 when he earned a 60 percent rating. He tied [Republican] Sen. Thad Cochran of Mississippi for the lowest score among Republican senators facing a primary challenge in 2014… His lifetime ACU score has gone from 89 percent a decade ago to 76 percent… Some prominent conservative groups give Alexander even worse scores than ACU. Heritage Action, an arm of the conservative Heritage Foundation, gives Alexander a 49 percent score for the 113th Congress."

COUNTIES TO WATCH
Rutherford -  Carr needs a blowout here in his home county – perhaps 80 percent of the vote – if he expects to stave off Alexander's expected strength in the more moderate Davidson County, home to Nashville.

Knox County - The home to the University of Tennessee, this is where Alexander can put the race away. While suburbanites and rural residents in the western part of the sprawling county tend to be very conservative, the more populous eastern portion is a haven for moderate Republicanism, exactly Alexander's brand.

Hamilton County - Neither candidate can claim a base in Chattanooga. Alexander's colleague Sen. Bob Corker is the former mayor and has pitched in for his senior senator there, but voters also tend to be quite conservative in this mountainous region. A key battleground in the race.

DOWN BALLOT DRAMA
If turnout is unusually high, it won't just be because of the Senate stakes. While Republican Gov. Bill Haslam's re-election bid has been a snoozer, two other contests have been intense. One involves a deeply embattled incumbent House member whose sweeping rural district also happens to be in the heart of the battleground in the Senate race.

Scandal survivor? - National Journal: "[Rep. Scott DesJarlais, R-Tenn.] slept with his former patients, encouraged one to have an abortion, and twice urged his ex-wife to have an abortion. But oddly enough, when it came time for the Tennessee congressman to run for re-election, the 'pro-life' movement that had the most reason to despise him has instead given him close to a free pass… Once considered a long-shot, DesJarlais is now seen by some local political strategists as an even bet to win his Thursday primary against state Sen. Jim Tracy."

[Daily Beast examines the unique role political action committees are playing in the Tennessee Senate race and how it could revolutionize their role in future campaigns, while dancing a fine legal line.]

A costly contest for the future of Tennessee's High Court - LAT: "Most elections to retain Tennessee Supreme Court justices are bland affairs, but this year, Tennesseans have been inundated with mailings, vicious campaign ads and more than $1 million of in- and out-of-state money for the battle over three of the five seats on the high court. The three justices in question -- Chief Justice Gary Wade and Justices Connie Clark and Sharon Lee -- have been put on the defensive, battling accusations that they are too soft on crime, especially on death penalty cases, and too liberal for Tennessee."

CARR MANS UP
"If we lose it won't be because Democrats came over. It won't be because there were other candidates in.  It won't be because we were outspent.  It will be because, we, this campaign didn't do everything we needed to do the get our message out." –Tennessee Republican Senate hopeful Joe Carr in an interview with Fox News' John Roberts.

[Mississippi State Sen. Chris McDaniel is preparing a court challenge of his defeat in June's senate runoff with Sen. Thad Cochran after Mississippi's Republican Party said it will not hear his challenge. More]

-- 89 days until  Nov. 4 --

OBAMA DUCKS ON MASS AMNESTY PLAN
President Obama, at a pre-vacationpress conference, left open the possibility of issuing millions of work visas for illegal immigrants. Obama ducked a question about the controversial plan, but said that he would "scour over" laws and regulations to see what authority he has to address the "under-resourced" immigration system. But the proposal would cross over from the selective enforcement that has allowed Obama to grant an indefinite amnesty to some 500,000 immigrants who came to the U.S. illegally as minors. While Obama's decision caused plenty of outrage on the right, the administration has been able to claim that Obama is simply prioritizing enforcement in the face of insufficient resources. But granting visas to those previously deemed ineligible would not be shifting resources, it would be expending resources in pursuit of a policy goal. It's a move that would please his political base but also cause widespread anxiety about Obama's increasing tendency toward regency. Obama is expected to roll out his immigration plan after Labor Day.

IRS extends scandal soaked tax program for illegals - Daily Caller: "The Internal Revenue Service (IRS) quietly changed regulations to allow more undocumented immigrants to keep their taxpayer status through a program that is rife with fraud and abuse, and to delay deactivation of immigrant taxpayer status until 2016. The IRS now prevents peoples' Individual Taxpayer Identification Number (ITIN) from automatically expiring after five years as previously mandated. Now immigrants can keep their ITIN so long as they pay taxes at least once in a five-year period… Reports came out during the IRS scandal linking ITIN fraud to billions in lost taxpayer dollars. The IRS was forced to reform the ITIN program at the start of 2013 – but this new regulation undoes that reform."

[George Will examines former president Richard Nixon's long shadow in light of the IRS scandal.]

'It's the law of the land,' except when it isn't - Fox News: "A new congressional report has estimated that more than 25 million Americans without health insurance will not be made to pay a penalty in 2016 due to an exploding number of ObamaCare exemptions." On the list of ObamaCare fine exemptions: Illegal immigrants, members of certain Native American tribes or religious sects, victims of domestic violence, those who have suffered property damage suffered in a fire or flood, having a health plan canceled when ObamaCare came into effect or experiencing "another hardship acquiring health insurance."

[The Judge's Ruling - Fox News Senior Judicial Analyst Judge Andrew Napolitano explores the admission by CIA Director John Brennan that the agency spied on the Senate and where that admission might lead. "This may very well be a smoking gun in the now substantial case against President Barack Obama…"]

Dems on the record with impeachment 20 times more than GOP - The Hill: "Congressional Democrats have talked about the impeachment of President Obama 20 times more than Republicans have on the House and Senate floors. Since the start of the 113th Congress last year, Democrats have used the word 'impeach' or 'impeachment' regarding Obama 86 times, according to a review of the Congressional Record by The Hill."

WITH YOUR SECOND CUP OF COFFEE...
When you consider what is at risk when it comes to threat of hackers you probably think of your computer or smart phone. However, as digital architecture and wireless features become more and more standard in vehicles you may be surprised to know just how easy it is for unscrupulous tech savvy invaders to hack into your car. Just last year, two hackers found they could commandeer the brakes and steering system of a Ford Escape and Toyota Prius with nothing more than laptops connected to the cars. Wired's Andy Greenberg asks how hackable is your car?

Got a TIP from the RIGHT or LEFT? Email FoxNewsFirst@FOXNEWS.COM
POLL CHECK
Real Clear Politics Averages
Obama Job Approval: Approve – 41.4 percent//Disapprove – 54.3 percent
Direction of Country: Right Direction – 24.6 percent//Wrong Track – 66.8 percent
Generic Congressional Ballot:  Democrats – 43.4 percent// Republicans – 41.8 percent
WARREN PUTS MAJORITY AHEAD OF PURITY
Potential Democratic 2016 contender Sen. Elizabeth Warren, D-Mass., who has risen as a progressive darling for railing against Wall Street and big banks, apparently has no qualms about Democrats taking their cash. A review by the Boston Herald that finds many of the candidates Warren's political action committee has fundraised for have benefited from the same lobbyists, corporate bundlers and big banks she has decried. In a recent fundraising e-mail, Warren boasts about the $3 million she has helped to raise directly and through her Level Playing Field PAC for several vulnerable Democrats up for re-election. The Herald's review found Sens. Jeanne Shaheen, D-N.H, Mark Warner, D-Va., have netted big bucks from banking lobbyists. Additionally, the review found Sen. Mark Pryor, D-Ark., benefitted from over $15,000 from a lobbyist tied to the Koch brothers. The report also found Mark Udall, D-Colo., scored donations from banking giants Goldman Sachs and Bank of America.

Ready for Warren launches Iowa ground game - UPI: "Ready for Warren, a super PAC hoping to convince Massachusetts Senator Elizabeth Warren to run for the 2016 Democratic nomination for president, is forming a finance committee and hitting the road to in search of donors. Representatives from Ready for Warren will be in Des Moines on Thursday, hoping to generate buzz, enlist volunteers and fund raise."

ROMNEY, JETS OWNER AND 2016 CONTENDERS TO CONVERGE TO RAISE CASH
New Jersey Star-Ledger: "Mitt Romney and Jets owner Woody Johnson are teaming up to host a major fundraiser in New York City for the national Republican party this fall — and Gov. Chris Christie [R-N.J.] is one of a few potential 2016 presidential candidates on the guest list… The high-dollar affair will be held Oct. 6 at Johnson's home...Guests also include Gov. John Kasich of Ohio, U.S. Sen. Rand Paul of Kentucky, U.S. Sen. Marco Rubio of Florida — all of whom could battle Christie for the next Republican nomination for president… Romney and Christie will also appear together Sept. 10 in East Brunswick at a fundraiser for the New Jersey Republican party."

FIRST IN FOX NEWS FIRST: AMERICAN CROSSROADS STUMPS FOR SULLIVAN
Pro-GOP group American Crossroads is castigating Democrats for meddling in the Alaska Republican Senate primary in a new ad. The ad claims Sen. Mark Begich, D-Alaska can't run on his record of "ObamaCare, higher taxes and trillions in debt," so the vulnerable incumbent and his backers are resorting to "…dishonest attacks against Alaska's clear conservative choice Dan Sullivan."

[Crossroads GPS is hitting Iowa Senate candidate Rep. Bruce Braley, D-Iowa over missing key committee meetings overseeing veterans affairs and is attacking Sen. Mark Pryor, D-Ark., over ObamaCare, MediCare and Social Security.]

CONSERVATIVE PAC TO NAIL NUNN OVER ISRAEL
Washington Free Beacon: "A conservative anti-spending super PAC is working to cut into Georgia Democratic senate candidate Michelle Nunn's Jewish support, after a leaked memo from Nunn's strategists referred to the Jewish community as a 'financial opportunity' and suggested her position on Israel would be contingent on her fundraising strategy. The Ending Spending Action Fund will run a full-page ad in the Atlanta Jewish Times on Friday hitting Nunn over the leaked document and declaring, 'When it comes to defending Israel, Michelle Nunn can't be trusted.'''

ENERGY POWERS MINNESOTA SENATE DEBATE
Minnesota Post: "Sen. Al Franken [D-Minn.] met four of his opponents, including Republican-endorsed businessman Mike McFadden, at their first major debate of the campaign at Farmfest on Wednesday. The questions were largely related to rural and agriculture issues and there was a big focus on energy policy… Franken highlighted work he did in the Senate last winter to ease a propane shortage that struck Minnesota (in response, the state got almost $16 million in emergency funding and a Texas company eventually began making emergency shipments to the Midwest), but McFadden said he hasn't gone far enough to help deliver propane, oil and natural gas to consumers through pipelines. He hit Franken for voting against measures in the Senate meant to speed up the approval process of the Keystone XL pipeline."

STEYER PAC ZAPS ERNST ON RENEWABLE ENERGY
Liberal environmentalist Democratic bundler Tom Steyer is has launched a new ad seeking to paint Iowa Republican Senate candidate Joni Ernst as enemy of renewable energy jobs.  The ad, from Steyer's NextGen Climate Action group, features Iowans saying, "If Joni Ernst gets her way, we have a lot to lose." Steyer has vowed to spend upwards of $100 million on the midterms despite difficulties in fundraising.
[Washington Free Beacon describes how Republicans are firing back at Ernst's opponent Rep. Bruce Braley, D-Iowa, by highlighting how Braley's voting record puts Steyer's environmental agenda ahead of Iowa farmers.]
POLL: ABOUT EVEN IN MICHIGAN
The latest survey  on Michigan's senate race from GOP firm Harper Polling finds Rep. Gary Peters, D-Mich., in a virtual tie with Republican Terri Lynn Land. The poll finds Peters narrowly leads Land 45 percent to 44 percent, well within the 4 point margin of error.

FOR HAGAN, WHAT GOES AROUND COMES AROUND
Washington Examiner: "As [Sen. Kay Hagan, D-N.C.] faces a tough re-election fight, the North Carolina Democrat also faces a role reversal: Like Sen. Elizabeth Dole, the Republican she defeated in 2008, Hagan is a first-term senator being criticized by an upstart state legislator as 'ineffective.' Hagan's Republican opponent, Thom Tillis, plans over the next few weeks to try to portray her as 'one of the most ineffective senators in North Carolina's history' because she has not introduced a bill during her first term that has been made law… If the dig sounds eerily familiar, it might be because Democrats used strikingly similar language when they sought to undermine Dole in 2008."

PICK SIX:  COME ON, SOUTH DAKOTA'S A LOCK
Republicans are setting their sights on at least six seats to gain control of the Senate. Which Democratic held seats are the most likely GOP pickups? The current consensus among Fox News First readers: Arkansas (13.6%), Montana (11.9%), Louisiana (11.8%), West Virginia (11.2%), South Dakota (10.5%) and North Carolina (10.0%).  Reader Sharon Tomalavage agrees but adds, "How anyone can put Louisiana ahead of South Dakota for top 6 is beyond me." Tomalavage also feels the rise of Republican candidate Joni Ernst should put Iowa on the list and New Hampshire and Minnesota could emerge as dark horses.

[Ed Note: A recent surge of votes has put Montana – where a plagiarism scandal has embattled Sen. John Walsh D-Mont., mulling whether or not he will stay in the race – into second place in our reader consensus.]

Share your top six picks. Email them – just your top six, please – to FOXNEWSFIRST@FOXNEWS.COM or tweet @cstirewalt.

BOEHNER BLASTS OBAMA ON JOBS
Over the recess House Speaker John Boehner is hitting back at Democrats and President Obama over the sluggish economic recovery and job growth. The speaker has rolled out a revamped jobs Web site, highlighting 43 job bills passed by the Republican controlled House that are currently stuck in the Senate. In a Web video Boehner says, "We've seen enough of Senate gridlock, the President should join us in pushing the Senate for more action."
THIS BEAR'S NO BELIEBER
A man in Russia is recuperating after a bear attack that could have been much worse if it wasn't for the pop melodies of Justin Bieber. BuzzFeed reports, Igor the fisherman was heading to a fishing spot in northern Russia when the bear attacked him. Fortunately for the fisherman, he received a call at just the right moment. When his phone began blaring Bieber's megahit "Baby," the ringtone his granddaughter had installed for him, it was enough to spook the bear.  After the bear ran off, Igor had a chance to call for help. While he suffered several cuts and bruises, the angler is expected to make a full recovery.

AND, NOW A WORD FROM CHARLES…
"You have to wonder why did [President Obama] hold the press conference?  I'm not sure that he advanced any issue at all other than to show adversaries, bad guys in the world, you don't have to worry about this guy.  He's going on vacation.  He's grabbing the golf clubs and he'll be gone for a month.  We'll see you when you come back and if Russia has taken over Ukraine, he'll deal with it when that happens." – Charles Krauthammer on "Special Report with Bret Baier" Watch here.

Chris Stirewalt is digital politics editor for Fox News. Want FOX News First in your inbox every day? Sign up here.