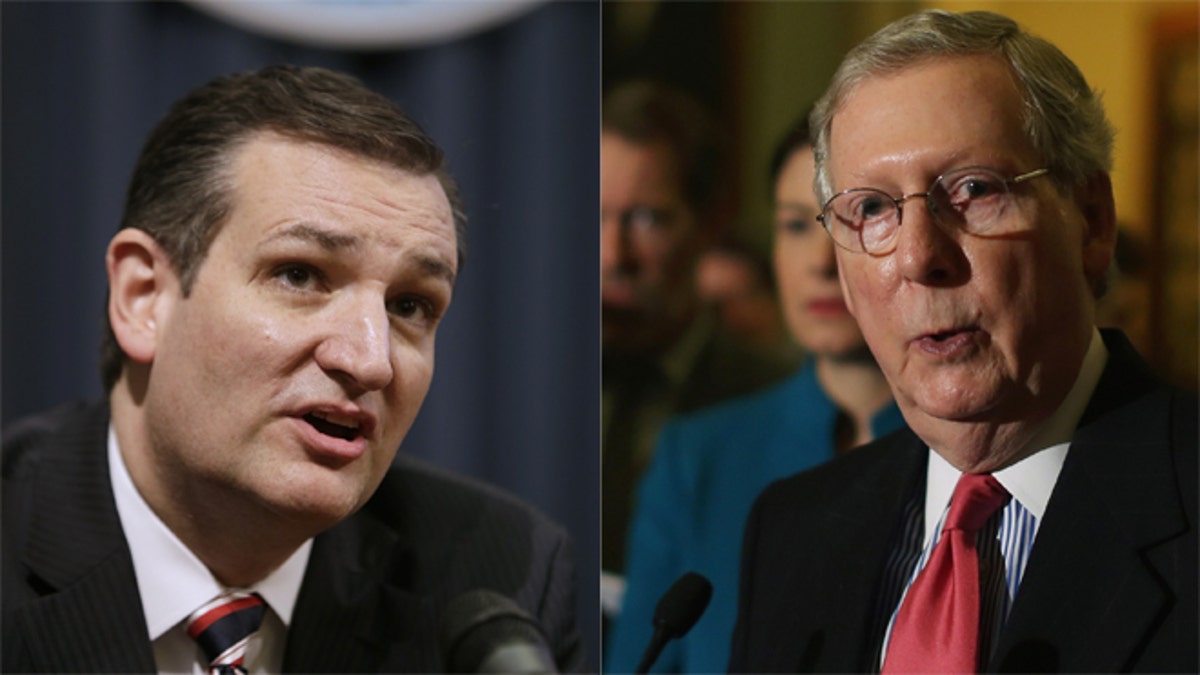 Texas Sen. Ted Cruz held back no punches on Friday when he accused his fellow Republican, Senate Majority Leader Mitch McConnell, of lying to him over a deal to vote on reauthorizing the Export-Import Bank.
In a scathing speech on the Senate floor, the Republican presidential candidate lashed out at the Kentucky senator for allegedly promising that "there was no deal" with a handful of senators who were hoping to revive the bank in exchange for votes to advance a major trade bill in May.
"Like St. Peter," Cruz said, according to Politico, "he repeated it three times. He said, 'The only thing I told the proponents of the Export-Import Bank is like any other senator in this body, they could offer any amendment they liked on an any amendable vehicle, but I gave them nothing.'"
The firebrand senator also brought up a private conversation between him and McConnell in which the Senate majority leader also denied the deal.
"The majority leader was visibly angry with me that I would ask him such a question," Cruz said, according to the Hill. "The majority looked at me and said 'there is no deal, there is no deal, there is no deal.'"
Cruz added that his staff told him at the time that McConnell is "lying to you," but Cruz suggested that he took the his fellow senator at his word.
McConnell was not on the Senate floor when Cruz issued his attack, and ignored reporters who tried to ask him about it in the Capitol's hallways. A spokesman said McConnell would have no response.
McConnell has long indicated he would allow a vote on the Export-Import Bank as an amendment on the highway bill, which is the course he's now following. Senate supporters of the Export-Import Bank have said they got that commitment from McConnell in the course of debate on a separate trade bill, though there's been some dispute about what precisely was agreed to.
No senator rose to defend McConnell on the floor, as some Republicans sought to avoid engaging in the dispute and giving Cruz still more attention. Questioned by reporters later, Sen. Orrin Hatch, R-Utah, challenged Cruz's criticism of McConnell, telling reporters, "I think it's wrong to disclose private information, especially when the disclosure is not accurate."
"Keep in mind, he's running for president," Hatch added. "People who run for president do some very interesting things."
McConnell and Cruz have never had a thriving relationship. The new majority leader's allies earlier this year derided Cruz's Senate record, complaining that he often speaks out but has missed important developments. After complaining about President Barack Obama's nomination of Loretta Lynch as attorney general, for example, Cruz skipped the final vote on her confirmation.
Some close to McConnell call Cruz "Mr. 1 percent," referring to his share of support in the crowded race for the GOP presidential nomination. Recent polls have him a few points higher among more than a dozen contenders.
Cruz, for his part, has grown increasingly outspoken about his contempt for McConnell and other Republicans, using his newly published book, "A Time for Truth," to attack his colleagues on various fronts and accuse them of failing to stand up for their principles.
On Friday he charged that the Senate under Republican control is no different from when Democrats ran the show before this year and McConnell is behaving like his Democratic predecessor, Harry Reid of Nevada. Republicans accused Reid of shutting down debate and limiting amendments when he ran the Senate.
"Now the Republican leader is behaving like the senior senator from Nevada," Cruz complained.
He also derided an announcement from McConnell that the Senate will vote Sunday to repeal Obama's health care law, calling it "an empty show vote" and "exercise in meaningless political theater" because the legislation will inevitably fail to get the 60 votes needed to advance.
"We keep winning elections and then we keep getting leaders who don't do anything they promised,"Cruz said.
The Senate's historian, Betty K. Koed, said that it was not a specific breach of Senate rules to call another senator a liar, but pointed to rules cautioning against talking ill of other members or imputing unbecoming conduct or motives.
"In more recent times there's been very little of this type of behavior," Koed said.
The Associated Press contributed to this report.