Tea Party Movement Evolves Into Political Force With Eye Toward 2010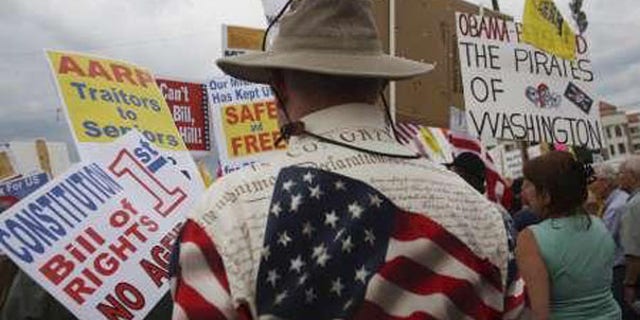 What started as a conservative protest klatch has evolved into a political force with enough muscle to potentially alter the course of the 2010 mid-term elections.
The "tea party" movement that gained steam shortly after President Obama took office is seeing a surge in popularity with a string of candidates and officials willing to take up its cause and a political infrastructure that's starting to mirror that of an actual political party.
The tea party activists rallied for smaller government and lower taxes again on Capitol Hill Tuesday afternoon -- among the headliners were Sen. Jim DeMint, R-S.C., and former Texas Rep. Dick Armey, whose FreedomWorks group has acted as somewhat of an umbrella organization.
That's just the latest affirmation of tea party momentum:
-- Various tea party groups and supporters, including FreedomWorks, are launching political action committees to back candidates financially in the 2010 elections.
-- A Rasmussen poll last week showed that more voters would rather elect a "Tea Party" congressional candidate than a Republican one.
-- A documentary film was recently released tracking the evolution of the movement.
-- And several groups are pulling together the National Tea Party Convention in early February in Nashville, where former Alaska Gov. Sarah Palin is set to headline.
Sherry Phillips, vice president of convention organizer Tea Party Nation, said the event will be a chance for hundreds of delegates to figure out the future of the movement.
"It needs to move past just the rallies," Phillips told FoxNews.com. "We can't just stand around holding signs."
Prominent Republicans including Minnesota Rep. Michele Bachmann and Tennessee Rep. Marsha Blackburn plan to speak at the convention. Phillips said the overarching goal of the tea partiers is to affect the 2010 elections and support candidates who reflect their values.
She said there's a split within the multifaceted movement over whether tea party should be big "T" or little "t." In other words, do the activists form their own party, officially, or try to influence the composition of the existing ones?
Tea Party Nation opposes the creation of a new third party. And FreedomWorks' Matt Kibbe said the special election in upstate New York last month -- in which Conservative Party candidate Doug Hoffman drove the Republican candidate out of the race with the help of tea party activists -- can be considered an "anomaly." (Hoffman ended up losing narrowly to Democrat Bill Owens.)
"I think a more practical solution is to take over the GOP," Kibbe said, explaining that the tea party movement can have the most impact by directing volunteers and money in support of GOP candidates who reflect their small-government values.
He mentioned Pennsylvania, where Pat Toomey is carrying the conservative banner in the U.S. Senate race, and Florida, where Marco Rubio is doing the same, as two model states.
"We're going to see a new set of leaders in Washington come November," Kibbe said.
FreedomWorks, meanwhile, is planning to put its money where its mouth is in the coming months. Armey told Fox News his group will start a PAC, not to fund candidates directly but to fund activities who support them.
Organizer Eric Odom recently launched his Liberty First PAC, and Phillips said her group is also considering creating a PAC.
The Republican Party would prefer to invite tea partiers into the fold rather than run against them in general elections, and this may force a change in the makeup of the GOP itself.
Republican National Committee Chairman Michael Steele said his hope is that "we can all come together."
"This is the conservative party of the country," Steele said. "We offer that ... political infrastructure, if you will, if you want to run for office or if you want to be involved politically. This is the best place to do it."
The Rasmussen poll spelled out the kind of vote-splitting trouble the tea party movement could stir if it forms a third party. It showed that 23 percent of people would pick a "Tea Party" candidate on a congressional ballot without knowing who that candidate is, while just 18 percent would pick the Republican. Thirty-six percent would pick a Democrat.
The poll of 1,000 likely voters was conducted Dec. 4-5 and had a margin of error of 3 percentage points.
FoxNews.com's Judson Berger and Fox News' Molly Henneberg contributed to this report.