Tea Party Coloring Book Publisher Says He's Getting Death Threats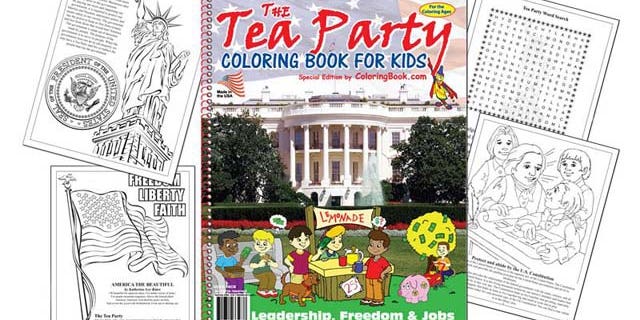 The author-publisher of "The Tea Party Coloring Book for Kids" says he has received death threats over its publication.
Wayne Bell, publisher of Clayton, Mo.-based Really Big Coloring Books, said in an interview with CBS that his $3.59 coloring book is not political. But some critics think the book was designed for politically conservative adults, and not for children.
"We're not really making a political statement," Bell told CBS, adding that his company also publishes coloring books on the Rockettes, Cirque du Soleil and President Obama.
Bell told FoxNews.com on Thursday that his office began receiving "odd" phone calls and e-mails five days after the release of the coloring book on Sept. 5. Bell said he did not report those incidents to authorities.
"We don't want to be overly dramatic about what's happening," Bell said. "We just kind of let it slide."
Bell said he has received messages containing "horrible, nasty, vitriolic stuff," including a desire for someone to place him in a "chloroform headlock" since its publication.
"It was like a crescendo," Bell said of the messages. "We've locked our front door and put a sign on the door that says, 'please knock.'"
St. Louis County Police Department Officer Rick Eckhard confirmed to FoxNews.com that the department did not have an active investigation involving Bell pertaining to the alleged death threats.
Citing a "need" for a Tea Party coloring book, Bell defended the item as appropriate for children ages 2 to 10.
"Yes, it is appropriate," Bell told Fox News. "We test our products on children."
But Michael Davis, a St. Louis-area Coffee Party organizer, told KSDK.com, "I think it's inappropriate. I really question whether it's even targeted at children. There's not a lot of coloring activities."
Bell said the Tea Party book is his company's best-seller by far, with demand so high that new copies must be printed daily to keep up with demand.
"We have sold many thousands," he told CBS. He told KSDK.com that a military branch of the federal government bought 3,000 copies for kids.
The 32-page coloring book teaches children and parents about the origins of the Tea Party -- "A very pleasant song, coloring and activity book on Liberty, Faith, Freedom and so much more!" -- according to the company's website.
"Get involved, participate, self reliance, freedom of choice, work, government-of-for-by the people, Leadership, Ingenuity, Jobs and responsibilty! [sic]"
But critics point out that a passage of the coloring book reads: "When taxes are too high, the high tax takes away jobs and freedom."
Another reads: "In 1773 we had a Tea Party and this led to freedom from high taxes. Today we are having another Tea Party and this will lead to freedom from high taxes again!"
FoxNews.com's Joshua Rhett Miller contributed to this report.