Tea Party Alleges Double Standard by Occupy-Friendly Mayor in Virginia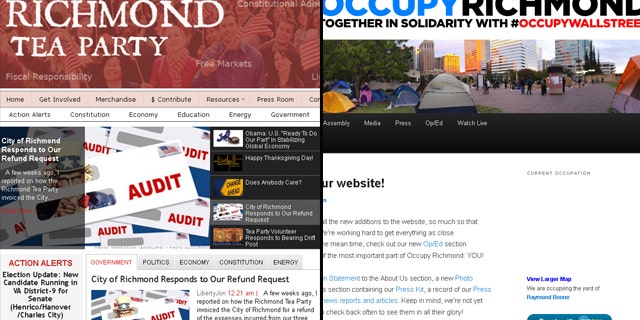 A Tea Party chapter in Virginia is alleging that it was audited by the City of Richmond after it complained that the local Occupy movement was receiving special treatment by the mayor.
The Richmond Tea Party said the city charged it $10,000 to hold three rallies in Kanawha Plaza -- where Occupiers have been allowed to reside at no charge.
Now the Tea Partiers are crying foul and demanding their money back. But shortly after complaining to the city, the Tea Party group said it received notice of the tax audit.
"As the Occupy mob sprang up, the City of Richmond allowed them the use of the park at no charge. Mayor Dwight Jones of Richmond is a liberal Democrat, who even visited the Occupy Mob, encouraging them," the group said in a statement released Monday. "In one of the most outrageous political double standards, the city of Richmond, Va., is now demanding an audit of the Richmond Tea Party."
But the city denies any double standard.
"Any allegations are just completely unfounded," Tammy Hawley, a city spokeswoman, told FoxNews.com. She said City Hall was completely unaware of the Tea Party chapter's claims until receiving inquiries from various media outlets.
The Tea Party came up during a recent query by Richmond's finance department of a list of 700 groups and businesses that had not paid excise taxes for admissions, lodging and meals.
"The Richmond Tea Party did not file any of the required ... monthly returns during 2010 and had only filed January and February 2011 when this account was selected for audit review," Hawley said. "Since that time, they have filed all returns due for 2011 but still have not filed any returns for 2010.
"The City of Richmond provided the Tea Party (as we do all taxpayers) with a coupon book to facilitate the monthly filing of these returns, which they acknowledged in a letter we received from them dated Nov. 22."
But Colleen Owens, a representative for the Richmond Tea Party, countered that a copy of city ordinances given to the group's treasurer by the city's finance department shows the group qualified for an exemption from the excise tax because of a special permit it received for rallies, and Owens argues Occupy Richmond has continued to hold rallies without obtaining the same permits.
"This provides documentation that the city rules don't even apply to the Richmond Tea Party and that we probably shouldn't have been forced to purchase a city business license in the first place," Owens said.