Tea Party activists may keep low profile at first GOP convention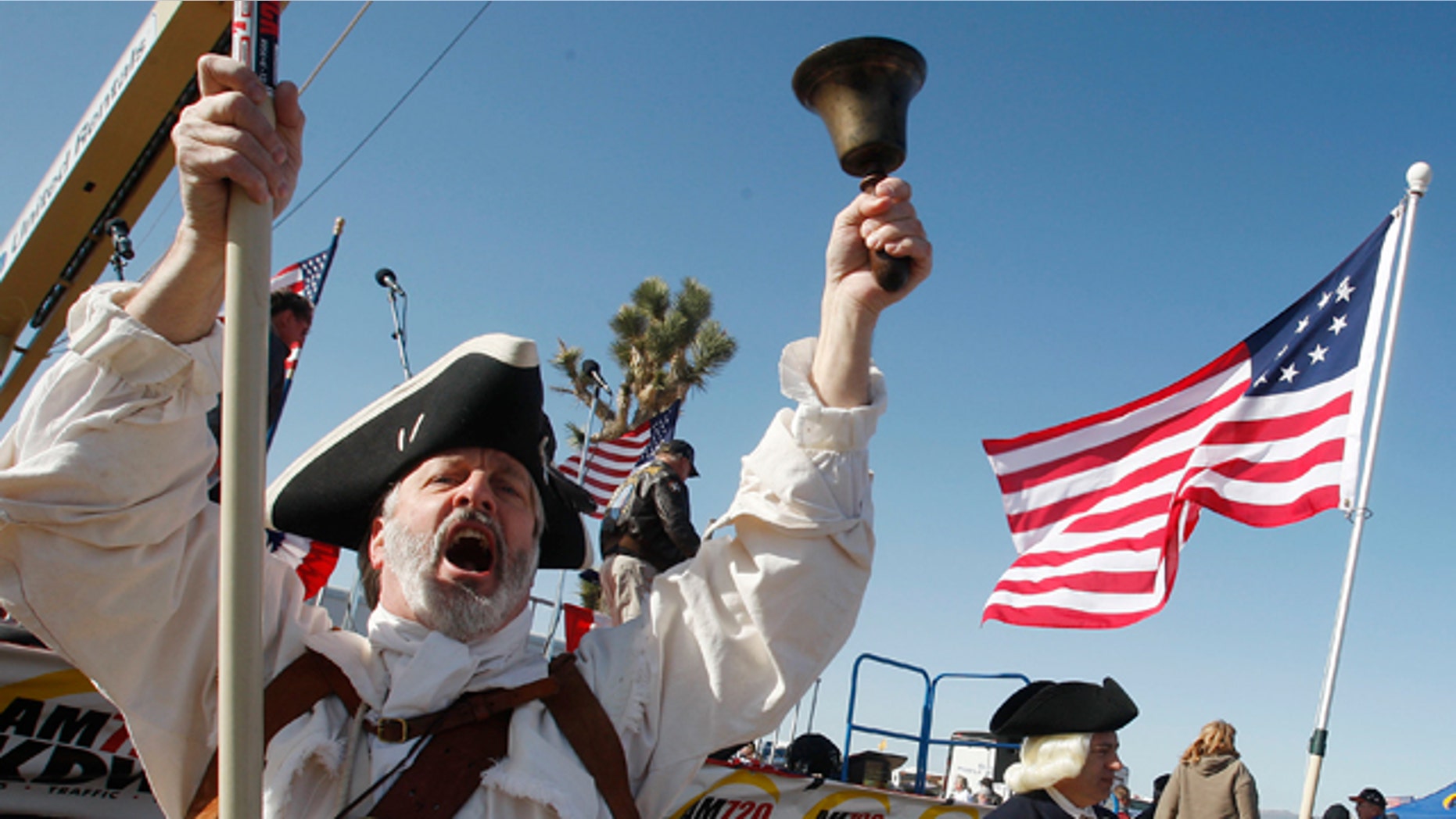 Next week marks the Tea Party's first Republican convention.
But despite its role in helping the party win the House majority in 2010, the movement is expected to keep a relatively low profile inside the arena, activists say. Some Tea Party groups are deliberately giving the party space to spotlight its nominee, though others claim they're being snubbed by GOP leaders.
The Tea Party, of course, is composed of thousands of different groups, each with its own causes. A Tea Party scene could erupt in Tampa at any moment. But unlike some other factions heading into the once-every-four-years affair, the Tea Party does not appear to have a concerted agenda.
Instead, the movement may just settle for speaking roles for favored politicians and shout-outs in the platform.
The four-day convention in Tampa will kick off Monday with speeches from Tea Party favorites, Sen. Rand Paul of Kentucky and Senate candidate Ted Cruz of Texas. The party's draft platform that will be voted on includes many of the conservative policies championed by the movement.
FreedomWorks, a Washington-based Tea Party-aligned think tank started by former House GOP leader Dick Armey, announced Wednesday that nearly all of its "Freedom Platform" has been adopted by the GOP, including a repeal of President Obama's health care law, an end to tax hikes and an audit of the Federal Reserve.
"They were very open to our ideas and willing to work with us," FreedomWorks vice president Russ Walker said of the platform-writing committee chaired by Virginia Gov. Bob McDonnell, North Dakota Sen. John Hoeven and Tennessee Rep. Marsha Blackburn.
The Tea Party's visibility beyond that, though, may be minimal at the convention, activists say. The expectation has drawn mixed reactions from the loosely organized anti-tax movement.
"They like the work we're doing, but they're afraid because they don't want to turn off independents with the Tea Party brand," said Todd Cefaratti of the group, TheTeaParty.Net. The group has filed a petition called "Let Them Speak," urging the Republican National Committee to allow Tea Party leaders to speak at the convention.
"You get these moderate Republicans and they say 'I don't want to offend Grandma Independent,'" Cefaratti said. TheTeaParty.Net is a chief sponsor of the "Unity Rally 2012" to be held at a Tampa church on the eve of the convention, featuring speeches by Tea Party darlings and former presidential candidates Michele Bachmann and Herman Cain.
"It's our response to a lot of our leaders being shut out of the convention," Cefaratti said.
Another group, The Kitchen Table Patriots, also expressed resentment over the Tea Party's representation at the convention.
"The amount of effort that the GOP went through to make sure that no Tea Party person went to the convention was unbelievable," said Anastasia Przybylski, one of the group's co-founders. "I did not see it coming."
Przybylski's counterpart, Ana Puig, claims the GOP in Bucks County, Pa., spent $70,000 to derail her run to become a delegate at the convention. Puig is now paying her way to go as an "honorary delegate," she said, meaning "I can do everything except vote."
"What is the convention going to accomplish except that Mitt Romney will formally be the candidate? It's a shoulder-rubbing event," Puig said.
Puig, however, said she is happy the Tea Party's platform has been well-received by the RNC, adding that she's hopeful "we would see a trickle down effect to the GOP on the local level," she said.
"I am looking at this trip as a way for us, Tea Party, and GOP to try to mend some fences and move side by side to secure a big win in November."
But not everyone within the movement believes Tea Party leaders should be on prominent display during the convention.
"This is the Mitt Romney-Paul Ryan show and it should be," said Sal Russo of the Tea Party Express, one of the most visible factions of the movement. "We don't have an agenda beyond that."
"I would consider this an extremely successful convention for the Tea Party," Russo said, noting that Romney was always among his group's top three picks for a presidential nominee. "We thought we shouldn't try and intrude on a convention that we're happy with."
Jenny Beth Martin, co-founder of the Tea Party Patriots, echoed Russo's sentiment, characterizing the convention as "more style than substance."
"The purpose is to legally nominate their candidate," Martin told FoxNews.com. "Tea Party Patriots are far more concerned about what laws are going to be passed than what they're doing at a party in Florida and Charlotte."
"As long as our values are represented, we are making an effect. What we will be happy about is when bills are signed into law that repeal the president's health care law, and when the budget is balanced and when we're on the road to recovery," she said. "The convention is just a very small step along the way."