Syrian opposition urges US to supply promised weapons quickly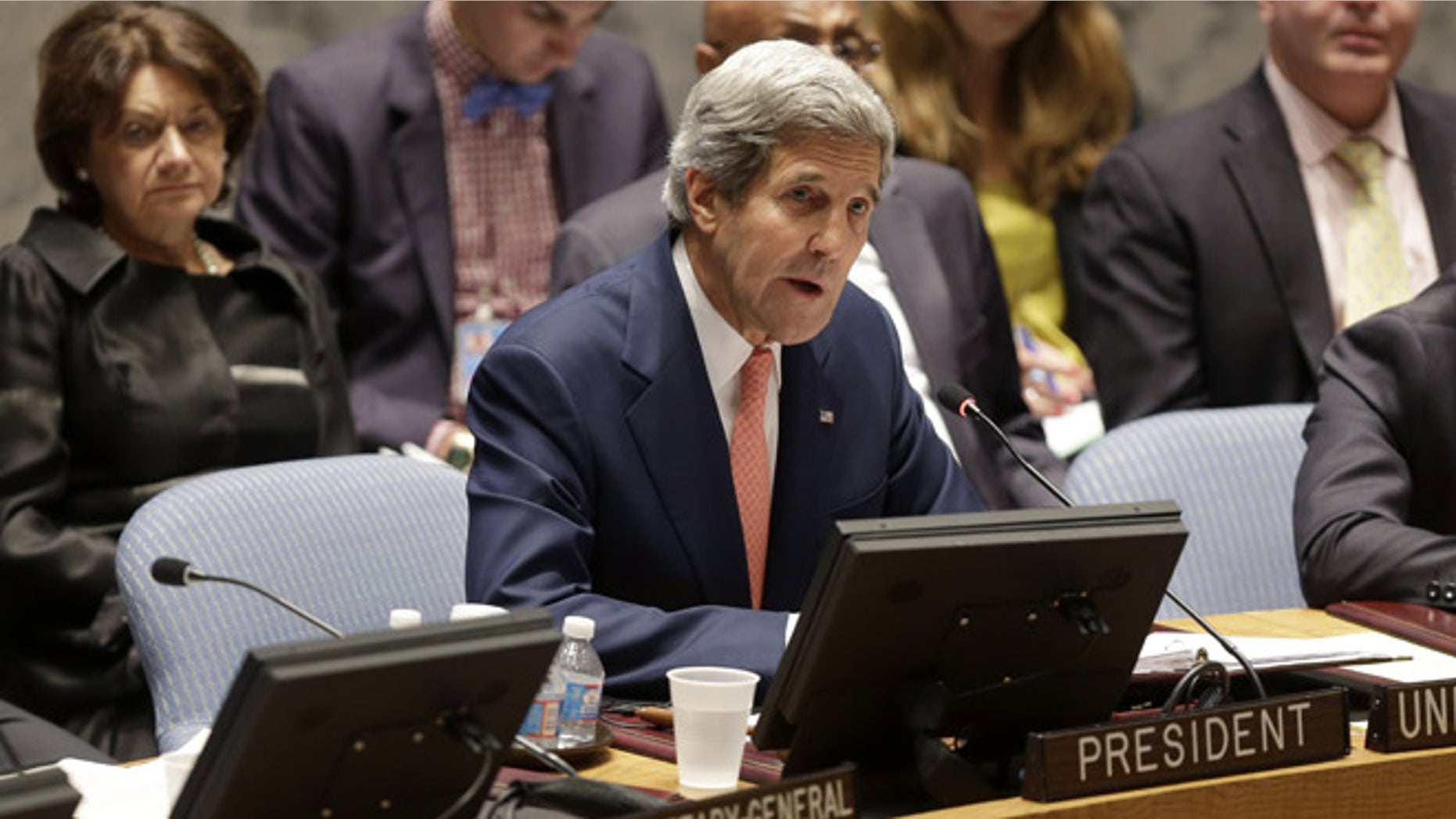 UNITED NATIONS – The leader of Syria's Western-backed opposition group told U.S. Secretary John Kerry on Thursday that the United States must quickly supply rebels with promised weapons to prevent a military victory by President Bashar Assad's regime.
Ahmad Al-Jarba, in a statement sent out while he was still meeting with Kerry at the U.S. Mission to the United Nations, called the situation in Syria "desperate" and said the opposition urgently needs American action "to push the international community to demand a political transition."
The newly elected head of the Syrian National Coalition accused the Assad regime of using indiscriminate weapons ranging from chemical weapons to cluster bombs and said opposition fighters must have weapons to defend themselves and protect civilians.
The Obama administration decided in June to begin arming Syrian rebels groups after the United States said it had conclusive evidence that Assad's regime used chemical weapons against opposition forces. But the U.S. has yet to send any weapons amid concerns they could end up in the hands of al-Qaida-backed groups and other extremists.
Syria's rebels, however, have recently received shipments of more powerful weapons from Gulf allies, particularly anti-tank and anti-aircraft missiles.
Kerry met with Al-Jarba in an effort to promote international efforts to convene a conference in Geneva to try to move forward with a transitional government based on a plan adopted in that city a year ago.
Kerry stressed earlier Thursday that "there is no military solution" to the 2 1/2-year-old civil war.
"There is only a political solution, and that will require leadership in order to bring people to the table," he said.
He stood beside U.N. Secretary-General Ban Ki-moon, who minutes earlier announced that the Syrian conflict has killed more than 100,000 people since 2011, up from the previous estimate of 93,000.
Kerry told reporters as he left the meeting with Al-Jarba that it was "very, very constructive."
He said the opposition agreed to work over the next few weeks to pinpoint the conditions under which a new Geneva conference can work.
They believe Geneva "is very important, and we are going to work it out," Kerry said.
Al-Jarba said he told Kerry "that the coalition fully understands American concerns about extremism and the possible diversion of military assistance."
"We absolutely condemn all terrorism and all attempts to turn Syria into what it is not, a monotheistic or totalitarian state," he said. "But we need American direct support to save democracy in Syria and to lead the world to force Assad at last to stand down."
The coalition delegation is expected to meet informally Friday with the U.N. Security Council.
While at the United Nations, Kerry tackled another of the world's intractable conflicts, urging support for an agreement to stop nearly two decades of fighting in eastern Congo.
America's chief diplomat presided over a Security Council meeting on Congo, trying to shine a spotlight on a corner of the world where horrors occur daily but are usually overshadowed by the turbulence in the Middle East.
The council met to assess progress in implementing a Feb. 24 peace accord signed by 11 African nations to end eastern Congo's conflict. Amid renewed fighting between Congolese government forces and the M23 rebels, Kerry said progress on the peace deal has been "extremely fragile."
He expressed concern about reports that key rebel groups are receiving "external support."
He did not single out any country, but State Department spokeswoman Jen Psaki said earlier this week that the U.S. believes there is credible evidence that Rwanda has been supporting the M23 rebel group.
The U.N. has accused both Rwanda and Uganda of aiding the M23, which captured the eastern Congo city of Goma in November 2012 before pulling out under international pressure.
Rwanda, which has a two-year seat on the Security Council, and Uganda both deny aiding the M23. Both are signatories of the February peace deal.
Mary Robinson, the U.N. special envoy for Africa's Great Lakes region, said "not a day goes by without a report of killings, rape, sexual assault and displacement of people" in eastern Congo, a nation of 70 million people that is the size of Western Europe.
"What strikes me is the lack of outrage and horror at this daily toll," she said.
The Security Council adopted a presidential statement condemning renewed rebel attacks in Congo and demanding that all armed groups immediately disband and disarm.
The council made no mention of outside support for the rebels. Diplomats said Rwanda objected to some proposed language in a draft presidential statement related to the M23 and it was softened.
The council statement also expressed concern over increased activity in eastern Congo by the FDLR, a Hutu armed group linked to the 1994 Rwandan genocide, and reported attacks by the FDLR on Rwandan territory.
Congo's Foreign Minister Raymond Tshibanda strongly denied that his country was supporting the FDLR.
Despite the renewed fighting, U.N. Secretary-General Ban Ki-moon said prospects for durable peace in eastern Congo "remain better than they have for many years."
He cited the reinforcement of the U.N. peacekeeping force with an intervention brigade that has an unprecedented mandate to attack and disarm rebel groups, alone or with Congolese army troops.