Survey Says Obama's Health Care Act Partially Increased Costs for Americans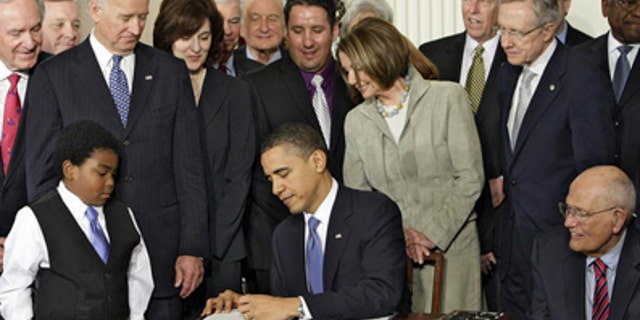 NEWYou can now listen to Fox News articles!
The signature legislation of the Obama Administration, the Affordable Care Act, came under damaging assault Wednesday from a Kaiser Family Foundation survey that found it has already partially contributed to increasing health care costs.
The Kaiser survey helps to shed some light on why so few employers are hiring, as health care costs for employers are spiraling upwards.
The survey found that insurance premiums rose by 9 percent in 2011. Healthcare costs for a single worker went up on average from $5,049 to $5,429, and for a family, costs rose from $13,770 to $15,073, on average.
The survey also found that some provisions of the Affordable Care Act already in place -- including the allowance for young people up to 26 years of age to remain on their parents insurance policy -- contributed to 20 percent of that increase.
But other factors are also contributing to the rising costs of health care. They include the prices of new technologies, research and development for new prescription drugs and the proliferation of chronic diseases like diabetes.
The aging of the baby boom generation is also placing a tremendous strain on the health care system, as baby boomers have begun qualifying for Medicare this year. The survey found that with better treatments and drugs, they may live longer than previous generations and impose huge costs on the system as they age.
The White House, seeking to limit damage from the report, issued a statement on its blog in advance of the reports' release, accusing it of, "looking backwards."
"When we look to the future we know that The Affordable Care Act will help make insurance more affordable for families and businesses across the country, " wrote Nancy- Ann DeParle, the White House Deputy Chief of Staff.
White House spokesman Jay Carney later defended the provision of the Affordable Care Act allowing 26-year-olds to stay on their parents insurance policies. "That has already had this tremendous impact on young people in America, which we obviously think is very positive," he said. Most other provisions of the Affordable Care Act will not take effect until 2014.
The survey suggests that if costs are going to come down, people will need to live healthier lives. Health information technology will need to be improved, as will efficiency. The survey also calls for greater consumer involvement in health care such as those provided in health reimbursement accounts, where employers contribute to a health account managed by the employee. But the report also acknowledged deep political differences over those accounts, as well as over other proposed solutions.