Supporters of Sudanese Teen Blinded While in Slavery Fight to Extend His U.S. Visa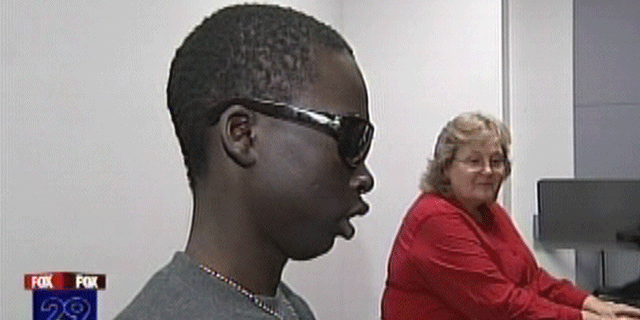 After being enslaved and blinded in Sudan, a teenager who came to the U.S. for treatment and rehabilitation may have to return to his native country before his eyes can fully heal.
If Ker Deng's three-month visa isn't extended, he'll have to go back to Sudan in three weeks – a prospect that frightens those who brought the 18-year-old to the U.S. and watched his eyesight improve after three major procedures, including a cornea transplant.
On Tuesday, Deng left the Wills Eye Institute in Philadelphia able to see something out of one eye for the first time in years, MyFoxPhilly.com reported.
"This is light," he said.
Deng was captured and enslaved 15 years ago in Southern Sudan. He lost his eyesight when his slavemaster punished him by rubbing chili peppers into his eyes.
"The iris and the tissue all around his pupil was fused up to the front part of the eye," one of the eye doctors told MyFoxPhilly.com.
Last week, Deng testified before the House Foreign Affairs Subcommittee on Africa, Global Health and Human Rights, explaining how he escaped bondage in North Sudan, walking for months to get home.
Now Ellen Ratner, a Fox News contributor and a volunteer with Christian Solidarity International, which brought Deng to America, is fighting to extend his visa.
"We asked for six months, we only got three," she told MyFoxPhilly.com, explaining that it is too soon for him to return.
"First of all, it would be just too risky with no electricity, no running water in the area, sand all over the place," she said. "If the cornea rejects, he needs immediate care."
Ratner told FoxNews.com that she is looking for an 18-month extension from the State Department and will apply shortly.
The State Department declined to comment on the case.
Deng wants to eventually return so he can help free his mother, who is still enslaved.
"I miss my mother," he said.