Super PACs offer to donate $1.5M for Trump v. Cruz debate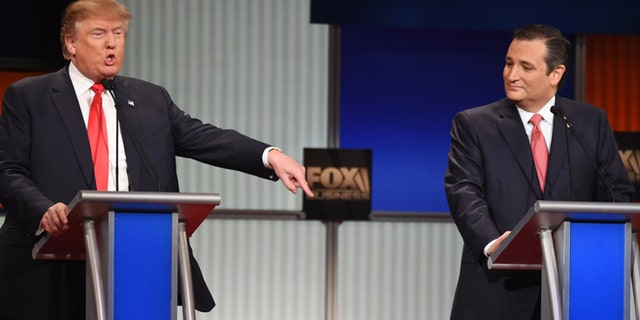 Associated Press – Two super PACs supporting Sen. Ted Cruz's presidential campaign are offering to donate $1.5 million to charities that help military veterans if Donald Trump will debate Cruz head-to-head before the Iowa caucuses.
The political action committees, Keep the Promise I and II, are proposing a one-hour debate to be held in Iowa on or before Jan. 31, the day before the caucuses, with a moderator chosen by the candidates.
Cruz himself sent a letter to Trump Wednesday inviting him to debate in Sioux City, Iowa, on Saturday night. The Cruz campaign suggested conservative radio hosts Mark Levin, Sean Hannity and Rush Limbaugh as possible moderators.
Trump dismissed Cruz's proposal earlier Wednesday. He is skipping Thursday's night's GOP debate amid a feud with debate host Fox News Channel.
"Even though I beat him in the first six debates, especially the last one, Ted Cruz wants to debate me again. Can we do it in Canada?" Trump tweeted, referencing Cruz's birthplace.
"It's not really that Donald is afraid of me," Cruz said at a rally Wednesday night outside of Des Moines. "He's afraid of you. He doesn't want to answer questions from the men and women of Iowa about how his record doesn't match what he's selling."
Some foes saw the shakeup as an opening to rise above the ruckus.
"These kinds of theatrics by Ted Cruz and Donald Trump are an entertaining sideshow, but they have nothing to do with defeating Hillary Clinton," Florida Sen. Marco Rubio said. "We don't have time for these kinds of distractions."
Despite the attention, there was little sense that Trump's move would significantly change the trajectory of the Republican contest in Iowa. While the former reality television star holds a big lead in most national polls, he and Cruz are locked in a tight race here.
"My sense is those Iowa Republicans who weren't fans of Donald Trump before yesterday, this has only validated their opinion of him, and those Iowans who have been drawn to his passionate attack on the media and political elites in our country are even more emboldened by their guy today," said former Iowa GOP chairman Matt Strawn.
Trump has substituted mass rallies for normal meet-and-greet events, made inflammatory statements that would have sunk other candidates, and spent much of his time giving his views on television news shows and Twitter.
Instead of debating Thursday night, Trump will host what his campaign is calling a "special event to benefit veterans' organizations." The campaign on Wednesday evening formally announced details for the event, scheduled to begin at the same time as the debate — and just two miles away.
Campaigning Wednesday evening in South Carolina, Trump drew cheers when he noted his plans to return to Iowa for the fundraiser. But he made no direct reference to the debate, off-handedly saying, "I've not been treated fairly."
In Iowa, Plymouth County GOP Chairman Don Kass called it "typical Trump" and said the candidate could benefit by "making a bigger splash" with his own event.
"Frankly, you know, in the past, anytime somebody thought he did something that cost him, it didn't cost him," Kass said.
In December, Trump threatened to skip a CNN debate unless the network paid him $5 million, which he said he'd donate to charity. The network did not pay up, and he showed up nonetheless. And in October, he and rival Ben Carson's campaign threatened not to show unless their demands for a shorter run time and other conditions were met. The network adjusted and they appeared.
Trump's Fox feud dates back to the first primary debate, when Kelly took him to task over derogatory statements he'd made about women.
Some conservative leaders suggested Trump was taking a risk.
The debate is "going to be the Donald Trump hatefest," said Mark Meckler, one of the tea party movement's original leaders.
And one voter said he was deeply disappointed by Trump's decision.
"You don't like something, you don't whine," said Tom Moore, a 55-year-old casket maker from Asbury, Iowa. "Be a man, take it and answer the questions 'cause you're going to get that from everybody."
Like us on Facebook
Follow us on Twitter & Instagram