Steve King: Sarah Palin would have endorsed Ted Cruz had she gone hunting with him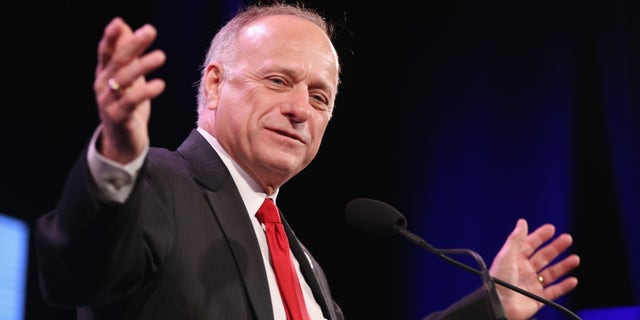 DES MOINES, Iowa – Rep. Steve King thinks of his friend Sarah Palin's endorsement of billionaire Donald Trump and laments what he depicts as a missed opportunity to have her back his choice for president, Sen. Ted Cruz.
It was early this year, the congressman said Wednesday during an interview at an Iowa hotel with Fox News Latino, when King, Iowa's conservative kingmaker, and the group Citizens United hosted the Freedom Summit, dubbed on its website as an effort "to bring grassroots activists from across Iowa to hear directly from conservative leaders on how we can get America back on track by focusing on our core principles of pro-growth economics, social conservatism, and a strong national defense."
"I had Sarah Palin and Ted Cruz together at dinner then," King said. "We were planning a pheasant hunt for the next day, and I just didn't press hard enough to hold Sarah for the next day (hunt)."
"If we had gone out to the field together with a shotgun, I think she would have endorsed Ted Cruz," King said, smiling. "So I'm taking the blame."
Palin and Cruz and King are avid hunters, a chance, the congressman suggested partly in jest and partly seriously, for the firebrand former Alaska governor and the firebrand Texas senator to bond – especially in a way that city slicker Trump can't with the former governor who boasts about liking the rough and tumble outdoors.
Palin has defended hunting, saying: "I especially love moose and caribou. I always remind people from outside our state that there's plenty of room for all Alaska's animals – right next to the mashed potatoes."
Last November, amid the cornstalks of the Hawkeye State, Cruz and King, who every year hosts pheasant hunts, participated in one, posing at the end with photos of their dead prey.
Palin, a Tea Party conservative who was Sen. John McCain's running mate in 2008, and became known for her irreverent one-liners and bashing of establishment Washington politics, announced her endorsement of Trump on Tuesday.
The endorsement came as Trump is locked in a dead heat with Cruz in Iowa, the first state to vote for the selection of the nominee of each party for the presidential race.
King, one the House's most conservative members and an influential figure in Iowa whose endorsement is pursued by Republicans running for president, says that in all seriousness, Palin shares more fundamental qualities and views with Cruz than with Trump.
"I don't think it will move Trump forward very much," King said, referring to poll numbers or his standing in Iowa, where Cruz has for the most part enjoyed a lead over the other GOP candidates. "Sarah Palin's endorsement does move the focus of the press on her and [Trump] while she's in town. I wish her well, I'm glad she's back in public life."