Sudden death of Baltimore politician rattles Md. gov race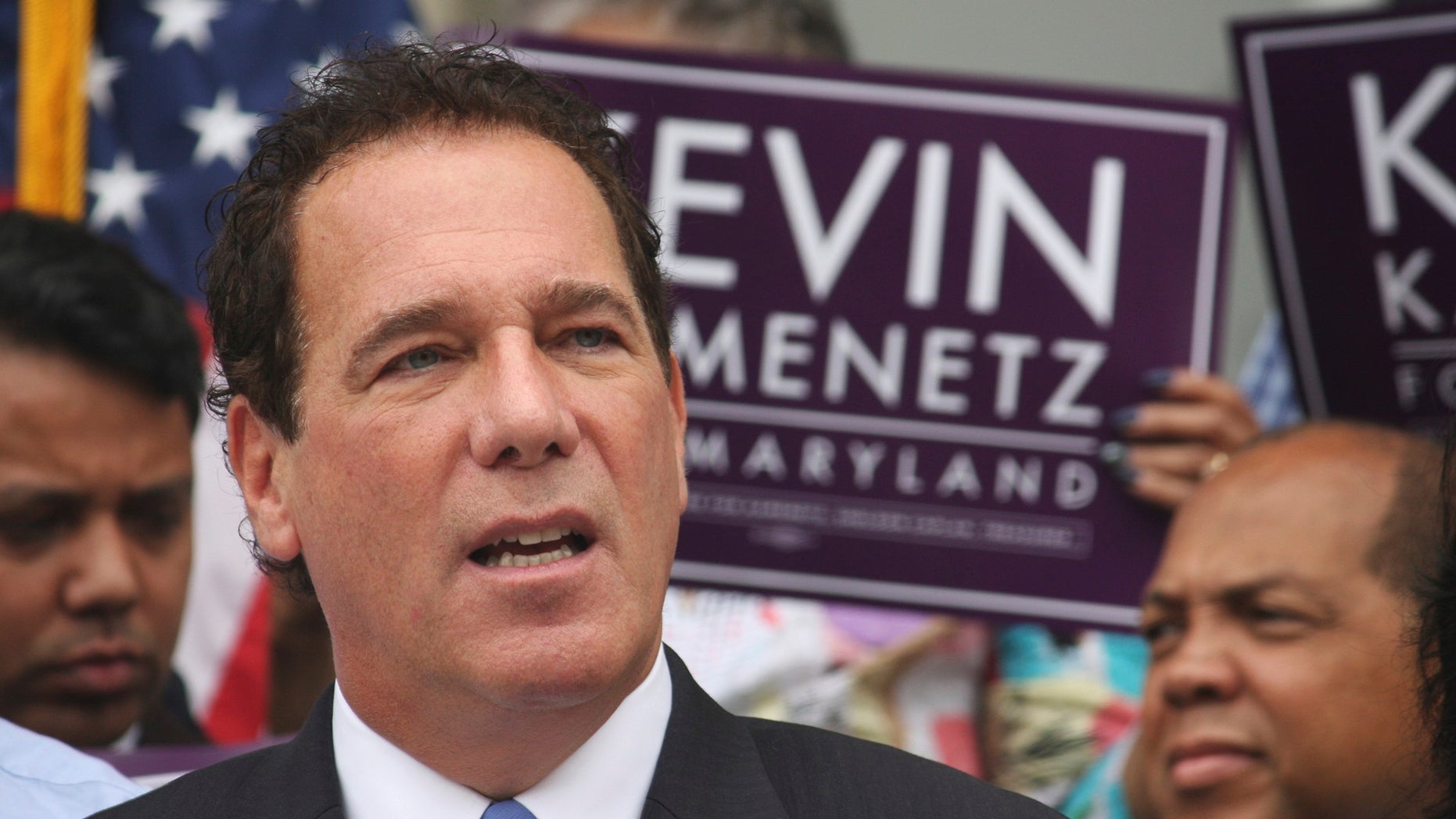 **Want FOX News Halftime Report in your inbox every day? Sign up here.**
On the roster: Sudden death of Baltimore politician rattles Md. gov race - Giuliani says Trump, Mueller interview decision delayed - Trump vows to lower us drug prices - Report: Cohen heard Schneiderman abuse allegations - No one likes crabby passengers

SUDDEN DEATH OF BALTIMORE POLITICIAN RATTLES MD. GOV RACE
Baltimore Sun: "Before he died of cardiac arrest early Thursday morning, Baltimore County Executive Kevin Kamenetz was a formidable and leading contender in the crowded Democratic primary race for governor. His unexpected death upsets the political landscape of the race, shaking up what was a seven-way contest of major candidates hoping to take on popular Republican Gov. Larry Hogan. 'This dramatically alters the race,' said Todd Eberly, a political scientist at St. Mary's College. 'His supporters are going to be looking for another option, and that could boost one or more of the second-tier candidates. There's a solid quarter now of the electorate that's going to be looking for another choice.' Kamenetz consistently polled among the top three candidates and had raised more money than anyone else in the field. This week, his campaign had reserved more than $1 million worth of airtime in the Baltimore and Washington markets — the first Democratic candidate with the resources to do that."

Could Dan Malloy sink Dems chances in CT gubernatorial race? - Fox News: "A solid blue state that went big for Hillary Clinton in 2016 might normally seem safe territory for Democrats in a midterm cycle some pundits predict will bring a 'blue wave.' The party's problem in Connecticut is that Democratic Gov. Dan Malloy is what one poll rates the least popular governor in the nation. His deep unpopularity now threatens to hurt the party's chances in a gubernatorial race that normally would be a shoo-in. A Tremont Public Advisers poll released Monday found Connecticut residents preferred a Republican for governor in November by 49 percent to 43 percent. The Republican Governors Association is targeting the state with $1.7 million in TV ads. It seems the gubernatorial race in Connecticut may come down to a simple question: Whether voters dislike Democratic Gov. Malloy or Republican President Trump more."
Blankenship the sore loser: Will 'make sure' Morrisey doesn't win - The Hill: "Ex-coal CEO Don Blankenship, who lost the GOP primary bid in West Virginia this week, is actively plotting how to undercut state Attorney General Patrick Morrisey's Senate candidacy. Greg Thomas, an adviser and campaign manager for Blankenship, said on Thursday that Blankenship will not support his former rival and 'all options are on the table' as Blankenship weighs how best to kneecap Morrisey's Senate campaign. 'Don Blankenship will not be supporting Patrick Morrisey for U.S. Senate,' Thomas told West Virginia's 'Talkline with Hoppy Kercheval.' 'I think the one thing he is going to make sure doesn't happen is that Patrick Morrisey does not become a U.S. Senator.' Pressed on why, Thomas appeared to point to Morrisey's New Jersey roots, saying 'he's not going to sit back and let a corrupt carpetbagger highjack our party.'"
New Mexico House candidate shows potty-mouth in new ad - Fox News: "A Democratic congressional candidate is mincing no words in his latest anti-gun campaign ad. 'F--- the NRA,' Pat Davis declares in the ad's first few seconds. And thanks to federal election law, a local CBS affiliate in New Mexico says it is compelled to run the ad, uncensored. KRQE was set to air the potty-mouthed pol's message Friday afternoon. In a statement on its website, KRQE General Manager Bill Anderson said they cannot censor the ad because of 'federal election rules' that prohibit them from editing political commercials. He said the station planned to run a disclaimer beforehand. As for Davis, he told the station, 'I think the only people who are going to be offended are the NRA.' Davis is an Albuquerque city councilor running in New Mexico's 1st Congressional District's Democratic primary next month."

Trump attempts to motivate GOP with 2016 tactics - AP: "Embracing his role as party leader, President Donald Trump issued a stern warning at a rally Thursday that Democrats would disrupt the economic progress of his administration, imploring Republicans to mobilize during the 2018 midterm elections. Trump used one of his signature rallies in northern Indiana to paint a rosy picture of his presidency, pointing to low unemployment, 'booming' job growth and optimism under his watch. Two days after Indiana wrapped up a divisive Republican Senate primary, the president praised a lengthy ticket of House and Senate candidates by name and predicted Democrats would dismantle his agenda if they regained control of Congress. 'You have to work every day between now and November to elect more Republicans so that we can continue to make America great again,' Trump said, referencing his 2016 campaign slogan."

THE RULEBOOK: CAN'T HIDE
"Projects of usurpation cannot be masked under pretenses so likely to escape the penetration of select bodies of men, as of the people at large." – Alexander Hamilton, Federalist No. 28
TIME OUT: WHO GOT THE JUICE?
Atlantic: "Since halfway through the 2015 season, Major League Baseball has seen a sustained power surge that in 2017 broke the all-time record for home runs in a season. The spike has been not just unprecedented, but also unexpected. … After the season's second half saw a sudden spike in home-run rates, it wasn't long before many observers arrived at an explanation: The balls were different, altered in ways invisible to the naked eye but enough to make more fly balls clear the fences. In other words, they argued, the balls were 'juiced.' Since then, writers and researchers have used various methods—analyzing publicly available statistics, X-raying baseballs, and firing them out of cannons—in an attempt to confirm the juiced-ball hypothesis. … The seams, studies say, are flatter, reducing air resistance; the rubber-and-cork cores, scans show, are lighter by about half a gram. That may sound insignificant, but on such a small object, the weight difference alone can make a ball fly six inches farther. Combine a few such tweaks and players who previously had 'warning-track power'—enough to hit the ball to the wall, but not over it—become home-run hitters, and the league sees a historic increase in offense."
 
Flag on the play? - Email us at
HALFTIMEREPORT@FOXNEWS.COM with your tips, comments or questions.
SCOREBOARD
Trump job performance 
Average approval: 41.2 percent 
Average disapproval: 53.6 percent 
Net Score: -12.4 points
Change from one week ago: down 2.4 points 
[Average includes: CBS News: 40% approve - 55% disapprove; CNN: 44% approve - 51% disapprove; Gallup: 42% approve - 52% disapprove; IBD: 38% approve - 56% disapprove; Pew Research Center: 42% approve - 54% disapprove.]
Control of House
Republican average: 41.8 percent
Democratic average: 48.4 percent
Advantage: Democrats plus 6.6 points
Change from one week ago: Democratic advantage up 0.6 points
[Average includes: CNN: 47% Dems - 43% GOP; CBS News: 50% Dems - 41% GOP; Pew Research Center: 48% Dems - 43% GOP; Monmouth University: 49% Dems - 41% GOP; Quinnipiac University: 48% Dems - 40% GOP.]

GIULIANI SAYS TRUMP, MUELLER INTERVIEW DECISION DELAYED
Fox News: "Rudy Giuliani, a member of President Trump's legal team, said the president's lawyers need more time before deciding whether the president will sit down for an interview with Special Counsel Robert Mueller for his Russia probe. Giuliani said he had hoped to resolve that question by May 17, the one-year anniversary of Mueller's appointment, but that was no longer feasible. In a phone interview with Fox News on Friday, Giuliani said the outside legal team is still waiting for information from Mueller. He said a decision may slide until after Trump's planned summit on June 12 with North Korean leader Kim Jong Un in Singapore. Giuliani also said it will be impossible to prepare Trump for an interview before the Kim summit, so any interview would be after that. In an interview last week with Fox News, Giuliani signaled Trump's team is still open to doing an interview – but he acknowledged he is concerned about whether Mueller's team can be objective."

Meadows seeks financial audit of Mueller investigation - WashEx: "Rep. Mark Meadows, R-N.C., will seek a financial audit of special counsel Robert Muller's investigation into whether President Trump colluded with the Russians ahead of the 2016 election. Meadows, who sits on the House Oversight and Government Reform Committee, said in an interview for C-SPAN's Newsmakers airing Sunday that the audit is needed to ensure the Mueller team is properly spending the millions of dollars allocated so far to the Russia collusion probe. The audit would also provide information about the scope of the investigation, which the Mueller team has resisted providing to Congress. Meadows said he would ask next week to have the Government Accountability Office conduct the audit, although it's not clear if Mueller would be compelled to turn over the information."

TRUMP VOWS TO LOWER US DRUG PRICES
Fox News: "President Trump on Friday unveiled his administration's plan for lowering prescription drug prices, vowing to 'take on' the powerful pharmaceutical industry while calling for an end to 'global freeloading' that has allowed foreign countries to pay less for American medicine. 'America will not be cheated any longer, and especially will not be cheated by foreign countries,' Trump said Friday in a Rose Garden address. Trump said Americans, through higher drug prices at home, are essentially subsidizing the 'enormous cost of research and development' for the benefit of other countries getting those drugs for cheap. 'In some cases, medicine that costs a few dollars in a foreign country costs hundreds of dollars in America for the same pill, with the same ingredients, in the same package, made in the same plant,' Trump said. 'That is unacceptable.' … Trump said he's directing his top trade official to correct this 'injustice' with U.S. trading partners."
GOP farm bill vote to happen next week - The Hill: "The House will vote on a GOP farm bill next week that would impose tougher work requirements on food stamp recipients. The revamp of the Supplemental Nutrition Assistance Program (SNAP), also known as food stamps, is considered a legacy item for Speaker Paul Ryan (R-Wis.), who has sought to enact welfare reform as part of his 'Better Way' agenda. The farm bill includes language that would tighten the work requirements for millions of food stamp recipients and shift more federal funding toward job training. The thinking is that this will help lift people out of poverty and get welfare recipients back on their feet. But the GOP conference is divided over the changes, with some moderate Republicans worried the requirements are too tough and others worried the changes don't go far enough."
Ryan ignores pressure to push DREAMer vote - Politico: "Speaker Paul Ryan on Thursday dismissed a push from within his party to force votes on legislation shielding Dreamers from deportation, saying it would not help the undocumented immigrants who came here as children. The Wisconsin Republican told reporters he would like to have an immigration vote 'before the midterms,' but wants a bill that will 'make it into law.' And that won't happen unless President Donald Trump endorses a proposal to codify the Deferred Action for Childhood Arrivals program. 'I don't want show ponies,' Ryan said, arguing that votes on legislation the president has not agreed to would amount to a distraction."

REPORT: COHEN HEARD SCHNEIDERMAN ABUSE ALLEGATIONS
Politico: "A New York-area attorney who claims to have discussed alleged incidents of sexual misconduct by former Attorney General Eric Schneiderman with President Donald Trump's lawyer Michael Cohen is trying to prevent any records of those discussions from being made public. In a letter Friday to a judge overseeing the handling of records seized from Cohen's home, office and hotel room by the FBI last month, attorney Peter Gleason said he conversed with Cohen about stories two women who claimed they were 'sexually victimized' by Schneiderman, who resigned earlier this week after a New Yorker story quoted women who said he abused them. … Gleason's letter does not make entirely clear why he would have brought the women's complaints to Cohen, but in an interview, Gleason said he did so because Schneiderman and Trump were locked in a legal battle over alleged fraud in the Trump University real estate program."

AT&T boss cleaning up 'mistake' of hiring Cohen - WSJ: "AT&T Inc. boss Randall Stephenson said it was a mistake to hire Trump attorney Michael Cohen and ousted the telecom giant's top Washington executive after his office paid Mr. Cohen $600,000 last year. The company told employees Friday in an internal memo that Senior Executive Vice President Bob Quinn was retiring, but people familiar with the matter said the policy chief was forced to leave. 'Our reputation has been damaged,' Mr. Stephenson wrote in Friday's memo announcing Mr. Quinn's departure. 'There is no other way to say it—AT&T hiring Michael Cohen as a political consultant was a big mistake.'"

PLAY-BY-PLAY
GOP has no takers for 2020 convention - The Hill

Trump considering Rep. Brian Mast for VA secretary position - AP

Trump administration gears up for Monday's opening of US embassy in Jerusalem - Fox News

Group of GOP senators press McConnell to cancel August recess - WaPo

In an interview Kelly says, "In retrospect, I wish I had been here from Day 1" - NPR

AUDIBLE: THIS IS TRUE
"Nobody wants a weenie in that job." – Sen. John Kennedy, R-La., regarding his support for CIA Director nominee Gina Haspel.

ANY GIVEN SUNDAY
This Sunday, Chris Wallace will sit down with Secretary of State, Mike Pompeo, and former Chairman of the Joint Chiefs of Staff, Admiral Michael Mullen. Watch "Fox News Sunday with Chris Wallace." Check local listings for broadcast times in your area.
#mediabuzz - Host Howard Kurtz has the latest take on the week's media coverage. Watch #mediabuzz Sundays at 11 a.m. ET.

Share your color commentary: Email us at 
HALFTIMEREPORT@FOXNEWS.COM and please make sure to include your name and hometown.

NO ONE LIKES CRABBY PASSENGERS
[Toronto] CityNews: "Video and photos have been circulating on social media showing several live crabs taking up precious seat space during rush hour Monday on Line 1 [on the Toronto Transit Commission subway]. Kristina Hughes was on the subway at the time and posted … a strange account of a passenger becoming enraged that the crabs scored sweet seats while she was left standing. … The woman, apparently fed up with the display of shellfish behavior, began yelling at a man who appeared to be the owner of the crabs. … By all accounts, the crabs were breaching subway etiquette by putting their claws on the seat, but not everyone thinks they deserved what came next. Hughes says the enraged woman swatted the crabs off the seats, launching one onto another stunned rider's lap. … The TTC's Brad Ross told CityNews he was aware of the incident and reminded riders to abide by the rules. 'Crabs are not permitted on seats, even if they're accompanied by hot drawn butter and a bib,' he said."
Brianna McClelland contributed to this report. Want FOX News Halftime Report in your inbox every day? Sign up here.