Sudan rejects US request to send Marines to secure embassy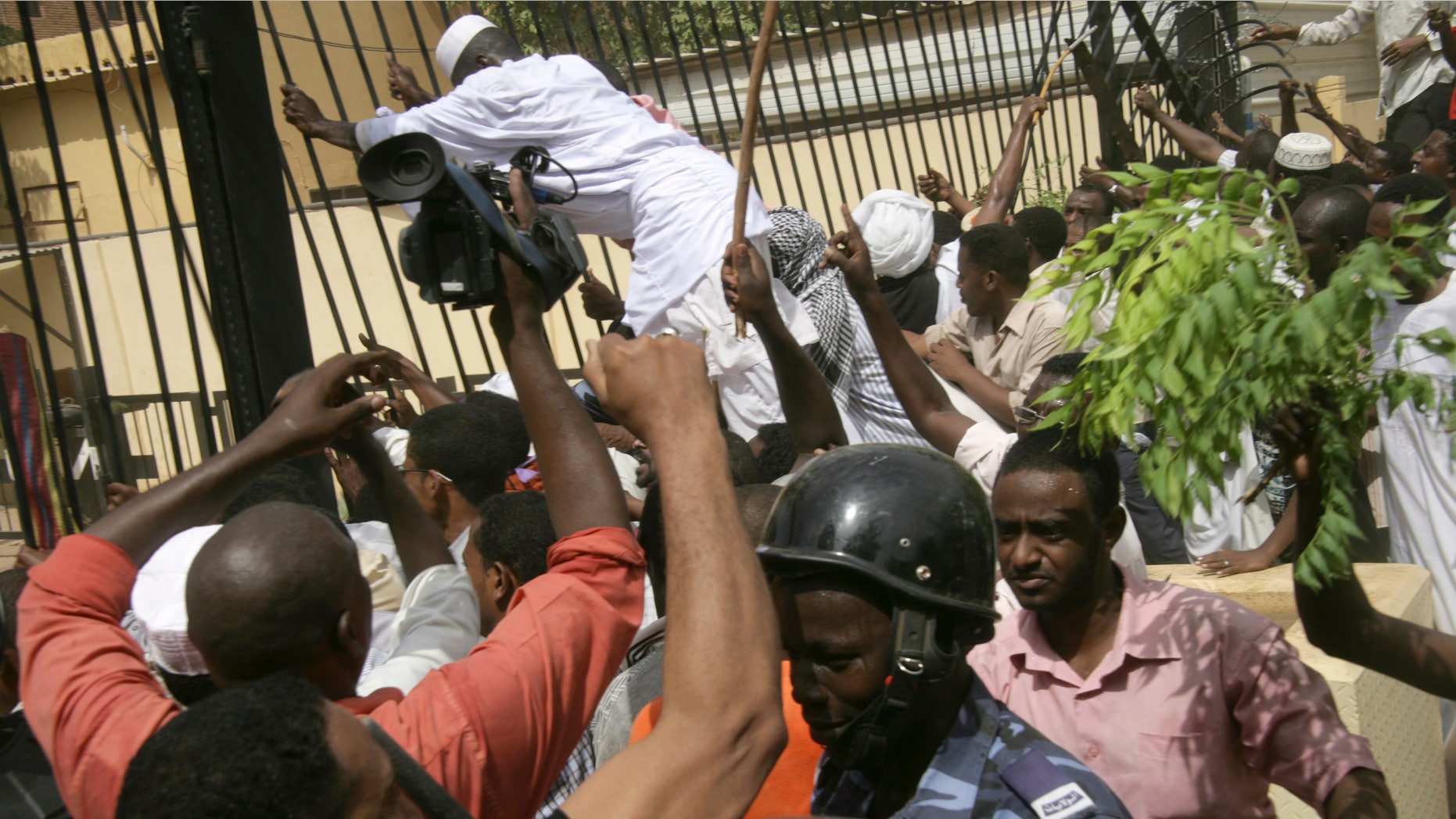 Sudan has rejected an offer by the United States to send Marines to increase security at the U.S. embassy in Khartoum, amid protesters and police clashing.
The announcement Saturday follows the United States saying it was sending Marines to Sudan to bolster security at the embassy, where Sudanese police reportedly fired on protestors trying to scale the compound walls.
"Sudan is able to protect the diplomatic missions in Khartoum and the state is committed to protecting its guests in the diplomatic corps,'' Foreign Minister Ali Ahmed Karti told the state news agency SUNA, which Reuters reported Saturday.
As a result, the deployment has been delayed and possibly curtailed, said a U.S. official, who spoke on condition of anonymity because the official was not authorized to disclose details on the troop movement.
State Department spokeswoman Victoria Nuland said Sudan's government "has recommitted itself both publicly and privately to continue to protect our mission," as obligated under the Vienna Convention.
"We have requested additional security precautions as a result of … damage to our embassy," she said. "We are continuing to monitor the situation closely to ensure we have what we need to protect our people and facility."
The State Department ordered the departure of all family members and non-essential U.S. government personnel from posts in Sudan and Tunisia and issued travel warnings to the two countries due to security concerns over anti-American violence.
The department said while Sudan's government has taken steps to limit the activities of terrorist groups, some remain there and have threatened to attack Western interests. The terrorist threat level remains critical.
The State Department said the airport in Tunis was open and it encouraged all U.S. citizens to depart by commercial air. It said Americans in Tunisia should use extreme caution and avoid demonstrations.
Demonstrators in Sudan stormed the German Embassy before moving on in buses to the U.S. Embassy, where police also reportedly used tear gas to stop them from scaling the walls. The protests reportedly are related to demonstrations across the Muslim world against an anti-Islam film.
The Marine unit, known as a fleet anti-terrorism security team, was to be sent as a precautionary measure, officials said.
Similar teams were sent to Libya on Wednesday after the attack that killed U.S. Ambassador Christopher Stevens and three other Americans in Benghazi, and to Yemen on Friday.
The Marines are in Yemen to deal with the aftermath of another attack on the U.S. Embassy in the capital city of Sanaa. They arrived in addition to an earlier contingent dispatched to Tripoli.
Pentagon spokesman George Little told Fox News the team being dispatched to Yemen also is a "precautionary measure."
Little repeated Saturday that a Marine platoon has been deployed to Tripoli but corrected his statement Thursday that a Marine security detachment was at the U.S. Embassy in Tripoli on the day of the attack in Benghazi.
"I wanted to correct the record as soon as I learned that my statement was inaccurate," he said. "I apologize for this error and any confusion it may have caused."
Protestors reportedly jumped over U.S. Embassy walls in both Sudan and Tunisia. At least three people have been reported dead and another 28 have been wounded during the Tunisia attack. And protesters set fire to trees and broke windows inside the U.S. Embassy compound in Tunis, according to Reuters.
A senior U.S. official told Fox News that Tunisian security forces "have responded effectively" so far to the incident.
That is just a snapshot of the violent unrest playing out Friday, in the widest protests yet across the Muslim world.
The day of protests, which spread to around 20 countries, started small and mostly peacefully in countries such as Indonesia, Malaysia, India, Afghanistan and Pakistan. The most violent demonstrations took place in the Middle East. In many places, only a few hundred took to the streets, mostly ultraconservative Islamists -- but the mood was often furious.
One protester was killed in the northern Lebanese city of Tripoli in clashes with security forces, after a crowd of protesters set fire to a KFC and a Hardee's restaurant. Protesters hurled stones and glass at police in a furious melee that left 25 people wounded, 18 of them police.
Security forces in Egypt and Yemen fired tear gas and clashed with protesters to keep them away from U.S. embassies. And Germany's Foreign Minister says the country's embassy in the Sudanese capital of Khartoum was set partially on fire.
A senior State Department official said Friday that the administration has stood up a 24-hour "monitoring team to insure appropriate coordination." The official said the team is working with missions around the world "to protect American citizens."
The intense demonstrations, purportedly by people upset over an anti-Islam film, follow warnings by the State Department that the protests could spread across the region. The department, on its Twitter account, cautioned Thursday of sustained protests in Egypt, Oman and Jordan, among other places.
The Department of Homeland Security and the FBI also issued a joint intelligence bulletin warning that the violent outrage aimed at U.S. embassies could be spread to America by extremist groups.
In a statement to Fox News, a DHS official said that there is no specific, credible information at this time to indicate that the attacks have increased the threat of violent reaction in the U.S., but it will continue to identify potential threats and take appropriate measures.
The Associated Press contributed to this report.