Study blames college tuition arms race on schools addicted to federal aid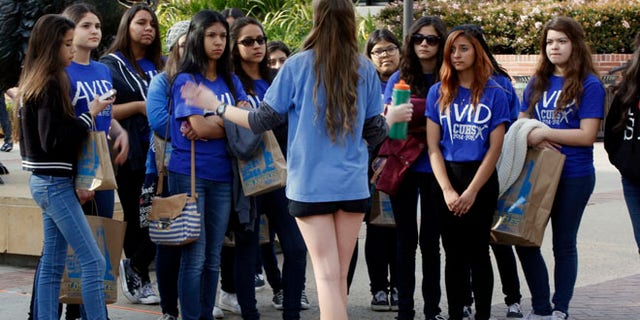 NEWYou can now listen to Fox News articles!
A new explosive study has found a direct link between expanded federal aid and rising tuition rates among the nation's colleges and universities, re-energizing a debate over the escalating cost of post-secondary education for millions of Americans.
Critics say the findings prove a long-held theory that current aid policy is not helping, and may be actually hurting families who are struggling more than ever to afford college, and paying off a mountain of debt for the privilege.
"It's a disturbing problem because when the government is trying to do something critical to educational success, trying to do something about the increasing wealth gap in this country, and then (schools) raise their prices and absorb it all – you're just kicking the legs out of the government policy," Erik Sherman, who writes about income disparity and education for Forbes, tells Foxnews.com, calling the situation a "tuition arms race."
The study, conducted by researchers for the Federal Reserve Bank of New York, found that for every new dollar made available in federally subsidized student loans, schools – particularly expensive, private four-year institutions – rose their rates by 65 cents.
Furthermore, for every dollar increased for federal Pell Grants and unsubsidized loans, schools rose their rates 55 cents.
"While one would expect this (aid) expansion to improve the recipients' welfare, for example, through lower interest payments and a relaxation of borrowing constraints, the subsidized loan expansion possibly resulted in lower welfare because of the sizable and offsetting tuition effect," wrote the study's authors, Davis Lucca and Karen Shen of the New York Fed, and Taylor Nadauld of Brigham Young University.
The findings were culled from normally restricted access to extensive Department of Education data on tuition, aid, enrollment and family income. The study measured federal assistance, the people most likely to use it, enrollment rates, and the schools most "exposed" to increases in the aid caps approved by congress for the academic years ending in 2008 and 2009.
Tom Lindsay, director of the Center for Higher Education at the Texas Public Policy Institute, says the study lends serious credence to the "Bennett Hypothesis," a theory first put forward by William J. Bennett, who served as education secretary under the Reagan Administration. He has maintained that ballooning federal aid does nothing but allow colleges and universities to raise the cost of tuition. He is currently a fellow at the Claremont Institute and the host of radio talk show. He could not be reached for comment.
"It's a hopeless spiral," said Lindsay, pointing to the $120 billion in student loans taken out in 2012 alone – 90 percent of it federally subsidized – while the average tuition for a four-year school has gone up 46 percent in the last decade. The study's authors compared the boom with the federal mortgage and housing bubble that helped bring about the 2008 financial collapse.
"Right now, student loans are the closest thing we have to indentured servitude in the United States," said Lindsay.
But not everyone is rushing to judgment. Critics have pointed to years of studies that do not prove a casual link between aid and tuition rates. Debbie Cochrane, research director for the Institute for College Access and Success, points out that while the rates at all schools in this latest study appear to be affected, a closer look shows that expensive private schools are most responsible for jacking up the rates in response to aid increases, more so than the four-year state schools. According to 2012 data, 60 percent of the 10.7 million enrolled in four-year schools went to state colleges and universities, compared to 29 percent who went to private non-profits, which include the nation's Ivy League schools.
"I certainly don't think this makes a case against increasing aid," she tells Foxnews.com. "It's important we don't try to apply these findings to all institutions, when the vast number of people in the country are enrolled in public schools." That doesn't mean there isn't a problem to address. State governments, she added, have cut funding to their own institutions in recent years, adding to the burden. According to a 2012 study by Demos, a liberal public policy think tank, the cost of public four-year schools rose by 116 percent between 1991 and 2010.
Despite raising their rates, schools across the country band together with student organizations each year to lobby for more subsidized and non-subsidized loans and Pell Grants. All three are given to students based on need with amounts and interest rates varying based on level of income and ability to pay the loans back. Federal loans climbed to about $70 billion for undergraduates in recent years, while Pell Grants grew to an estimated $30 billion, according to the study.
Republicans in the House and Senate have attempted to freeze aid, particularly the Pell Grants, in this year's education spending bills, which have yet to pass through congress. The maximum Pell Grant for the 2015-16 school year is $5,775. Average tuition, fees and board for a public four-year college is $18,943 for in-state residents, $32,762 for out-of-state enrollees. That climbs up to $42,419 a year for private schools.
Rep. Virginia Foxx, R-N.C., chairwoman of the House Subcommittee on Higher Education and Workforce Training, said the study will certainly give lawmakers pause and bolsters arguments that aid has to be reconsidered in terms of whether institutions are taking advantage of increases at the detriment of students and their families.
"This is further proof that increasing government subsidies is not a sustainable response to rising college costs. In fact, it may do more harm than good," she told Foxnews.com.
"Until Congress stops making promises the American people cannot afford, we will continue to see tuition go up for students and families. Making college more affordable requires innovative solutions from states and institutions and smart, responsible reforms from federal policymakers."