Stormy Daniels' attorney Michael Avenatti an 'adrenaline junkie' who learned at the knee of Rahm Emanual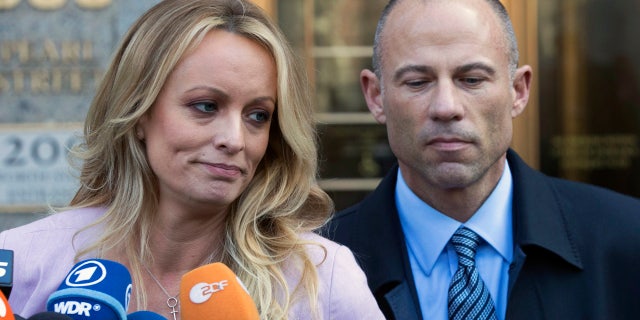 NEWYou can now listen to Fox News articles!
Even for a high-profile attorney, Michael Avenatti has been in the news a lot lately thanks to his client, Stormy Daniels--the porn star who claims to have had an affair with Donald Trump.
On behalf of Daniels, Avenatti filed a lawsuit claiming the nondisclosure agreement Daniels signed is invalid and also that Trump's attorney, Michael Cohen, tried to intimidate her. Following his modus operandi, Avenatti has been all over the media, telling CNN, MSNBC and other outlets that Daniels was threatened physically if she dared speak out.
But as much attention as the Daniels case is getting, it's only the latest high-publicity case in the 47-year-old attorney's history.
He's a graduate of the University of Pennsylvania and George Washington University Law School, where one of his instructors was Jonathan Turley, the well-known legal analyst. Turley told Fox News Avenatti was a "standout in class [who had] a lethal combination of intellect and drive."
"Michael Avenatti is a tenacious street fighter, and his unconventional tactics continue to put his opponents on the defensive."
In Avenatti's early days, he worked at The Research Group, a political opposition research and media firm run by Democratic political operative Rahm Emanuel. While there, he worked on more than 150 political campaigns, including Joe Biden's U.S. Senate campaign.
After law school, Avenatti worked for O'Melveny & Myers, a prominent law firm headquartered in Los Angeles. There he assisted Daniel Petrocelli, who had represented the Goldman family against O.J. Simpson. Petrocelli and Avenatti had a number of celebrity clients, including Don Henley and Glenn Frey of the Eagles and singer Christina Aguilera.
He next joined the boutique LA firm of Greene Broillet & Wheeler, where he handled more high-profile cases while raising his own stature. He worked on a defamation lawsuit against Paris Hilton, as well as a lawsuit for idea theft against producer Mark Burnett—the idea, it's claimed, that eventually became "The Apprentice" which, of course, featured Donald Trump.
In 2007, Avenatti went out on his own, forming the law firm Eagan Avenatti. He would be lead counsel in numerous lawsuits, winning more than $1 billion in judgments against defendants such as the Kimberly-Clark Corp. and the National Football League.
He was also involved in a lawsuit against movie star Jim Carrey regarding the alleged wrongful death of his ex-girlfriend, though the case was dismissed earlier this year.
Over his career, he's gained a reputation as a dogged adversary who'll do whatever it takes to prevail. As Brian Kabateck, incoming president of the Los Angeles County Bar Association, told Fox News, "Michael Avenatti is a tenacious street fighter, and his unconventional tactics continue to put his opponents on the defensive." Kabateck adds that Avenatti "really knows how to get under Trump's skin."
Avenatti also seems to be a political supporter of Democrats, having given thousands of dollars over the years to support John Kerry, John Edwards, Richard Gephardt and Barbara Boxer.
While many lawyers prefer to keep a low profile, going to the media has been part of Avenatti's strategy. A number of his cases have garnered widespread media attention, and Avenatti has appeared twice, for instance, on "60 Minutes."
It's all part of his lifestyle. As Turley puts it, Avenatti "is something of an adrenaline junkie. Pressure is an attraction not a repellent."
Which may be why he's got a personal life as eventful as his professional one. For instance, he's a race car driver who's participated in numerous professional competitions.
And he's owner of Global Baristas, where he was in business with partner Patrick Dempsey of "Grey's Anatomy" fame, until Dempsey left and sued Avenatti in 2013. Currently, Global Baristas is being sued for allegedly shady business practices.
As if that's not enough, his wife Lisa filed for divorce in December, kicking him out of the house and changing the locks.
But personal or professional, private or public, nothing has gotten Avenatti as much attention as representing Stormy Daniels. He's become a media mainstay. For instance, on Sunday on CNN, Avenatti claimed that Trump's lawyer Michael Cohen was seen smoking cigars outside the courthouse with men who had ties to the Russian government. Even more recently, he claimed Cohen would turn on Trump to avoid decades of jail time.
And it's not an act when the lights come on. As Brian Panish, an attorney who's worked with Avenatti for approximately a decade told Fox News, "What you see on TV is what you get in person."
Another way to experience Avenatti is to check out his Twitter feed. Not unlike President Trump, Avenatti has been tweeting up a storm, regularly taking on the president and Cohen, using references to "The Godfather," "Ray Donovan" and whatever other comparisons come to mind.
So if it's an adrenaline rush he needs, he's certainly getting it. And as long as Stormy Daniels remains a story, Avenatti's media onslaught can probably be expected to continue.
Avenatti did not respond to requests for comment.
Additional reporting by Kristine Kotta