Stimulus Package Clears Key Procedural Hurdle in Senate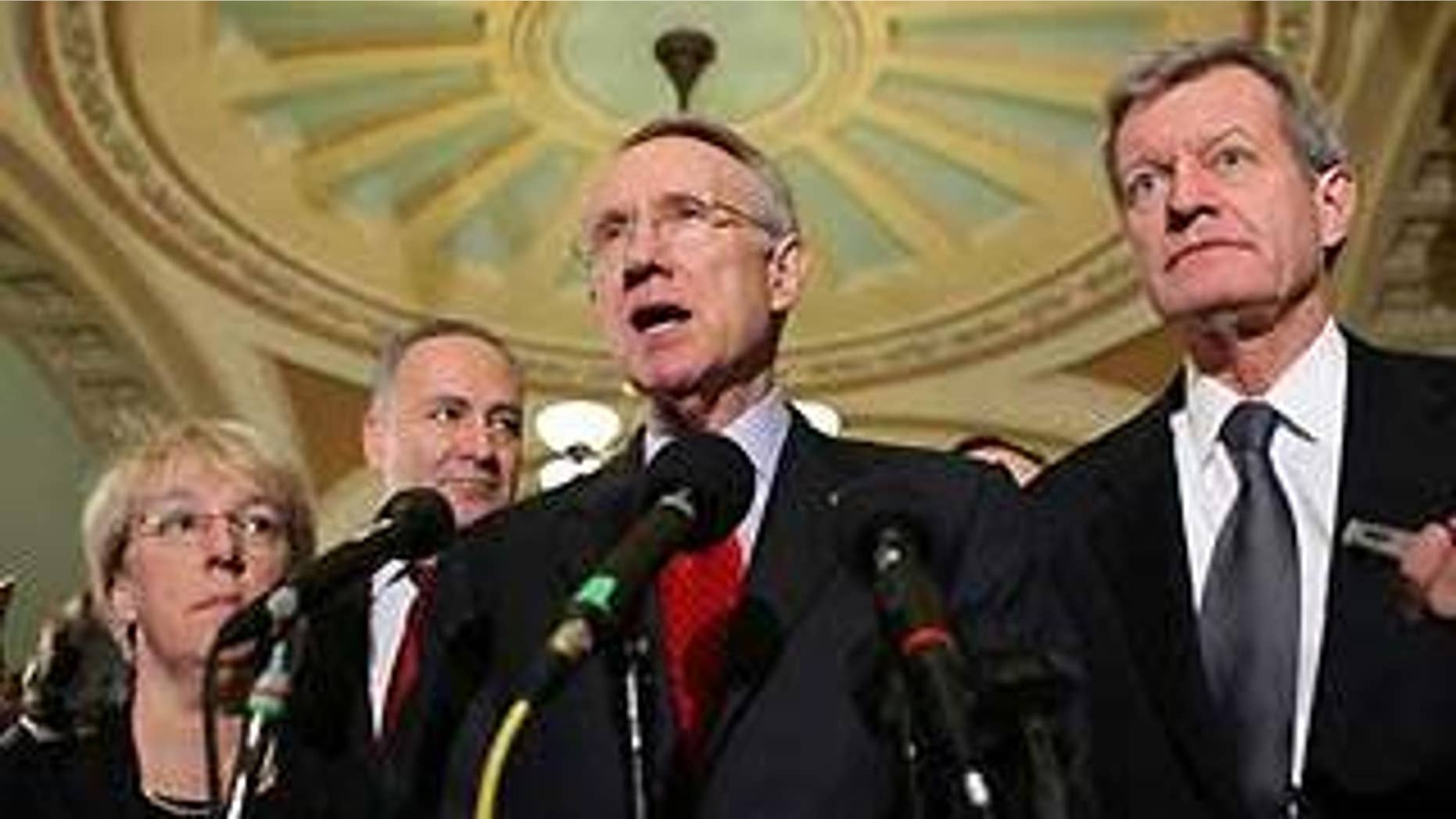 Senate Democrats attracted just enough Republican votes to clear a key procedural hurdle for the $838 billion economic recovery bill Monday, as they worked toward hammering out a final version of the legislation by week's end.
By a vote of 61-36, the Senate moved to cut off debate, setting up a likely vote on final passage Tuesday. Democrats needed a 60-vote majority, and won just three Republicans to their side.
Republican Sens. Arlen Specter of Pennsylvania and Olympia Snowe and Susan Collins of Maine crossed party lines, while their GOP colleagues continued to bemoan what they considered a bloated and wasteful spending package.
Democratic Sen. Ted Kennedy, Mass., who is battling brain cancer and has been absent from Congress since suffering a seizure on Inauguration Day, also returned Monday to vote with his fellow Democrats.
If the bill passes Tuesday as expected, lawmakers will then have to reconcile the differences between the Senate and House versions of the package. This could be an arduous task, since the House version is $819 billion and reflects different spending priorities. A new budget office estimate late Monday put the Senate version at $838 billion, though it was tagged at $827 billion earlier in the day.
But Democratic leaders vowed to deliver a bill to President Obama's desk within days.
"There is no reason we can't do this by the end of the week," said Senate Majority Leader Harry Reid. He said passage would mark "the first step on the long road to recovery."
Another 60-vote majority would be needed Tuesday for Senate passage.
Senate Republicans continued to rail against the economic recovery bill Monday afternoon, during the final stages of debate. As Obama traveled to Indiana to rally public support for the spending and tax cut package, Republican senators took to the floor to lament the size of the plan.
They said they were not appeased by negotiations that trimmed $100 billion out of a previous version of the bill, and put up a show of opposition similar to that mounted by House Republicans two weeks ago.
"This is neither bipartisan nor is it a compromise," said Sen. John McCain, R-Ariz. "It is ... generational theft."
The 2008 GOP presidential nominee said the bill would increase the role of government and provides no mechanism for paying back the money.
Sen. Mike Enzi, R-Wyo., said the package "spends everything we've got on nothing we're sure about."
"I'm supposed to be giddy that we're only spending $827 billion," he said. "Frankly, I've had enough of this bailout baloney."
And Sen. Tom Coburn's office released a list of projects that the Oklahoma Republican called earmarks and pork, totaling more than $55 billion.
The rescue package combines a mix of tax cuts, spending and incentives into a proposal that the administration and Democratic majority in Congress hope will stimulate the ailing economy.
Specter, Snowe and Collins joined the Democratic majority to hammer out the compromise measure last week, even as Republican leaders spoke out against the bill.
U.S. Sen. Ben Nelson, D-Neb., one of the lead negotiators, told FOX News that some people "won't like any bill," but he defended the result of the negotiations.
"It needs to be timely, targeted and temporary, and it is on all three of those points," Nelson said.
But Senate Minority Leader Mitch McConnell told reporters that Republicans were not adequately consulted throughout the process, and said the compromise is still a "poorly crafted bill."
The Associated Press contributed to this report.