Stephen Colbert grills Bill Clinton over answers in earlier interview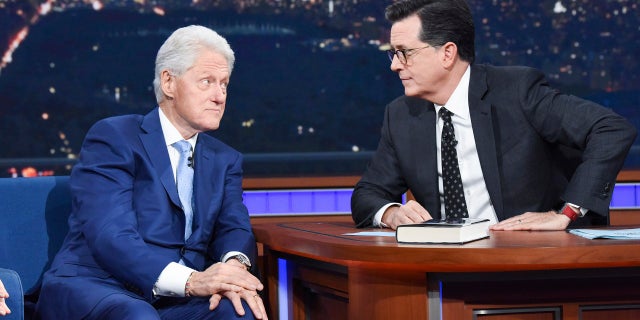 NEWYou can now listen to Fox News articles!
Comedian Stephen Colbert on Tuesday pressed former President Bill Clinton about his recent heated interview on the "Today" show released Monday that focused on the Monica Lewinsky scandal and today's #METOO movement.
Clinton was asked by an NBC reporter during the earlier interview if he would have resigned over his sexual affair with Lewinsky in the Oval Office if it occurred in 2018 at the height of the #MeToo movement.
"I don't think it would be an issue because people would be using the facts instead of the imagined facts. If the facts were the same today, I wouldn't [step down]," Clinton said.
Colbert, the host of "The Late Show," asked Clinton on Tuesday if he realized why some people thought his response was "tone-deaf."
"Examples of men who were not held accountable for their behavior, especially men in power with younger women or people who worked for them, is worthy of being readjudicated or adjudicated for the first time, no matter how long ago it happened," Colbert said about the former president's conduct with Lewinsky.
Clinton responded and acknowledged that his combative response in the "Today" show interview wasn't his "finest hour."
"I was mad at me — not for the first time," the former president said.
Clinton said he didn't like that particular interview because it "started with an assertion that basically I had never apologized."
"People need to know I apologized. I meant it then. I mean it now ... And I still support Me Too," Clinton said. "And I think we all need to keep trying to be doing better. And I would never dispute that."
Still, Clinton says, "It was very painful thing that happened 20 years ago," adding that he had to "live with the consequences every day since."
The Associated Press contributed to this report.