States ration birth, marriage, death certificates after paper company suddenly closes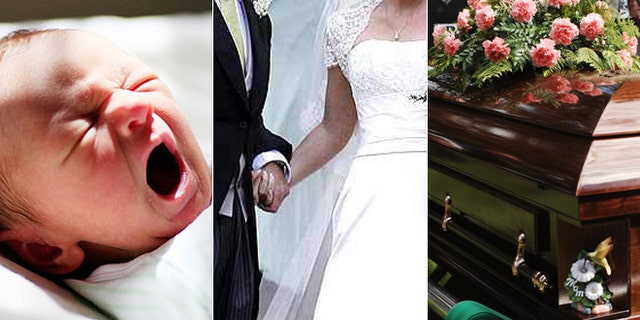 NEWYou can now listen to Fox News articles!
WASHINGTON – Someone call Dunder Mifflin: Several states are reporting a paper crisis, after an Ohio company that produces highly specialized paper for vital records closed without warning.
California has been hit the hardest by the shortage, and several counties are now being forced to ration birth, marriage and death certificates.
In California, the only other company that can meet its needs, under state law, is in Canada. Officials say it would likely take months for Canadian Bank Note Co. to get up to speed with the state's paper needs – but that's only after a contract is signed. In the interim, counties are left finding short-term solutions for the growing backlog.
The restrictions "will impact a lot of folks," Rob Grossglauser, a lobbyist for the County Recorders' Association of California, told the San Francisco Chronicle.
The closure of Sekuworks, the Ohio paper company, has a handful of states scrambling to find a fix, including Minnesota and South Carolina.
But California law is specific and requires the state to print all vital statistic certificates using a specialized – and some argue antiquated – type of printing, known as "intaglio." Besides Sekuworks, no other U.S.-based companies can handle that type of printing.
Since the company closed, several California counties there have started to limit residents to one copy of a birth, marriage or death certificate. The restrictions are creating major headaches for people who are realizing just how important the documents are when trying to obtain licenses, handle funeral arrangements or apply to schools.
Intaglio printing is done using ink that is below the surface of the plate. The design is etched into the printing plate, which is typically made from copper, zinc, aluminum and in some cases, coated paper. The benefit of intaglio is that it's a near-perfect way to prevent counterfeits. Minnesota employs the method for a range of sensitive documents and South Carolina – which recently adopted new standards – used it for death certificates.
But critics argue it's too labor intensive, antiquated and expensive.
In central California, Stanislaus County officials are now working with area school districts to provide a free "verification of birth" for people who otherwise would need a copy of their child's birth certificate to enroll in school.
California has two types of certified birth notices – an authorized copy and an informational copy. While both are certified copies of the original document, an authorized copy establishes the identity of a person. An informational copy cannot be used for identity purposes and carries an inscription across the face of the document stating, "INFORMATIONAL, NOT A VALID DOCUMENT TO ESTABLISH IDENTITY."
Informational copies are available to anyone who requests one. Authorized copies are not.
County Clerk-Recorder Lee Lundrigan sent letters to school districts notifying them of the change and has been working to provide parents with emergency options.
South Carolina initially addressed its paper shortage by limiting the number of death certificates it issued to five per person.
The move put pressure on funeral homes and handicapped their ability to help families through the difficult process of losing a loved one. While a five-certificate limit might sound like a lot, Pamela Amos, general manager at McAlister-Smith Funeral Homes, told The Post and Courier that most families need at least 10 certified copies of a death certificate and that the state-sanctioned limits caused "a major issue for a lot of families."
The South Carolina Department of Health and Environmental Control – the agency authorized to issue the certificates – was notified on July 9 Sekuworks had laid off most of its employees and was in the process of selling its business.
South Carolina, though, lifted its five-copy limit on Aug. 11 after the state signed a new contract with supplier R.R. Donnelley, Jim Beasley, a spokesman with the state DHEC, told FoxNews.com. Beasley indicated the state, unlike California, was able to revise its own security standards, and in turn use a different kind of paper.
"In 2014, we had already begun the process of revising our specifications for security paper to be used on birth and death certificates," Beasley said. "We had issued a request for proposals from vendors to meet the new standard. Coincidentally, the bids for a new provider were scheduled for opening on July 9, 2015, the same day we were informed of the work situation with Sekuworks."
The DHEC began processing back-order requests immediately and expects to resume normal operations by Wednesday, he said.
Meanwhile in Minnesota, officials at the state's Department of Health are working to establish a new contract with a new vendor. The state is still about a month away before "everything is in place and a new supply could start flowing," Doug Schultz, a spokesman for the Minnesota DOH, told FoxNews.com. Schultz believes there is enough supply statewide to meet the demand if offices cut down on duplicates.
"Requests for certificates will continue to be fulfilled, but that fulfillment may occur at locations people don't regularly use, through the U.S. mail or from neighboring county vital records offices," he said.
Multiple emails, telephone calls and other attempts by FoxNews.com to reach Sekuworks were not successful.