State Department chides cardinal over gay slurs against US ambassador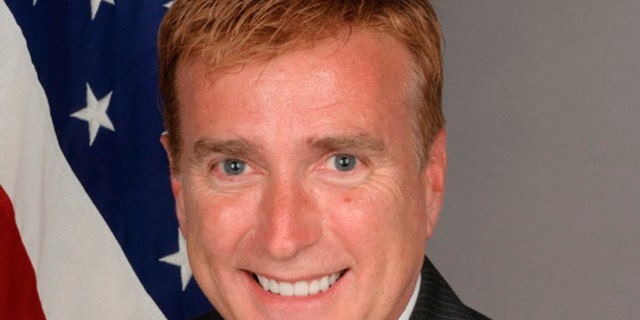 NEWYou can now listen to Fox News articles!
The State Department weighed in Tuesday on an escalating war of words between the U.S. ambassador to the Dominican Republic and a cardinal who has leveled gay slurs against him -- telling FoxNews.com the fight "does underscore" the importance of pushing human rights causes.
U.S. Ambassador to the Dominican Republic James "Wally" Brewster, who is openly gay and married, has been mocked over his sexual orientation by Cardinal Archbishop Nicolas de Jesus Lopez Rodriguez for more than two years.
It got so heated that earlier this month, Sen. Dick Durbin, D-Ill., sent a letter to Pope Francis asking him to intervene in the verbal attacks.
"Even before Ambassador Brewster's arrival in Santo Domingo in 2013, Cardinal Rodriguez launched a personal attack against him with public statements quoted in the popular press," Durbin's letter said. "The Cardinal used the hateful slur 'faggot,' which he continues to use to this day."
Durbin added, "In a recent interview Cardinal Rodriguez again described the ambassador as a 'faggot' and falsely claimed the ambassador was setting out to promote 'faggotry' in the Dominican Republic."
The cardinal reportedly also said Brewster should "focus on housework, since he's the wife to a man."
A State Department official on Tuesday defended Brewster's work in a statement to FoxNews.com:
"Ambassador Brewster, like all U.S. ambassadors, advances this [human rights] policy along with many other aspects of our bilateral relationship. That there may be those opposed to the promotion of human rights in various societies around the world is not surprising, but it does underscore why this work is so important."
In the past, the same cardinal has organized a "Black Monday" protest against Brewster where people were asked to show their opposition to Brewster by tying black ribbons on their cars.
The State Department told FoxNews.com that U.S. policy is "dedicated to eliminating barriers to equality, fighting discrimination based on sexual orientation and gender identity, and engaging LGBTI communities around the world."
While the Dominican Republic's criminal code does not explicitly prohibit homosexuality, it is a staunchly Catholic country.
Brewster's appointment has been a point of contention from the start. High-profile Catholic Church leaders said assigning an openly gay man to the post was seen as a lack of respect from the Obama administration.
"He has not considered the particularities of our people. The United States is trying to impose on us marriage between gays and lesbians as well as adoption by these couples," Father Luis Rosario, director of youth ministries for the church, told CNN in 2013.
The ambassador has also riled DR officials by voicing concerns about corruption on the island – and even accusing police officers of threatening U.S. investors, Fox News Latino reported.
For Durbin, who is close friends with Brewster and a devout Catholic, enough is enough. He wants Pope Francis to step in and make the anti-gay slurs stop.
"Despite these hateful words and personal attacks, Ambassador Brewster has worked to quiet the conflict between Church leaders and himself," Durbin wrote to the pope. "His patience and professionalism in light of these mean-spirited attacks by the Cardinal demonstrate his personal commitment to his responsibility of representing the United States of America."
Durbin says while the Catholic church's teachings on gay marriage are well known, he points out in his letter that "the church also teaches us to show tolerance for those with different sexual orientations."
"The intolerant public statements of Cardinal Rodriguez are inconsistent with that clearly stated value," Durbin wrote.
It is unclear whether the Vatican has responded to Durbin's letter. Calls and emails to Durbin's office for comment were not returned.