State Dems' Legislative Strategy: If You Can't Beat 'Em, Go AWOL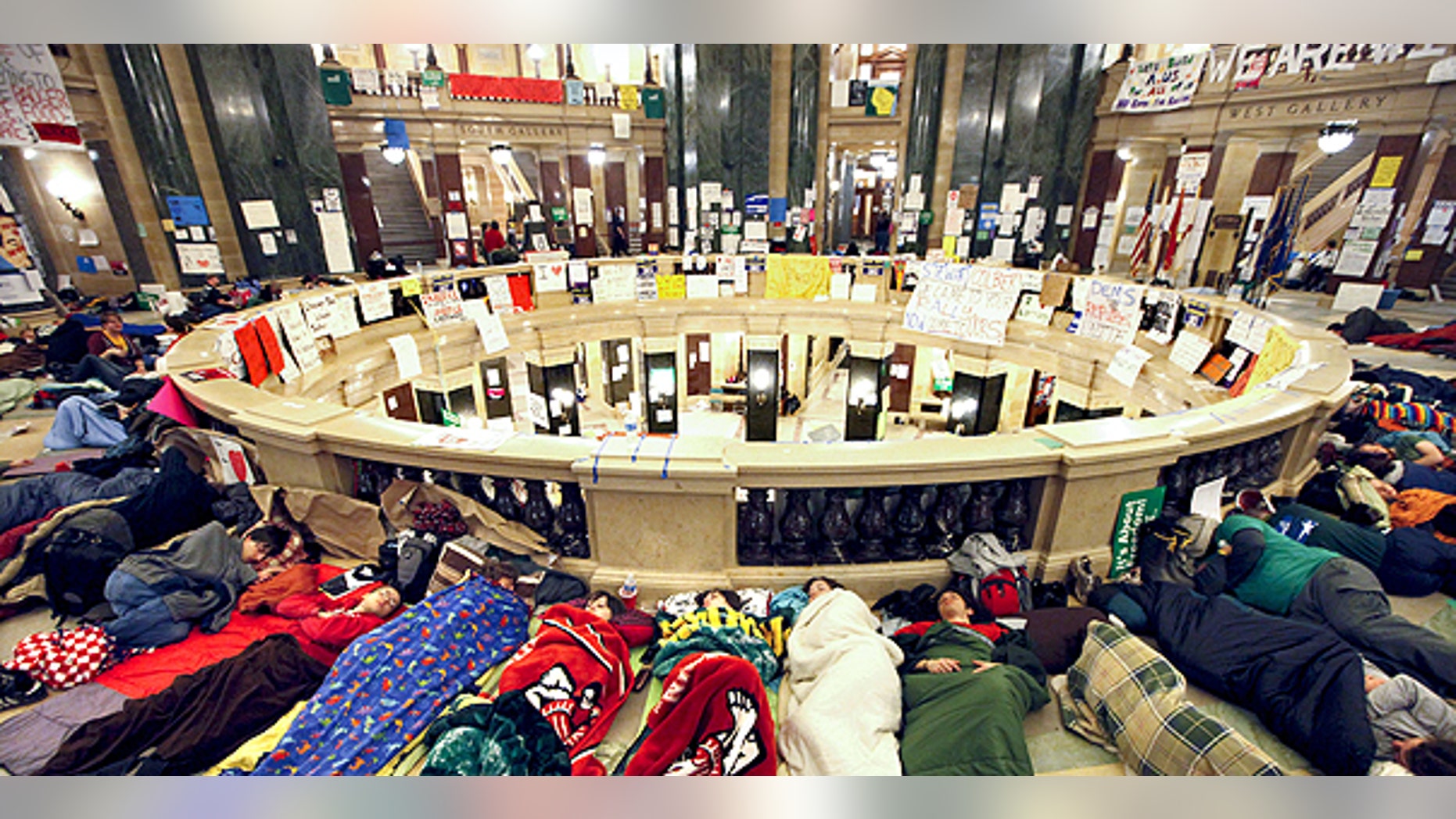 If you can't beat them, run.
That's what a total of 49 Democratic legislators in Wisconsin and Indiana have done, walking away from their jobs in protest over bills that would strip or curb the collective bargaining powers of public-sector unions.
The last-ditch effort by Democrats to block austerity-driven budget proposals by Republicans, who control the legislatures and the governor's mansions in those states, has captivated and divided the nation, inspiring thousands of labor supporters to protest and inflaming critics who regard the lawmakers' absence as irresponsible and reckless.
The budget showdowns are being watched closely in other states -- Ohio, Florida and Pennsylvania -- where Republican governors are also targeting unions. A similar debate in Ohio drew thousands of union protesters Tuesday, prompting officials there to lock the doors to the Statehouse.
In Wisconsin, 14 Senate Democrats were the first to go AWOL, fleeing to Illinois last week after Republican Gov. Scott Walker refused to compromise on his plan to strip public unions of nearly all of their bargaining rights. Walker says the bill, which would also force union members to contribute more to their health and retirement benefits, is needed to help solve the state's looming budget deficit. But Democrats see it as an all-out assault on unions, their staunchest campaign ally.
Meanwhile, a Senate committee passed a rule Tuesday that if senators miss two or more sessions, they cannot get paid until they return to the Senate floor, a rule that effectively cuts off government paychecks to the fugitive lawmakers. But the paychecks will be there for the senators once they return.
Walker tried to turn up the pressure on missing Democrats on Tuesday, saying if lawmakers can't pass the measure by the end of the week the state won't be able to refinance debt to generate $165 million in savings. He warned that state employees could start receiving layoff notices as early as next week if the bill isn't passed. However, existing union contracts could forestall the layoffs for weeks or months, and Walker wouldn't say which jobs he would go after first.
Monumental protests entered their ninth day Wednesday as tens of thousands of demonstrators descended on the state Capitol.
In Indiana, 35 of 40 House Democrats fled to Illinois Tuesday to defeat a bill that would prohibit union representation fees from being a condition of employment. The so-called right-to-work legislation missed a procedural deadline Tuesday for consideration but Republicans can revive it.
But that bill isn't the only bill the rubs Indiana Democrats the wrong way. They issued a statement Tuesday night in which they listed 11 different and contentious pending bills, including ones that cover charter school expansion, school vouchers and unemployment insurance.
"We will remain here until we get assurances from the governor and House Speaker Brian Bosma that these bills will not be called down in the House at any time this session," the Democrats said in the statement. "Our leader, State Rep. Patrick Bauer, is ready to talk to the speaker anytime. All the speaker has to do is call."
Bosma told Fox News that he won't negotiate with absent lawmakers.
"The tactic of fleeing the state because there are a dozen bills that they don't like and sending a missive back, a demand that we're not returning unless you agree to take these bills off the calendar altogether, I just told the minority leader that if that's his demand, you might as well stay in Illinois because we're not going to concede to that," he said.
But state Rep. Scott Pelath, one of the missing Democrats, told Fox News that there is a way to end the stalemate.
"If there's a way to have some of the most radical ideas set aside, we can continue to do the people's business, they can govern in a way they believe they were entitled to do, but we have to draw a line in the sand every once in a while and make sure that a few basic protections are kept in place," he said.
Indiana Gov. Mitch Daniels, a Republican, said Tuesday he didn't plan to get involved and will not send state police after anybody. He added that he trusts that the people's consciences will bring them back to work.
On Tuesday, Democrats kept the Wisconsin Assembly up overnight with a droning filibuster in another desperate attempt to block the anti-union plan.
The Assembly began debate around noon Tuesday, with lawmakers coming to the floor under heavy guard as protesters in the rotunda cheered and banged on buckets and bongo drums. Democrats began introducing dozens of amendments that would and gave drawn-out, rambling speeches criticizing the bill. A vote didn't appear likely until well into Wednesday, perhaps later.
At one point, Assembly Speaker Jeff Fitzgerald, R-Horicon, stood and told Democrats the state can't afford collective bargaining. Walker's budget, which the governor plans to introduce in the coming weeks, will contain such deep cuts to local governments they won't be able to survive if public workers don't make concessions, Fitzgerald said.
Democrats introduced 42 amendments, about half after midnight, and promised more were on the way. When Democrats offered to adjourn shortly before 3 a.m., Republicans -- who easily have enough votes to pass the bill once they dispose of the Democrats' amendments -- refused.
The bill would require most public sector workers, from local librarians to state biologists, to contribute more to their pensions and health insurance. It also would strip them of their right to collectively bargain anything except salaries. Walker has said the plan is crucial to solving a $137 million deficit in the state's current budget and a $3.6 billion shortfall in the 2011-13 budget.
The state's public unions have said they would agree to the financial concessions, but won't give up their bargaining rights.
The Associated Press contributed to this report.