Standard & Poor's Defends Downgrade of U.S. Debt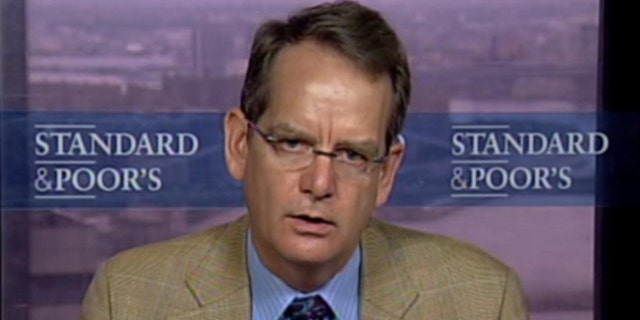 NEWYou can now listen to Fox News articles!
A top official at Standard & Poor's pushed back Saturday against the Obama administration's criticism that their decision to downgrade the nation's credit rating was based on "flawed" math.
The administration had tried to prevent the downgrade announced late Friday by telling S&P that the agency had made a $2 trillion error in its calculations about the federal budget.
But John Chambers, managing director and chairman of S&P's sovereign ratings committee, explained to Fox News on Saturday that the downgrade was "motivated by a number of factors."
"One was the political gridlock in Washington, which make us think that it's going to be difficult for elected officials to put the fiscal profile of the U.S. government on a long-term sustainable path," he said.
"And part of it was because of the fiscal path itself," he said, explaining that U.S. debt accounts for 75 percent of gross domestic product and will "trend up over the next decade unless we get additional fiscal measures than what we have on the table right now."
The agency was also worried that the eleventh-hour budget deal reached last weekend fell short of S&P's expectations, he said. S&P was seeking $4 trillion in budget cuts over the next decade. But Congress passed a plan on Tuesday that slashes up to $2.4 trillion in cuts over that time.
"If you get to the $4 trillion figure -- which had been mentioned by the Bowles-Simpson commission, which had been mentioned by the president in his April 13 speech, which had been mentioned by Paul Ryan in his alternative budget -- that, if you have decent growth behind it,would have done the trick," Chambers said.
Some Democratic lawmakers reacted to the downgrade by attacking S&P's credibility.
"I find it interesting to see S&P so vigilant now in downgrading the U.S. credit rating," said Sen. Bernie Sander, a Vermont independent who votes with Democrats.
"Where were they four years ago when they, and other credit rating agencies, helped cause this horrendous recession by providing AAA ratings to worthless subprime mortgage securities on behalf of Wall Street investment firms?" he said. "Where were they last December when Congress and the White House drove up the national debt by $700 billion by extending Bush's tax breaks for the rich?"
Massachusetts Rep. Barney Frank, the top Democrat on the House Financial Services Committee, said that the rating agencies have a horrible record and people should pay no attention to them.
But Chambers said the agency's record speaks for itself.
"Standard & Poor's, if you count its predecessor companies, has been ratings bonds since the 1920s. We have a long track record of over 100 years," he said, adding that none of the sovereign bonds that have received one of the top ratings in the U.S. since 1975 have defaulted.
S&P is the only one of the world's three major credit rating agencies to downgrade U.S. debt. But Moody's and Fitch have issued warnings of possible downgrades.
The White House said Saturday that President Obama in the coming weeks will "strongly encourage" members of Congress to "put our common commitment to a stronger recovery and a sounder long-term fiscal path above our political and ideological differences."
Chambers warned that the agency could downgrade U.S. debt a notch lower in the next six to 24 months if Congress doesn't cut another $1.6 trillion over 10 years to reach the $4 trillion figure.
The probability of another downgrade is 3-1 odds, he said.
Asked whether the U.S. can regain its triple-A rating, Chambers said the five governments that did achieved it in nine to 18 years.