Spending Debate in Congress Divides GOP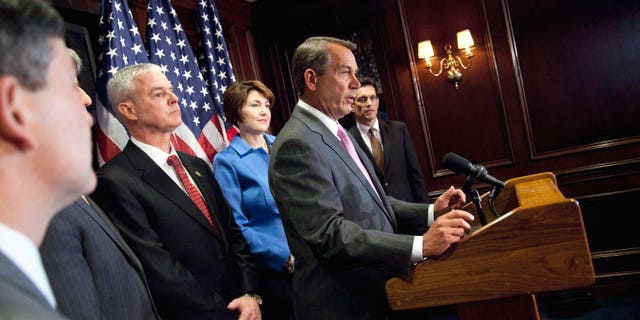 NEWYou can now listen to Fox News articles!
Republican leaders in the House, after successfully securing $10 billion in budget cuts through a series of stopgap spending agreements with Democrats, now appear in danger of losing control of the debate as deficit hawks on their right push for immediate and deeper cuts.
Tea Party-backed Republicans, including many of the party's 94 freshmen lawmakers, favor a GOP spending bill that cuts more than $60 billion and would fund the government through September. But that measure died in the Democratic-led Senate, where Republicans in turn blocked a Democratic bill that would cut about $50 billion less.
So GOP leaders and the Obama administration are still negotiating over how much to cut from the budget, passing stopgap measures to prevent a government shutdown in the meantime. At the same time, fiscally conservative Republicans have grown weary of the stopgaps.
The GOP divide was thrown into stark relief Tuesday when the House passed the latest stopgap in a 271-158 vote. That measure would slash $6 billion in spending while keeping the government running an additional three weeks. Democratic support was required to pass the bill because 54 Republicans, including 22 freshmen, voted against it.
"There's a huge, not a split, but a huge debate within the party," said John Stone, spokesman for Texas Rep. John Carter, a veteran Republican who voted in favor of the bill. "There are people saying it's time to cut. If we're going to shut the government down, let's shut it down. The majority is saying we're going to have to come to a showdown, but we have to do everything we can to work it out and show we're willing to compromise."
Stone said there's no disagreement on what to do.
"The disagreement is how do you go about doing it and winning this in the court of public opinion," he said.
But Tea Party activists looking for a resolution to the impasse aren't happy.
"This is weak incrementalism in a time when we need bold and visionary leadership from Congress and the president," said Mark Meckler, national coordinator for Tea Party Patriots. "Kicking the can down the road will not do."
Democrats are eager to exploit the divide.
"It's time for @SpeakerBoehner to abandon the Tea Party and work to reach bipartisan consensus on the budget," Sen. Chuck Schumer, D-N.Y. tweeted Wednesday.
House Minority Whip Steny Hoyer tweeted that he agreed with Schumer.
"It's time for GOP leadership to work with us to reach a compromise long-term bill to fund government of the rest of the year," he said.
But House GOP leaders say that they can't negotiate in earnest until the Senate moves in their direction.
"The House has listened to the American people and done our work – passing a funding bill for the remainder of the year that cuts spending to help the private sector create jobs," Boehner spokesman Michael Steel said in an e-mail to FoxNews.com. "The Democrats who run Washington, like Sen. Schumer and Rep. Hoyer, have yet to produce a funding bill that actually reduces spending. Right now, their position is the status quo – and America doesn't like status quo politicians."
GOP leaders also note that the Senate Democratic alternative received fewer votes than the House measure in back-to-back tallies last week. But Boehner stops short of demanding that the Senate actually pass a bill -- which would require Republican support -- as a prerequisite for further negotiations.
"I'd like to know what the Senate position really is," Boehner told reporters Tuesday.
Tuesday's stopgap measure was passed over the objections of Tea Party-backed conservatives unimpressed by the measure's cuts, which blend $3.5 billion in cuts endorsed by Democrats with $2.6 billion saved by cutting numerous accounts that have in the past been slush funds for projects in lawmakers' districts. House Republicans have imposed a ban on such "earmarks," so it's easier to cut the accounts.
"By giving liberals in the Senate another three weeks of negotiations, we will only delay a confrontation that must come," said Rep. Mike Pence, R-Ind. "I say, let it come now. It's time to take a stand."
Stone blamed Democrats' refusal to compromise for the party infighting and the continuing march to a shutdown.
"We're willing to have a fight in our own party to do something reasonable," he said. "We're willing to have have members of our own party unhappy. We're trying to be reasonable without shutting the government down."