South Florida braces for political fallout of normalized U.S.-Cuba relations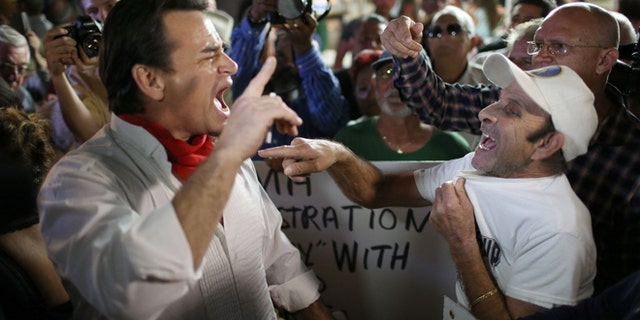 NEWYou can now listen to Fox News articles!
President Barack Obama's push to normalize diplomatic relations with Cuba, announced before Christmas, has reopened the national conversation about easing the embargo on the communist nation.
Across the country and even in South Florida – ground zero for any debate on Cuban issues – response has been more mixed than many expected.
Yet Democratic and Republican political experts aren't sure what impact the events of the last few weeks will end up having on the local political landscape.
Long dominated by conservative Republicans, Cuban-Americans are increasingly identifying with the Democratic Party, national polls show, and a higher percentage than before favor reestablishing diplomatic relations with Cuba and ending the embargo.
"There are enough people who vote Cuba as a single issue that [the president's initiative] will marginally help the Republican Party in Miami-Dade County,"Dario Moreno, a political science professor at Florida International University, told Fox News Latino.
"But only marginally," Moreno added. "It's not the hot-button issue that it was 8 years ago."
Overall, the number of Cuban-American voters in the United States is small. However, due to their concentration in Florida, the largest battleground state in the union, Cuban-Americans at times have been able to influence the outcome of presidential elections.
Successful Democratic candidates like former President Bill Clinton knew that it was in their best interest to remain tough on Cuba or risk alienating them.
Today, the numbers appear to be changing.
In 2012, Obama won Florida by utilizing a strategy that split the Latino vote in half, promising immigration reform to win over non-Cuban Hispanic voters and banking that loosening restrictions on travel and remittances to Cuba would win over younger Cuban-Americans who support lifting the embargo.
According to a Pew Hispanic Center analysis of exit poll data, 49 percent of Florida's Cuban-American voters went with Obama, while 47 percent voted for Mitt Romney.
The 2013 Pew survey data also shows that the Cubans identifying with the Republican Party dropped from 64 percent a decade ago to 47 today.
A separate survey by Florida International University found that 68 percent of Cubans in Florida's Miami-Dade County favor re-establishing diplomatic relations with Cuba–with 90 percent of younger respondents "very strongly" backing the policy shift.
In the same poll, 52 percent of the respondents opposed the embargo.
Even so, it's too early to give Democrats the edge among Cuban-American voters for the 2016 presidential election, said Annette Taddeo-Goldstein, the former chairwoman of the Miami-Dade Democratic Party who ran unsuccessfully for lieutenant governor as Charlie Crist's running mate last year.
"The big question is, 'Will younger Cuban Americans lean Democrat?'" Taddeo-Goldstein told Fox News Latino. "Will this be an issue that gets them to out to vote in bigger numbers than previous elections?"
Republican operatives like Luis Gazitua, a lobbyist who visited the island with Pope Benedict in 2012, say it won't.
"President Obama's normalization of relations of Cuba will be a 2016 motivating factor for the old-guard Cuban-American Republican," Gazitua told FNL. "Conversely, I see it being a non-issue, or afterthought at best, for the second- or third-generation Cuban-American voter."
Florida's former governor Jeb Bush and U.S. Sen. Marco Rubio, both of whom are considering 2016 runs for president, will use their opposition to Obama's actions to bolster their anti-Castro credentials among Cuban-American voters, said Christian Ulvert, a political consultant who has worked on city, county and state campaigns.
"But I don't see either of them pushing against it too much since they have to win states like Iowa and Kentucky, where farmers who lean Republican want to open up trade with Cuba," Ulvert said.
"In Florida, there are so many bigger issues affecting people's lives," he added, "from the economy to education to healthcare."